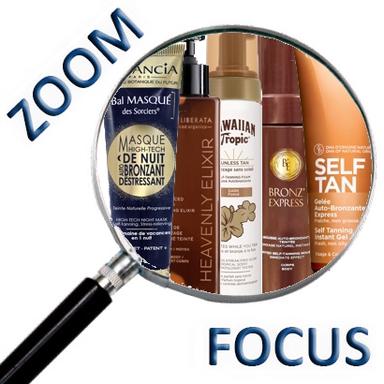 In these times of capricious weather, we can be seduced by their power which does not pass by the sun! They have their followers who remain faithful to them. This is why, without evolving, they remain stable. The innovations of 2021 concern above all the galenic formulas (the foam texture is gaining ground) and the more natural and planet-friendly formulas, with notably certified organic DHA.
Tinted mousse is the big winner
This summer, it can be found in all the specialist brands, such as St.Tropez, Vita Liberata, Bronz'Express, He-Shi or, the latest, Isle of Paradise. The foam dries quickly, is easy to spread, is a playful galenic ideal when you are new to self-tanning and when it is tinted (which is the case for most of them), you can immediately see which areas of the body have been forgotten.
St.Tropez created a kit in collaboration with Ashley Graham that combines a subtle tinted mousse and an applicator glove for an even faster application (Self Tan Kit Ultimate Glow Bronzing Mousse Crème Fouettée, 200 ml & Applicator Glove, €49). It contains self-tanning and moisturizing ingredients (hyaluronic acid, provitamin B5, glycerin, rose hip oil…) plus caramel to immediately boost skin tone. The effect lasts one week and gradually fades.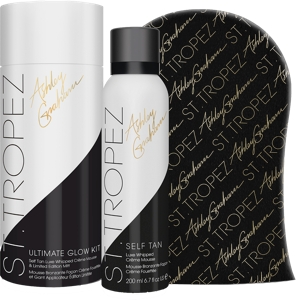 Vita Liberata offers Invisi Foaming Tan Water (200 ml, €28.45), with Ecocert-certified encapsulated DHA that continues to release for 72 hours and three tan intensities (Light, Medium, Dark).
Hawaiian Tropic is launching its first self-tanners in 2021 and has chosen a mousse texture and an intoxicating tropical fragrance for this purpose (Bronzage sans soleil Mousse autobronzante, 200 ml, €13.20, two shades: Light/Medium or Dark).
Bronz'Express (Tinted Self-Tanning Mousse, 150 ml, €36) and He-Shi (Gold Foaming Tinted Mousse, 150 ml, €29.99) are also making tinted mousse their star texture in 2021.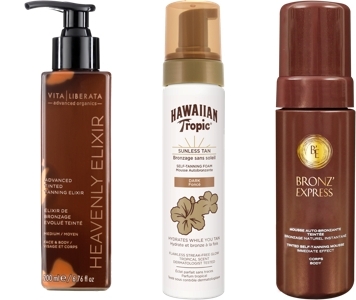 A really good idea: self-tanning beautifiers
A new English brand is making its appearance at Sephora: Isle of Paradise, which is also launching a mousse (Glow Clear Self-Tanning Mousse 200 ml, €27, three intensities), as well as self-tanning waters in the form of mists (Hello Golden Glow, Eau Auto-Bronzante, 200 ml, €26, three intensities). All products are enriched with vegetable oils of coconut, chia seeds and avocado. Innovative, they include ingenious peach-colored correctors that illuminate the complexion as a bonus, a really good idea because self-tanners, if they warm up the complexion, do not beautify the skin texture, often highlighting skin defects (especially blackheads or dilated pores). Second smart point: all formulas are zero transfer. Another self-tanner that gives an instant glow at Nu Skin (Sunright Insta Glow, Tinted Self-Tanning Gel, 125 ml, €37.30).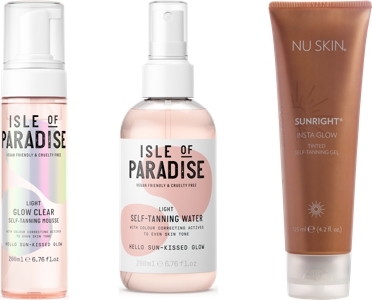 Face and body formulas are becoming more common
And we're not going to complain because they make it easier to do! This is the case with He-Shi's Face & Body Tanning Gel (150 ml, €23.99), or the new product from Vita Liberata, the clean beauty brand of self-tanners: Heavenly Elixir, Face and Body Tinted Tanning Elixir (200 ml, €37.50), with a delicious cocoa scent, which combines encapsulated and certified DHA and organic moisturizing ingredients (coffee butter, ginkgo biloba, aloe vera…), for an even and luminous tan up to 10 days.
My name is bronze, James Bronze!
To counteract the diabolical plans of Dr. No Sun, we can rely on He-Shi and its Ultra-Dark Express Liquid Tan (150 ml, €26.99), the most intense tan of the English brand (it contains 14% natural DHA), to be used with its Velvet Applicator Glove (€7.50).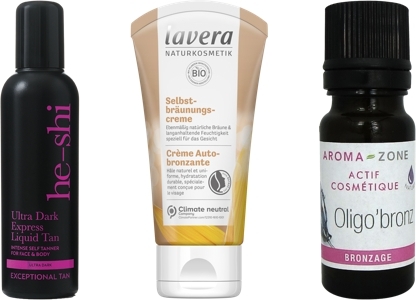 Another choice: the new progressive self-tanners (the favorites of fair skin) in organic version at Lavera (Organic Self-Tanning Lotion, 150 ml, €15; Organic Self-Tanning Face Cream, 50 ml, €12), or with a tan-enhancing peptide for Dr. Pierre Ricaud (Self-Tanning Smoothing Care Face, 40 ml, 20 €; Self-Tanning Velvety Body Milk, 125 ml, €22). In the same vein, let's mention the Actif Cosmétique Oligo'Bronz by Aroma-Zone (10 ml, €3.50), a brown seaweed derivative complexed with trace elements that stimulates melanin synthesis and can be coupled with DHA in "home" care products for a more intense coloring effect on the skin. My heart swings between real and fake tanning! But when the two are combined, the tan is often much more harmonious!
Tonight we go on vacation!
This is the tempting program of Garancia and its Bal Masqué des Sorciers Self-Tanning De-Stressing Night Mask (50 ml, €22), a formula based on plankton, which acts on cortisol (in-vitro test) and allows to wake up, as if returning from vacation, with relaxed features and a sunny face! Finally, you can sleep peacefully thanks to its anti transfer formula. The brand also offers an original creamy mousse for the body (Fée Moi Dorer, Moisturizing Self-Tanning Body Mousse, 200 ml, €19.99), with vegetable DHA boosted by vegetable sugars and Jojoba esters.
Finally, Yon-Ka's Self-Tanning Milk (150 ml, €36) is formulated as a true moisturizer and protector (vegetable glycerin, smoothing fruit extracts, shea butter, cereal germ and rice oil…) that gradually dresses the skin in a superb tan.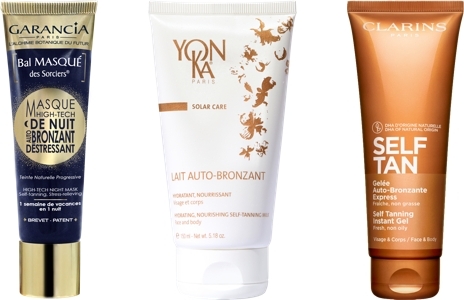 More natural formulas and eco-friendly packs
This is the case with Clarins' new range called Self Tan (Self Tanning Melting Milk for Face and Body, 150 ml, €28; Self Tanning Express Gel for Face and Body, 150 ml, €28. The brand has 40 years of self-tanning expertise under its belt! The formulas include two self-tanning ingredients that are 100% natural, obtained through biotechnology and respectful of the planet (DHA and Erythrulose), combined with moisturizing ingredients (fig and aloe vera). Easy to apply, the textures are greedy and sensory as desired. The tubes are made of recycled plastic and Clarins supports "Plastic Odyssey" which fights against marine plastic pollution for the next 5 years. Clarins' famous self-tanning drops can be mixed with face or body care products for a customized tan (Addition Concentré Eclat Visage, 15 ml, €28 ; Addition Concentré Eclat Corps, 30 ml, €39), have been emulated, since they can now be found at Isle of Paradise in the 2021 version, i.e., they can be used from head to toe (Self Tanning Drops, self-tanning drops for face and body, Light, Medium or Dark, 30 ml, €25).
Ariane Le Febvre
© 2021 CosmeticOBS