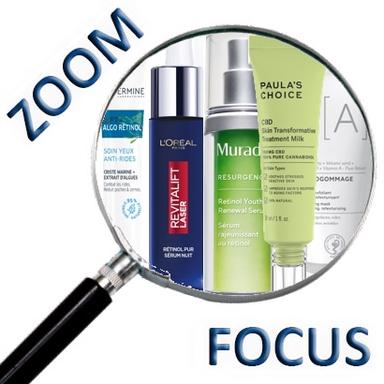 Pure or vegetable? That is the question! This spring, we are witnessing a veritable invasion of retinol or retinol like skin care products (Bakuchiol or other plant-based alternatives), or even a combination of the two for better tolerance. Proof that this safe value of anti-aging still seduces…
Also known as vitamin A, retinol is a must in anti-aging. Particularly recommended for stimulating cell regeneration and smoothing wrinkles in mature skin, it improves skin texture and reduces pigmentation spots.
It is a powerful molecule that is known to be fragile (to oxygen, light, acidity…) and unstable, likely to cause irritation on sensitive skin. This is why we always recommend gradually getting your skin used to retinol, first once a week, then twice, etc., until you start using it every day in the evening (during the day, you should wear a minimum SPF 20 sunscreen because it makes your skin more sensitive to the sun).
In any case, one thing is sure, we will not escape this spring! Retinol is omnipresent, first in pharmacies, but also in supermarkets, in Selective and, more and more, in clean beauty brands.
A sure thing that is being rediscovered
Retinol is attracting growing interest. It has recently become one of the most searched cosmetic ingredients on Google and the most discussed on social networks (+730% at the end of 2019. Source: social listening face care, CDO Team L'Oréal, 2019).
And there, two trends clash: either it is used pure (the most active against wrinkles), or it is used in its plant version.
In the first case, you can find in pharmacies Duolys A, Intensive anti-wrinkle serum with retinol from Laboratoire Dermatologique ACM (30 ml, €34.90), a serum-oil that contains only ten ingredients (a good point that limits sensitization), or SVR's Exfoliating Mask [A] Microgommage Lift (70 g, €29.90), enriched with 0.1% pure retinol, in an oil texture (it contains 5% rosehip oil) that turns into a milk when rinsed.
In perfumeries, Shiseido imagines the Vital Perfection Wrinkle and Spots Corrector Concentrate (20 ml, €100) in a totally sealed packaging to preserve its stability.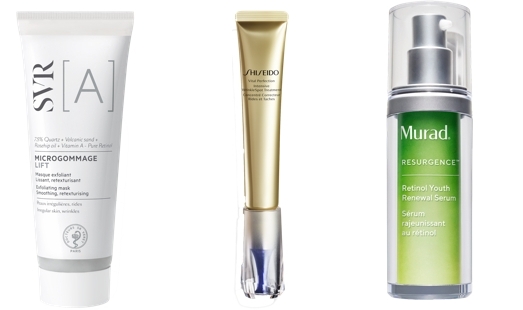 Murad's Resurgence anti-aging line incorporates Retinol Tri Active technology (fast-acting retinoid + time-release retinol + retinol booster) in the Retinol Rejuvenating Serum (30 ml, €89.90), or Retinol Rejuvenating Night Cream (50 ml, €89.90, at Sephora), and Estée Lauder combines retinol with soothing actives in Perfectionist Pro Retinol Rapid Regeneration Treatment (30 ml, €103.50).
Pure and/or encapsulated retinol?
Pure retinol can also be combined with encapsulated retinol for better tolerance, as in Hello Results Retinol Anti-Wrinkle Serum-in-Cream by It Cosmetics (50 ml, €69), which "can be used by all skin types, even the most sensitive."
This innovative galenic is packaged in a high-tech airtight bottle that protects the formula over time.
A] Ampoule Lift, Smoothing, retexturizing, anti-wrinkle concentrate from SVR (30 ml, €34.90) also contains pure retinol concentrated at 0.1% and retinol encapsulated in liposomes at 0.2%, which is released continuously into the epidermis. Resultime's Lift Booster with Collagen Wrinkle Corrector (15 ml, €39) combines encapsulated retinol and vectorized micro-collagen.
The cocktail award goes to Hello Body, which, in its 1.2% Retinol Complex Booster (15 ml, €29.99), combines 0.25% retinol, 0.95% softer retinyl acetate and Bakuchiol, a non-irritating "plant retinol".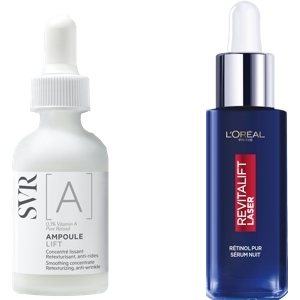 But it is L'Oréal Paris with Revitalift laser Retinol Pur Deep Wrinkles Night Serum (30 ml, €19,90) which integrates one of the highest dosages of pure retinol (0,2% when the maximum concentration recommended by the European Commission is 0,3%), with an optimal balance between power and comfort (presence of hyaluronic acid, glycerin and vegetable oils).
But the brand has focused on guaranteeing the bioavailability and stability of its serum from the first drop to the last, even six months after opening the product.
And even for the eye contour area
Some use pure retinol like RoC in Retinol Correxion™ Smoothing Eye Care Cream (15 ml, €27.49), or Murad, which incorporates its Retinol Tri Active technology in Retinol Rejuvenating Eye Serum (15 ml, €89.90).
Others prefer Bakuchiol for this sensitive area.
This is the case of Olehenriksen in Wrinkle Blur Bakuchiol Eye Gel Crème (18 ml, €46 at Sephora), an eye contour cream that blurs both the color of dark circles and wrinkles around the eye.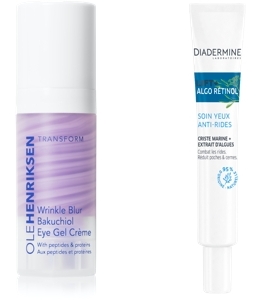 Another example is Lift + Algo-Retinol Eye Care by Diadermine (15 ml, €12.30), which combines sea fennel and seaweed extracts to "help reduce the appearance of wrinkles as effectively as retinol." This same complex is found throughout the Lift + Algo-Retinol range (Global Anti-Wrinkle Day or Night Care, 50 ml, €12.30 each).
Plant-based alternatives to retinol
Here we find mainly Bakuchiol, a 100% plant-based antioxidant (it can be extracted from different plants), which has been taken over by clean beauty. Some brands can also combine the two (retinol and Bakuchiol) as Paula's Choice in its Treatment 0.3% Retinol + 2% Bakuchiol of the Clinical range (30 ml, €61), or combine retinol and cannabidiol (active molecule of the hemp plant), a good idea because cannabidiol calms skin hypersensitivity (CBD Oil + Retinol, 30 ml, €54 or CBD Skin Transformative Treatment Milk, 30 ml, €49)
Aroma-Zone has just launched a Concentrated Serum with Bakuchiol (30 ml, €5.90), presented as an anti-aging product for blemished skin.
Bybi's 100% Bakuchiol Booster (15 ml, €15.50) is accompanied by olive squalane for more hydration.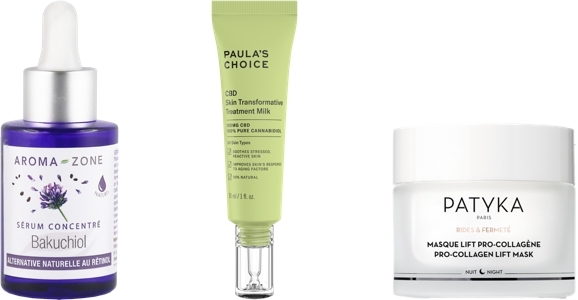 As for Patyka's Pro-Collagen Night Lift Mask (50 ml, €69), its plant retinol is extracted from Vigna Aconitifolia, a plant rich in natural vitamin A.
We see that retinol has not said its last word and that many brands are surfing on its power!
Ariane Le Febvre
© 2021 CosmeticOBS