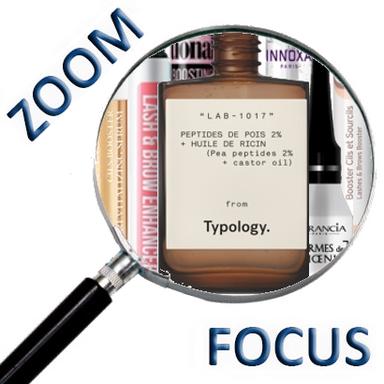 Lashes have a magical power, that of intensifying the look. And they have never been so much in the center of attention as they are right now with the wearing of the mask. Daily mascara (and its corollary, makeup removal, which can tear off the lashes), eyelash curlers, false eyelashes, extensions, dyes… all weaken our lashes. Especially since, with age, they tend to get weaker and thinner. Hence the usefulness of these fortifying treatments that are blooming this spring to give them a boost!
Much more natural formulas
And above all, without the often controversial prostaglandin derivatives (used in the treatment of glaucoma, they can permanently change the color of the eyes!), but with natural extracts. Peptides, arginine (one of the 20 amino acids that make up proteins such as keratin, which binds to damaged areas of the eyelashes and helps repair them) and panthenol (or provitamin B5) are omnipresent.
Most of the new products are vegan and contain 96 to 98% natural ingredients.
Embryolisse's new Eyelash and Brow Booster (6.5 ml, €19.70) concentrates all the trends in the field! Its formula is pure (15 ingredients), without perfume or preservatives. It contains 9% of natural ingredients (including, in addition to the active ingredients mentioned above, castor oil and centella asiatica extract) and can be used by sensitive eyes and contact lens wearers. Finally, this care is proposed at the right price, an essential point because today the exorbitant prices are absolutely out of fashion and it is the "price mora" which prevails! Presented in a mascara bottle with a brush, this serum with an invisible texture can even be considered as a "mascara base" or to brush and tame the "spikes" of the eyebrows.
We recommend applying it morning and night to clean, dry lashes. Afterwards, it takes a little patience and diligence to see the results (28 days of twice-daily use on average), but they are there!
Lashes are better "anchored" (less is lost when removing makeup), longer, denser and fuller.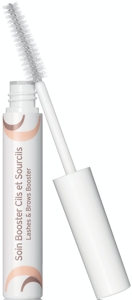 Some treatments even act on the color of the lashes, such as Talika and its Lipocils Expert (10 ml, €43.90) which intensifies the natural pigmentation of the lashes by stimulating the synthesis of melanin, thanks to a plant extract of Coleus forskohlii!
But the best-seller of this brand remains Lipocils (10 ml, €34,50) whose 97% natural formula (witch hazel, apple, nettle, horse chestnut…) is almost unchanged since 1948, except that it is now encapsulated in liposomes!
Mascara or eyeliner applicator
In the first category (a brush like that of a mascara), we find Hairbust's Lash and Brow Revitalization Serum (9 ml, €37.99), Typology's Peptides 2% + Castor Oil Serum for Lashes and Brows (15 ml, €15.80), or Innoxa's Stimul'Cils Night Serum (€17.80).
The latter "multiplies lash growth by three in one month" says the brand. Thanks to a complex resulting from the capillary research antichute, it thickens and densifies them. The same goes for eyebrows. These three treatments promote lash growth and make them more resistant. They are applied just like mascara before bedtime.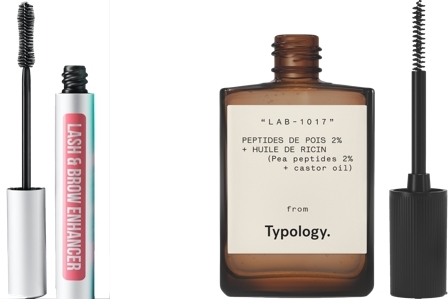 The second category, rarer, gathers strengthening serums equipped with a fine brush (in the wake of Revitalash™) that is used like an eyeliner, at the base of the lashes (Cils Booster Lash Revitalizing Serum by Lancôme, 4 ml, €49 or Larmes de Phoenix, Soin Booster Cils by Garancia, 2,5 ml, €40,50).
Their price may seem high but they last a very long time (about two months). Very effective, they offer the not negligible asset of a translucent and not fatty texture, which does not obstruct at all the make-up (one can even apply them just before the mascara) and they can be used indifferently the morning and/or the evening.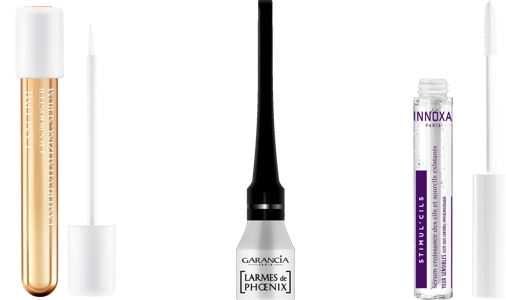 Strengthening serums for lashes and eyebrows are also available in supermarkets, such as Lash Sensational Boosting Serum by Maybelline New-York (5.3 ml, €11.90), the only one, it seems, in this type of circuit.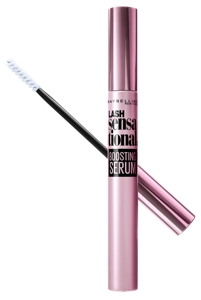 Ariane Le Febvre
© 2021 CosmeticOBS