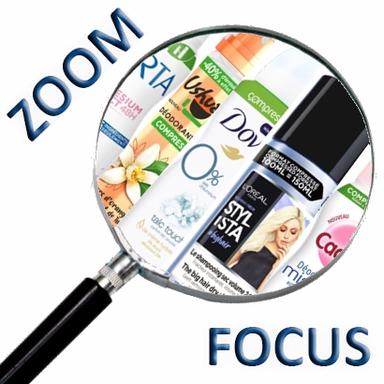 More ecological, less bulky, the compressed format appeals to consumers. After deodorants, he begins to gain other products in our daily lives, such as lacquers or dry shampoos.
As far as deodorants are concerned, it is a real tidal wave, the compressed one dominates in supermarkets as well as in pharmacies.
You have to admit, he has everything to please! More environmentally friendly (less packaging, less transport space), it uses 50% less gas.
Narta (the giant of the sector) even estimated it precisely in figures: "The smaller, compressed format allows 64% more units per pallet to reduce the impact of transport. It is lighter (32% less weight for a compressed pack compared to a classic 200 ml pack) and more eco-friendly (nine trucks less per year)."
It is also cuter and lighter. That's why we adopted it on a daily basis, and not just when travelling! It offers as many uses as a traditional format in a capacity half as small. Overall, the 100 ml capacity allows as many uses as a 200 ml.
48H efficiency seems to be the rule in supermarkets and pharmacies alike.
Honour to the pioneer: the Unilever group launched the first compressed deodorants in 2014 at Dove, Rexona, Monsavon, Axe, Brut… The group states that "the prowess is based on spraying. Our engineers have developed a new valve that ensures that each time a spray is applied, the same amount of active ingredients is released, with half the amount of gas. By compressing our aerosols into a smaller format, we use less aluminum for packaging and less gas inside, significantly reducing the environmental impact of our products. As a result, since the launch we have saved 731 tonnes of aluminium and 12,087 tonnes of CO2 emissions. And we plan to go even further in the coming years."
In its desire to really change the ecological impact of the category, Unilever had opened its patent to competing manufacturers."Some have followed, others are only now doing it" says the group.
Among Dove's latest creations, the Compressed Deodorants Talc Touch 0% Aluminium Salts (100 ml, €3.95 - €4.40) available in the Original (enriched with 1/4 moisturising cream), Anti-White Trace, Peach and Lemon Verbena versions.
The micro-talc is a safe value, also used by Cadum (Compressed Deodorants 48H with micro talc, 0% alcohol Fresh Aloe for depilated skins or Douceur de Rose for sensitive skins, 100 ml, €3.80).
Narta has just released its first Magnesium Protect 0% alcohol Compressed Deodorants, with minimal formulas (only five ingredients) as effective as aluminium salts and dry to the touch (100 ml, €4).
No. 1 deodorant brand has incorporated antibacterial magnesium oxide into its (patented) formula, which traps bad odours by neutralizing them. Four times more absorbent than talcum powder, it can contain up to twice its weight in water.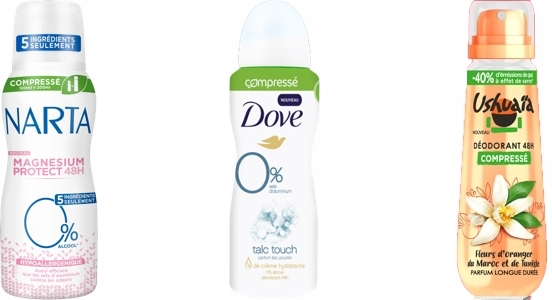 The other major launch of the L'Oréal France Consumer Division will take place this summer at Ushuaïa with its 48h Compressed Deodorants (100ml, €4, four fragrances: Orange blossoms from Morocco and Tunisia, Grenada from the Azores, Polynesian Vanilla, Orchid from Mexico, from July 1st).
Here the originality lies in the transparency of the packaging (the other compressed products are opaque), and the manufacturing conditions in France, in a factory that is committed to sustainable development. The brand also focused on the low environmental impact of its new products.
In partnership with specialized external organizations, it conducted an evaluation study that took into account all stages of the product's life cycle, from the extraction of raw materials to the consumer's use of the product. Each bottle can thus claim on its pack "less than 40% greenhouse gas emission".
Last point: the shape of the deodorant that evokes a drop of water is really different. And this change is welcome because with all these identical compressed formats, we obviously risk a certain monotony…
In the pharmacy same fight
Compressed products have not yet become widespread, but the most innovative brands such as SVR (Spirial Anti-Perspirant Compressed Spray or Spirial Spray Végétal Compressed, 75 ml, €8.90) or Rogé Cavaillès (Dermato Anti-Odour Deodorant 48H, or Deodorant Absorb + Compressed Spray, 75 ml, €8.50) have adopted them.
The capacities are even smaller than in supermarkets (here, 75 ml = 150 ml).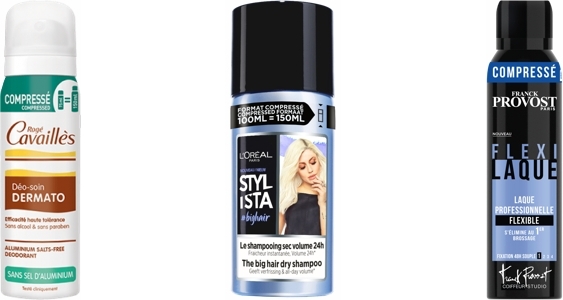 Compressed lacquers and dry shampoos appeared.
The L'Oréal group is definitely banking on this format by offering the first dry shampoos from L'Oréal Paris (Stylista Dry Shampoo Volume 24h, 100 ml, €7.30) or lacquers from Franck Provost (150 ml, €3.95).
The latter claim "27% less propellant gases, 59% less alcohol and 43% less aluminium for the pack."
We have not finished hearing about the compressed but please, manufacturers, try to vary the packaging….
Ariane Le Febvre
© 2019- 2020 CosmeticOBS