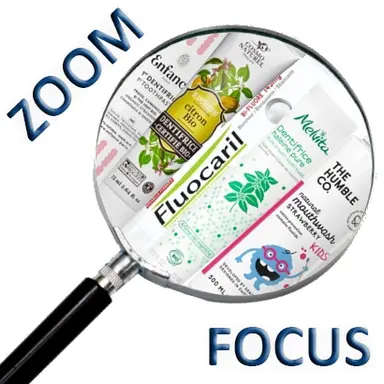 Without a case, solid or chewable, toothpastes do not escape the codes of clean beauty and environmental concerns. While becoming more and more cosmetic…
At a time when bamboo toothbrushes invade all distribution channels (Carrefour Soft Green has just released one with bio-sourced filaments from castor oil, €1.99), it was logical that toothpaste formulas evolve towards more naturalness.
This is the case of the heavyweights of the market, Signal in supermarkets and Fluocaril in pharmacies (Unilever group).
The first one imagines White Now Detox, its first white toothpaste containing 94% of ingredients of natural origin (including mineral clay and activated carbon or coconut extract) without a case, with a 100% recyclable tube (75 ml, €3.70).
The second has just reformulated the toothpastes of the Bi-Fluoré 145 mg range and the toothpastes for children. They are from now on composed of 97% of ingredients of natural origin (Toothpaste Bi-fluorinated 145 mg Mint and Toothpaste Bi-fluorinated 145 mg White, 75 ml, €4,70 each one; Toothpaste Kids 50 mg Strawberry taste, €3,10; Toothpaste Junior 145 mg Red Fruits taste and Bubble Gum, 75 ml, €4,60).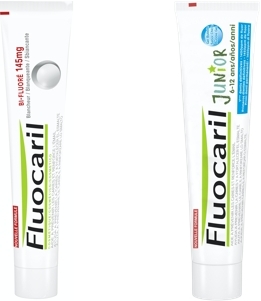 Solid toothpastes are making their appearance
Small, ecological and economical (four to five months of use), they are obviously perfect for travel. Simply lightly wet the toothbrush and rub it directly on the solid toothpaste to make it lather, then brush as usual.
Gaiia's toothpaste is formulated with cold saponified soap (therefore naturally rich in glycerin) and enriched with charcoal (Solid Toothpaste, 30 g bar, €7,90). Sulphate-free, this small black vegan refillable ingot offers a very pleasant taste of liquorice, peppermint, lime and Indian verbena.
Jeste imagines the first Fresh Solid Toothpaste with the taste of fresh mint enriched with probiotics. It is also available in a white version (20 g, €9.90 each).
Currently undergoing Cosmos Natural certification, they have already received PETA's vegan and cruelty-free certification.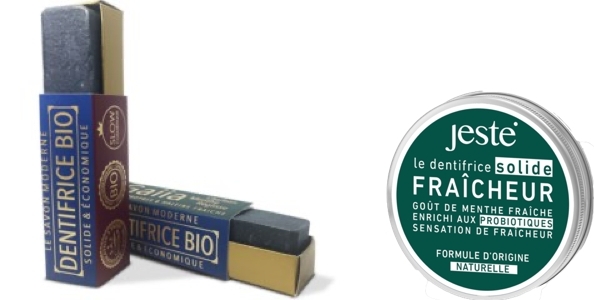 Finally, the first chewable toothpaste has arrived at The Humble Co. (Natural Toothpaste Tablets, with or without fluoride, resealable bag of 60 tablets, €6.99). Without replacing a "real" brushing, it allows you to clean your teeth and refresh your mouth when you don't have a water point in the immediate vicinity.
Organic and desirable
We can also have fun brushing our teeth! It's even recommended to do it more often! Because, yes, toothpastes are cosmetic products like any other, which obey the laws of "eye catching" and must therefore be as attractive as any other beauty product.
One hopes for a little imagination in this field, without of course derogating from the laws of eco-responsibility…
Some try vintage cases (Marvis) or color like Lebon who offers a real "collection" of ultra clean toothpastes (75 ml, €13.50).
This is also the choice of the new French organic-certified brand Le Tube, which offers three toothpastes in recyclable aluminum tubes in gracious pastel shades (Electro White Toothpaste Soin Blancheur aroma Green Tea-Mint; Groovy Fresh Toothpaste Soin Fraicheur aroma Ginger - Lime; Tropical Melody Toothpaste Soin Gentives Sensibles aroma Vanilla - Coconut, 75 ml, €10.80 each).
Manufactured and packaged in the South of France, they are formulated without dyes or titanium dioxide (used to obtain a beautiful white paste) or saccharin (from petrochemicals). Most of the controversial ingredients have been avoided (Triclosan, sulphates, essential oils and allergens that go with them). The vegetable base contains 29% Aloe Vera and 3% coconut oil, as well as specific ingredients according to the formulas (for example, hydroxyapatite - a molecule that makes up 90% of dental enamel - in Electro White to restore whiteness without being abrasive).
On the surfactant side, coco-glucoside (a natural derivative of coconut sugar) advantageously replaces sulfates, while hydrated silica, a mild polishing agent, reduces plaque. Finally, all three toothpastes are sweetened with organic stevia, which replaces synthetic sweeteners.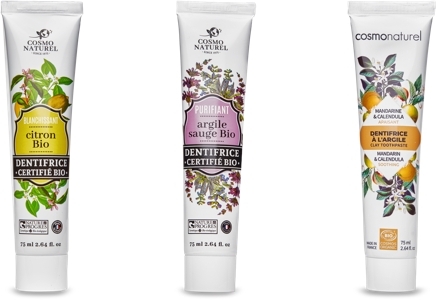 The five certified organic toothpastes from Cosmo Naturel (Laboratoire Gravier) are formulated with clay and original sage or tangerine aromas (Purifying toothpaste with clay and organic sage); Soothing Toothpaste with clay, organic tangerine and calendula; Whitening Lemon Toothpaste; Fresh Toothpaste with organic mint; Children Toothpaste with wild strawberry, 75 ml, €5.11 each).
Melvita, for its part, is launching four new sulfate-free toothpastes with 100% natural flavors, in recyclable tubes, without a case. More resistant, this tube can stand upright on a shelf (Toothpaste Pure Breath Mint Toothpaste, Toothpaste Sensitive Gums Toothpaste Badiane Aroma, Toothpaste Children Strawberry Aroma, 75 ml, €6.90 each). Dentifrice Dents Blanches Arôme Menthe purifies and whitens with Guérande salt, sodium bicarbonate and calcium carbonate (75 ml, €7.20 each).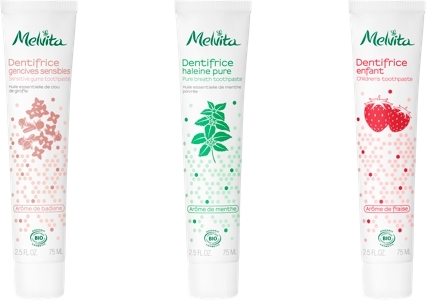 Children, a buoyant market
Most of the above mentioned brands offer toothpastes for children. More original, The Humble Co. imagines the first mouthwash for children based on Peppermint oil and Aloe leaf juice, without alcohol of course, with an eco-conceived tube.
It can be used from the age of four (Natural Mouthwash Kids, 500 ml, €9.99).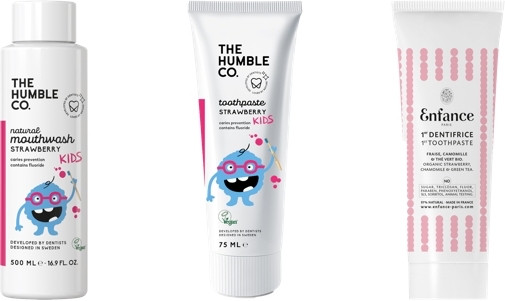 As for Enfance Paris, it is launching 1st Toothpaste (50 ml, €9.80), a certified organic formula with organic strawberry extract, without sugar, triclosan, fluorine, SLS…
Ariane Le Febvre
© 2020- 2022 CosmeticOBS