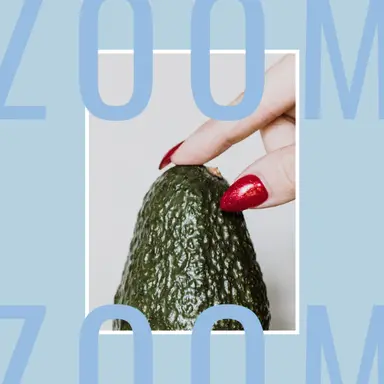 Beets, potatoes, celery or corn in my varnish! "Ten Free" vegetable polishes are becoming the rule and, good news, they are arriving in supermarkets. Their formulas, much cleaner and vegan, offer the same qualities of shine, quick drying, holding as the others.
Kure Bazaar (Bio-sourced Nail Polish, 10 ml, €16, 100 shades), Clever Beauty and its famous anti-gaspi bottle with a "whirlwind of whipped cream" cap (Colored Nail Polish, 10.5 ml, €17.90, 11 shades) or Manucurist (Green Nail Polish, 15 ml, €14, 30 shades), composed of up to 90% bio-sourced ingredients, had opened the way.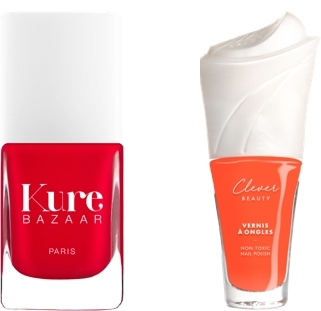 Now even the American giant O.P.I., which was not known for its clean formulas, is launching its first range of naturally derived nail polishes, certified Vegan Society™, with ethically sourced ingredients: Nature Strong™ (15 ml, €16.90, 30 shades + 1 Top Coat). Made of up to 84% biobased ingredients (derived from sugarcane, cassava, wheat, potato and corn…), it offers the same performance as classic polishes and vibrant colors with an ultra-glossy finish that have made the brand successful. Easy to apply and remove, they prevent yellowing of natural nails. The names of the shades are the occasion for many puns related to nature (A Great Fig World, Let Nature Take Its Quartz, Knowledge is Flower…). *Two coats of varnish and one coat of Top Coat offer a hold up to seven days," says the brand.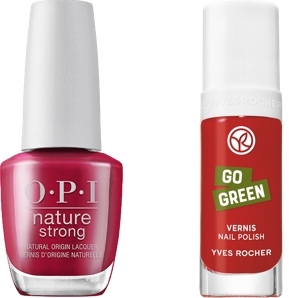 Ditto for Yves Rocher and its range of Go Green varnish with coconut oil and bamboo extract (5 ml, €6.50, 32 shades).
Clean formulas do not prevent innovation!
This is the case with Orijinal nail polish, which is applied without a base, directly on the bare nail, which saves a lot of time (Pomegranate Nail Polish, 15 ml, €10). They last up to five days. They contain 82% bio-sourced ingredients and 75% ingredients of natural origin, including a patented active ingredient: celery extract, obtained by a sustainable extraction process, which promotes thickness, smoothing of the surface, cohesion and hydration of the nails. They also contain an organic pomegranate extract that stimulates nail growth thanks to its exceptional antioxidant content.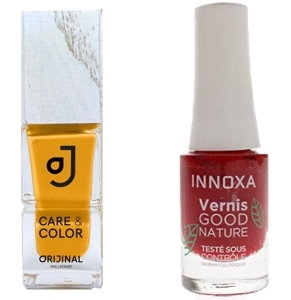 In pharmacies, Innoxa also offers a more responsible formulation with vegetable solvents derived from natural and renewable raw materials (cotton, sugar cane, manioc, potato), in trendy shades (Good Nature Nail Polish, 5 ml, €6.80, 11 shades with a lacquered finish).
Natural (more) varnishes arrive in supermarkets
Among the first, those of Sally Hansen (Good.Kind.Pure Nail Polish, 10 ml, 9.90 €, 17 shades), with "15-free" formulas totally vegan, composed of natural ingredients to 75% and brushes themselves bio-sourced.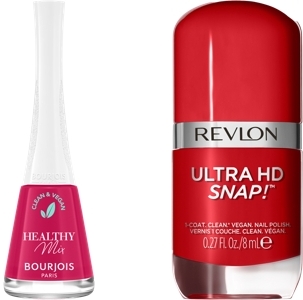 In the fall, it will be Revlon and Bourjois' turn to launch theirs. The first imagines Ultra HD Snap!™ 1-Coat Varnish, dry in a snap! (8 ml, 7.95 €, 20 shades) and the second Healthy Mix Varnishes (9 ml, €9.99, nine shades), two ranges formulated without controversial ingredients, with more than 78% of natural origin ingredients. They include the now-familiar derivatives of sugar cane, cotton, corn… and Revlon's fortifying care complex with spinach, avocado and green tea. The flat brush with 320 bristles facilitates the application for a homogeneous result, without trace. Bourjois' varnishes are packaged in recycled and recyclable materials.
Ariane Le Febvre
© 2021- 2022 CosmeticOBS