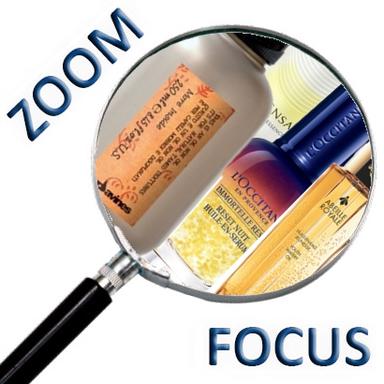 Filling hybrid textures, this innovative galenic - an oil similar to water - is truly out of the ordinary! Rich but evanescent, it's a godsend for all those who don't love oils!
The art of being fed without a "puddle" effect
Those who criticize oils for the sensation of not being deeply nourished but just the impression of being "lustrous" (the so-called "puddle effect") will love this texture which offers the double interest of true nutrition and great lightness without this satiny aspect that may not appeal to everyone (especially normal to combination skin).
Another interest in facial care is that it does not swell the eyes (we know that the oil texture even applied far from the eye contour can infiltrate this area).
The first to have imagined it is Guerlain in the Abeille Royale range with its Huile-en-Eau Jeunesse (50 ml, €127), a truly original texture that combines the richness of oil, the power of a serum and the freshness of water. Stimulated by the active ingredients of the hive (honey from the black bee of Ouessant and exclusive royal jelly) and deeply nourished by the oil microcapsules, the skin is instantly plumped up and illuminated.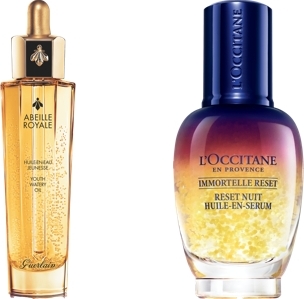 Then, it will be the turn of L'Occitane en Provence to offer Immortelle Oil-in-Serum Night Reset (30 ml, €59), enriched with regenerating Immortelle essential oil, encapsulated in fine golden beads that melt as soon as they touch the skin.
The same airy richness for Sensaï who has just launched Dual Essence, a two-phase essence (30 ml, €156) that awakens the skin's radiance and gives it incredible softness, thanks to nourishing plant oils and Koishimaru silk Royal™, a source of hydration.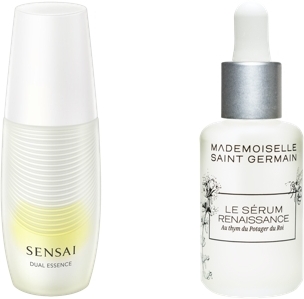 Last but not least surprising, Mademoiselle Saint Germain's Renaissance Serum (30 ml, €45), the first treatment to successfully solubilize and stabilize hyaluronic acid in a 100% oily serum… as evanescent as water! This elixir with recognized anti-aging active ingredients (in addition to hyaluronic acid, squalane, as well as organic thyme and royal jelly, directly from the King's Kitchen Garden in Versailles) offers a rare pleasure of use.
It took two years of research to develop this clean beauty serum that is as effective as it is natural, using only French ingredients.
We are starting to see this texture appear in the capillaries.
No reason why it should be limited to facials! We're starting to see her landing in hairstyles and hair care, and we'd bet that's just the beginning!
Thus, Davines in its More Inside line proposes This is an Oil Non Oil (250 ml, €22.70), a highly moisturizing gel oil, perfect for natural looks, because it gives a light structure and eliminates frizz, without weighing down the hair.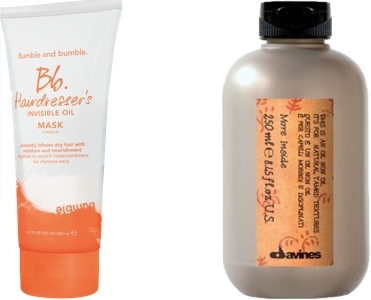 Bumble and Bumble has just created Bb. Hairdresser's Invisible Oil Mask (60 ml, €15 or 200 ml, €37), a mask with six plant oils (coconut, argan, sweet almond, grape seed, macadamia nut and safflower seed) that detangles, tames frizz, adds shine and above all moisturizes for up to 72 hours with a light touch.
Ariane Le Febvre
© 2020- 2021 CosmeticOBS