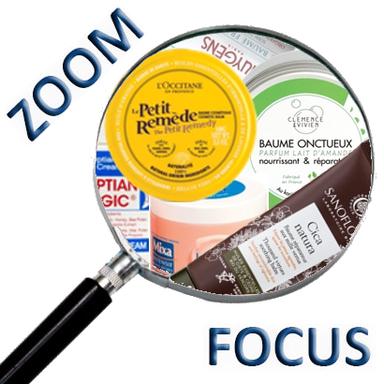 With their "ointment" texture, they brave the cold weather by overcoming irritations and other skin "bruises". Renewed with a vintage sauce, they allow you to play the lovely cough and cold game (but not only!) and bring comfort to the heart! Back to basic…
Even the historic Homéoplasmine® Pommade is getting a new look (€4.62 for the small 18 g model or €6.24 for the large 40 g model)!
The medicine from Laboratoires Boiron is now available in a new alumino-plastic tube, which is more flexible, lighter and more resistant, and does not crack when folded.
It is even available in pocket format!
The formula has remained unchanged since 1932 and is as effective as ever in relieving minor skin irritations in winter, especially when you have a cold and the wings of the nose are red and painful (however, it should not be applied to the nasal mucosa, inside the nose, as many people do).
Very soothing thanks to its active ingredients (Garden Marigold, Phytolac, Bryone, Lao Benzoin…), it protects and repairs the skin, especially exposed areas (cheeks, nose, hands).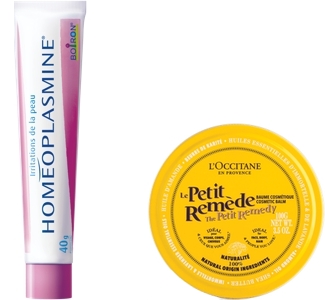 Very small or very large…
Le Petit Remède Baume Cosmétique de L'Occitane, which comes in two formats (15 g, €12 or 100 g, €35), sums up the trend. First its two sizes (very small or very large), then its round aluminium tin that can be reused, and finally, its resolutely retro side, evoking, in its mini capacity, the famous Lajaunie® cachous tin!
It combines the brand's signature ingredients (organic immortal from Corsica, organic shea butter from Burkina Faso, almonds from Valensole, lavender from Provence) and adds arnica for its soothing properties.
It can be used (in very small quantities) on the face, body and even the hair.
Compact, its solid texture transforms into a silky oil on contact with the heat of the skin.
Let us also mention the adorable little jar of Kure Bazaar (Lip & Nail Balm 100% natural, 15 ml, €34), a multi-purpose balm that comes in two versions (Rose or Ginger) and proves to be sovereign in nourishing and repairing all small areas (lips, hands and nails, especially cuticles, elbows …).
A precious formulation (organic shea and cocoa butters, vitamin E, oily rose macerate and rose essential oil or natural ginger root extract and ginger essential oil) that can be applied as often as necessary throughout the day!
Family "Swiss Army Knives"
Universal and as nourishing as they are restorative, these SOS treatments can be applied to the face or body of the whole family. They are popular this winter and are a must in the bathroom.
After Egyptian Magic, a true "all-in-one cream" (starting at €18 per 30 ml) or Rêve de Miel Super Baume Réparateur au miel de Nuxe (40 ml, €20.10), here is the Onguent Réparateur Baume Multi-Usages by Alvadiem, ex Apivita (10 ml, €5.90 or 50 ml, €12.90), the Balmes Unctueux by Clémence & Vivien (50 ml, €5.90 or 150 ml, €11.90, three fragrances : Almond Milk, Summer Flowers, Citrus Freshness), Le Baume Français, Soin Tout En Un de Huygens (10 ml, €12), La Pommade d'Hervé Hérau (50 ml, €115 at Oh My Cream), a real balm for skin in distress, or the White Limnanthe Oil Balm by MALIN+GOETZ (Meadowfoam Oil Balm, 113 g, €44), an ultra-rich water-free formula that can be used as a make-up remover, make-up base, night care, after-shave balm, beard care… It can be applied to chapped lips, rough heels or dry ends of hair.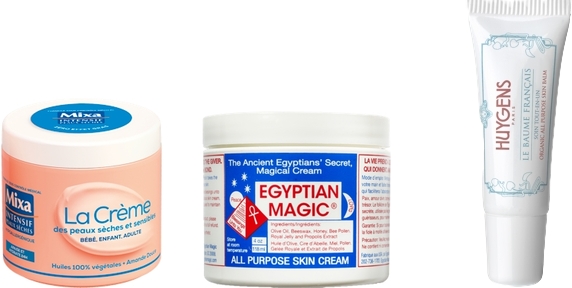 Finally, the new Cream for extra-dry skin or dry and sensitive skin from Mixa Intensive Dry Skin in its round box and its generous capacity at a gentle price (400 ml, €5.60 each, from March) is the cream for the whole family (baby, child, adult).
On the side of certified organic skincare
Cica Natura Repairing Balm with a thousand virtues of Sanoflore (40 ml, €11,90), with its rich and enveloping "bandage" texture and its delicious aromatic fragrance, soothes and repairs weakened and attacked skins (chapping, cracking, irritation, dander…) with a rare effectiveness.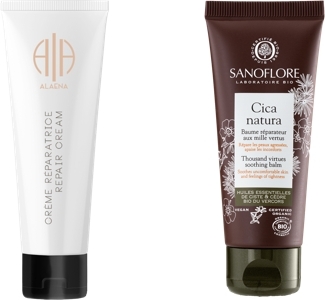 As for Alaena Repairing Cream (50 ml, €39), it is also a universal multifunctional care with a balm-in-oil texture that can be used in cases of eczema, acne, redness, chapping, scars … and even to soothe a sunburn!
Ariane Le Febvre
© 2020- 2021 CosmeticOBS