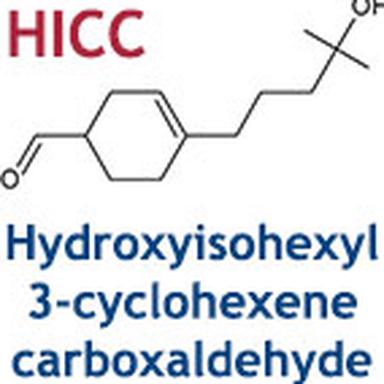 We know it by various names, including Lyral®, but on cosmetics labels it is officially listed as Hydroxyisohexyl 3-cyclohexene carboxaldehyde. Deemed too allergenic by scientific experts, it is on the verge of being banned for use in cosmetic products in Europe. Yet we still see it frequently in formulas, and this could be the case for several years to come!
Hydroxyisohexyl 3-cyclohexene carboxaldehyde (HICC) is a synthetic substance composed of two molecules: 4-(4-Hydroxy-4-methylpentyl)cyclohex-3-enecarbaldehyde and 3-(4-Hydroxy-4-Methylpentyl)cyclohex-3-enecarbaldehyde. These two isomers are present in the final fragrance at concentrations of 50 to 70% for the first, and 30 to 50% for the second.
The best-known commercial name is Lyral®, but there are others: Kovanol®, Landolal®, Mugonal®, Cyclohexal®, HydroxyEmpetal®, Leerall®, Lydoucal®, etc.
It is a colourless, viscous liquid with a soft, delicate, floral aroma reminiscent of lily of the valley.
This is why it is a popular ingredient not only in fine fragrances (the leading perfumes contain it), but also in all categories of cosmetic products (deodorants, skincare and hygiene products, shaving and aftershave products, etc.) as well as in household products (detergents, cleaning products, etc.).
It is found in just about every scented cosmetic product with the exception of certified organic products and those with the European eco-label, since it is a synthetic substance and therefore banned by the specifications for organic and ecologically certified products.
A known allergen, yet an unfamiliar one
Like many fragrance ingredients, HICC has an allergenic potential that is well known to the scientific community. As a result of the 7th amendment to Cosmetics Directive 76/768, since 2003 it has been on the list of 26 fragrance substances that must be included in the list of ingredients due to their allergenicity. This measure is intended to better inform consumers, so that sensitized people can avoid coming into contact with the substances that cause adverse reactions. The provision took effect on 11 March 2005.
The alarm has been sounding strongly since 2003, when Strasbourg's Louis Pasteur University sent a letter to the European Commission informing them that consumer exposure to this substance through cosmetic products ' exceeds the threshold for elicitation ' (when allergies are triggered) ' in sensitized individuals and that exposure is likely to induce a significant level of sensitization in the population ' (the first phase of the allergy, during which the immune system identifies a substance as an allergen).
At the time, the European scientific experts at the SCCNFP (which has since become the SCCS, the Scientific Committee on Consumer Safety) pointed out that ' the available data clearly demonstrate that HICC is an important contact allergen '. In recent large European surveys, it has been shown that in patients with eczema 1.9 – 2.7% react to the substance.
The experts added that, despite mandatory labelling (which wasn't yet in effect when they issued their opinion), ' only an unknown proportion of individuals who have been clinically tested will be able to avoid cosmetics that are potentially harmful to them '. And they issued two recommendations:
• Based on the information presently available, a concentration of up to 0.02% in a finished cosmetic product will have a low potential to induce sensitization, or to elicit allergic contact reactions in consumers who are already sensitized to this fragrance chemical.
• Although strictly a risk management matter, because of the importance of 4-(4-hydroxy-4-methylpentyl)-3-cyclohexene-1 carboxaldehyde as an allergen for the consumer, a more easily recognized INCI name than hydroxyisohexyl 3-cyclohexene carboxaldehyde may be of assistance to the consumer.
The two recommendations fell on deaf ears.
HICC regulations remained unchanged: the substance was permitted in all kinds of cosmetics in unlimited concentrations in finished products. This was the case even though the expert committee issued another opinion just one year later, in December 2004, in which it was clearly restated that ' current epidemiological data demonstrates that contact allergy to Hydroxyisohexyl 3-cyclohexene carboxaldehyde is a problem in Europe. The provided experimental data does not demonstrate the highest level for the safe use of Hydroxyisohexyl 3-cyclohexene carboxaldehyde in cosmetics. '
Once again, the European Commission did nothing.
Moving towards a ban
There is no lack of studies showing the highly allergenic nature of HICC.
As early as 2003, a team of Danish researchers published, in the scientific journal Contact Dermatitis , the results of their work showing that, out of 18 people with eczema and previously screened for being sensitized to HICC, 11 reacted to a low concentration and 5 reacted to a high concentration. Already, they concluded that ' a significant reduction in usage concentrations is recommended to prevent contact allergic reactions '.
Voluntary restrictions… to no effect
The pressure is on. IFRA (the International Fragrance Association), whose standards serve as guiding principles for the industry, has established concentration limits: 0.02% for use in lip products, deodorants, and antiperspirants and 0.2% in all other cosmetic products except for use in oral care products.
Those are the thresholds that were the subject of a new safety assessment at the European level , conducted by the SCCS, but not until 2011.
The conclusion, yet again, is categorical:
' HICC has for more than 10 years been recognized as an important contact allergen in humans with more cases of contact allergy documented in the scientific literature than for any other fragrance chemical in this period. HICC has been shown to be a significant cause of disease as many of those with contact allergy to HICC also had reactions to cosmetics, which contained or were likely to contain HICC.
Since 2003 attempts have been made by the fragrance industry to contain the outbreak of HICC allergy, but with no convincing success so far. Recent voluntary restrictions (recommendations to lower use concentrations, at least for some product types, to the level recommended by the SCCS in 2003) are not reflected in available evidence and are considered insufficient.
The SCCS considers that the number of cases of HICC allergy documented over the last decade is exceptionally high and that continued exposure to HICC by the consumer is not considered safe even at concentrations as low as 200 ppm. Therefore, HICC should not be used in consumer products in order to prevent further cases of contact allergy to HICC and to limit the consequences to those who already have become sensitized .'
If you understand the language of the experts, ' HICC should not be used in consumer products ' amounts to a request to the European Commission to pass legislation to ban it. The SCCS made this request even more explicitly in another Opinion, issued on the same day as the previous one, on fragrance allergens in general , in which it again requested that HICC be banned, concomitantly with two substances found in tree mosses Evernia prunastri and Evernia furfuracea.
This time, despite the outcry in the industry and the screaming sirens hailing the disappearance of legendary perfumes, the European Commission set the regulatory process in motion and prepared a text that it submitted to public consultation in February 2014.
Comments from the public were accepted until 14 May 2014, and a Regulation was set to be published by late 2014 or early 2015. Finally, on 5 January 2017, the European Union transmitted to WTO a draft regulation to ban the use of three fragrance allergens in cosmetic products. And at least the regulation was published on August 2 , 2017, with the number 2017/1410.
No rush to ban HICC
But it must be noted that, even the Regulation publishd, the substance will not disappear from cosmetics immediately.
This is because, according to the Commission's text, the proposed transitional period is two years after the entry into force of the measure for placing products containing this substance on the market and four years for their withdrawal.
This means that the cosmetics industry has the right to launch new products containing HICC for two more years, until 23 August 2019, and that it has four years, until 23 August 2021, to stop selling products that are already on the market. During those five years, consumers will continue to be exposed to HICC's highly sensitizing potential and may become allergic to it.
One might hope that, since the industry is well aware of this issue, it will take the lead and replace HICC with the alternatives that the leading laboratories are already working on. But we must proceed with caution as we wait for the movement to gain momentum and for the ban to actually take effect. It is up to individual consumers to check (as always) the list of ingredients on the products they intend to purchase, and to leave those that contain Hydroxyisohexyl 3-cyclohexene carboxaldehyde on the shelf.
© CosmeticOBS-L'Observatoire des Cosmétiques
© 2017- 2021 CosmeticOBS
---
Associated elements(4)