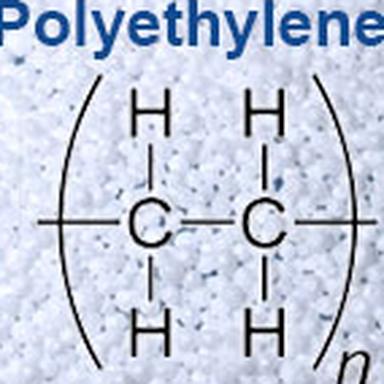 This cosmetic ingredient has been present in many formulations for a long time, and has been acclaimed for its softness on the skin and its low cost as much as for its exfoliating and film-forming properties. But its interesting plastic form has given way to its polluting plastic, especially for marine environments, bringing with it all microplastics. Which are getting more and more bad buzz, and are starting to targeted also by regulations.
Polyethylene is a thermoplastic resin that is widely used all around the world because it is one of the cheapest and easiest polymers to synthesize.
It is derived from the petrochemical industry and exhibits very high stability, which provides it with a good impact strength and chemical resistance.
There are several types of polyethylene, including LDPE and HDPE homopolymers, and copolymers: LLDPE plastomers, for example.
HDPE is mainly used in stiff goods (detergent or cosmetics jars, bottles, food containers, jerry cans, car tanks, etc.), while LDPE is found in soft goods (plastic bags, films, packets and small bags, flexible containers, etc.).
Polyethylene is also a food additive (E914).
Polyethylene, a cosmetic ingredient
Polyethylene is listed in the International Nomenclature of Cosmetic Ingredients under number CAS 9002-88-4, with three main functions: exfoliating agent, film-forming agent, and viscosity control agent.
It is incorporated in formulas in the form of microbeads between 0.1 and 1 millimetre which offer many advantages for formulators: easily available, cheap, white, and odourless, they are completely inert and do not interfere with the other cosmetic ingredients.
Polyethylene can thus be used for multiple applications and it has long been found in thousands of products belonging to almost all cosmetic categories, from cleansers (soaps, facial and body gels, toothpaste…) to skincare products (facial creams, eye contours, lip balms…), and makeup (lipsticks, foundation, mascaras…).
It was also present in a lot of body and face scrubs. Its microbeads are known for being perfectly spherical and devoid of any potentially aggressive micro-edges (unlike the plant-derived exfoliating powders obtained from fruit kernels or shells), and they have long been described as the softest and most respectful for the skin.
Then why does polyethylene, as all microplastics, belong to the category of controversial ingredients now?
Polyethylene, a hazard for aquatic environments
It actually has to do with its high stability, which makes it non-biodegradable, and with its end-of-life when it is used in cosmetics formulas. This was highlighted in particular by Dutch NGOs in 2013.
Here is what they found:
• Microbeads are used in hundreds of personal care products (including toothpaste, shaving cream, shower gel and exfoliating scrubs)
• Microbeads could constitute up to 10% by volume of a single product
• Sewage treatment facilities are not designed to filter these tiny microbeads from wastewater so some microbeads will still be present in effluent water leaving the treatment plant
• Microbeads are found throughout the marine environment (from Lake Geneva to the North Pole)
• Microbeads will not biodegrade
• They are ingested by various sea species
• They attract persistent organic toxins (POPs)
Therefore, they concluded that the accumulation of plastic, including microplastics, in the marine environment is today recognised as a serious, global environmental issue, due to both the impact this type of pollution has on marine biodiversity, and its related consequences on human health.
These findings were confirmed by a report of the United Nations Environment Programme (UNEP) in 2015, which emphasized that *"knowledge is emerging about the ubiquitous occurrence of microplastics throughout the world's marine environment and their potential for secondary health impacts via the food chain, including to humans who consume seafood. This, coupled with emerging knowledge about the toxic effects such particles have on biological organisms, including mammals, has led to concern…'*
As a result, several recommendations were formulated by the United Nations, for producers and consumers, as well as for researchers and policymakers, calling for a voluntary phase-out of microplastics by the industry precipitated by consumers' decisions not to buy products containing microbeads.
Microplastics, a species becoming extinct?
Even if cosmetic products do not represent the main source of plastic pollution for aquatic environments, the issue is given a lot of coverage, and cosmetics players are starting to launch campaigns to inform consumers on their commitment to making polyethylene disappear from their formulations.
The Unilever group (Axe, Dove, Monsavon, Rexona, Signal, Williams…) has decided "to phase out plastic scrub beads from personal care products and expect to complete this phase out globally by 2015."
L'Oréal has decided "not to develop any new products with microplastic-pearls as an exfoliating agent and we will also work to substitute these in existing product formulas."
Procter & Gamble (Fluocaril, Gilette, Head & Shoulders, Pantene Pro-V…) said "that all products will be free from microplastics in 2017."
Johnson & Johnson (Listerine, Neutrogena, Roc, Vendome…) said: "We've already begun the phase out of polyethylene microbeads in our personal care products. We have stopped developing new products containing plastic microbeads."
We could also name The Body Shop, Colgate-Palmolive or Lush, who have made the same type of commitment.
Apart from natural exfoliating agents (fruit shells and kernels, bamboo silica, pumice stone, sand…) whose abrasiveness and aggressiveness for the skin sometimes proves too strong, the cosmetics industry already has a few solutions available to replace plastic microbeads by others, less harmful for the environment, but just as gentle for the skin.
Jojoba or carnauba wax, or also cellulose microbeads are already quite commonly used in various products, even if they are more expensive and their cosmetic properties are a bit less efficient.
Ingredient suppliers are seeking other alternatives – some of them have found a few – with almost the same characteristics to replace plastic derivatives in the long run.
That is how, in 2007, Brazilian company Braskem had already announced it was able to certify a green polyethylene polymerized from ethylene derived from ethanol, which was obtained by fermenting sugar cane.
Then, in 2014, Lessonia presented a new plant-derived exfoliating active that presented "all the advantages of polyethylene in terms of availability, stability in the formulation, sensoriality, and cost, while being biodegradable and Ecocert-certified."
The path towards the disappearance of polyethylene in cosmetics is thus well under way… but this is only the beginning, since soon all other microplastics are also under the spotlight of criticism and threats.
Microplastics, a target for regulations
It is on the other side of the Atlantic that the issue of polyethylene microbeads triggered the first regulatory changes.
As the debate reached the political sphere, several American States introduced law texts aiming to ban them from cosmetic products.
And the trend has gone more global, as it also reached the federal level when President Barack Obama signed the Microbead-Free Waters Act on December 28, 2015, to ban plastic microbeads from rinsed-off cosmetic products throughout the US territory. The measure entered into force as from July 2018.
Somewhat behind, Europe ends up joining the global movement to ban microplastics.
The European Commission highlights marine microplastics pollution as a priority area of concern. The Netherlands, Austria, Luxembourg, Belgium, and Sweden issue a joint call to ban the microplastics used in personal care products.
On 21 October 2015, Cosmetics Europe publishes a recommendation on plastic microparticles, calling on its members to stop using them in cosmetic products by 2020.
On July 20, 2016, France takes the initiative, through the Law on Biodiversity, to introduce the ban of solid plastic particles in rinse-off cosmetic products used for exfoliation or cleaning. The provision came into force on January 2018.
Several EU Member States then take identical measures, before the Commission asks ECHA to prepare proposals for restrictions on oxo-biodegradable plastics and microplastic particles intentionally added to products of all kinds for use by consumers and professionals.
At the end of January 2019, ECHA publishes a proposed ban on the marketing of polymers in microplastic form at a concentration of 0.01% or more in consumer products, including cosmetics, whether rinse-off or leave-on, with an application period of six years from 2020.
A proposal which is of great concern to the cosmetics industry (for reasons of technical feasibility, cost, disproportion of the measure in relation to the environmental impacts of cosmetic products…), and which is currently under discussion…
LW
© 2019- 2021 CosmeticOBS
---
Associated elements(7)