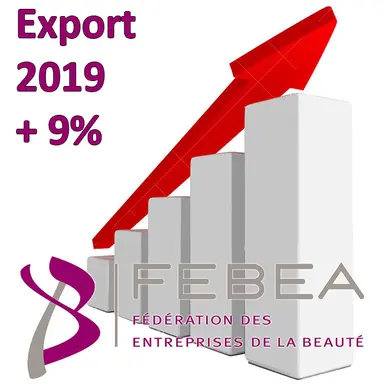 In 2019, the French cosmetics industry once again achieved a strong performance abroad: the sector exported nearly €16 billion of products, an increase of more than 9% compared to 2018. This progression, which has been going on for more than 10 years, makes the cosmetics industry the second largest exporter in France. FEBEA's analysis.
Europe remains the leading market for French cosmetic products, ahead of the United States. We note a spectacular growth of China: +48% of exports in one year. Skin care, followed by perfumes and eaux de toilette, are the most popular products in the world. The dynamic and innovative sector exports more than 50% of its production, and this export activity alone represents 130,000 jobs in France.
The equivalent of 150 Airbus
France's foreign trade results for 2019 were published on 7 February by Customs. The French cosmetics industry is remarkably successful: in 2019, it reached €15.7 billion of exported products (the equivalent of more than 150 Airbus aircraft), confirming France's position as a world leader in cosmetics. These excellent results place the sector in second place among France's export sectors, behind aeronautics.
Cosmetics "Made in France" also strongly attracts foreign tourists: out of five cosmetic products sold in France, one product is bought by a foreign visitor.
In total, more than 50% of the production is exported, and the cosmetics export activity alone employs 130,000 men and women throughout France.
Exported worldwide
Europe is the world's leading region in terms of exports. It is followed by the United States and then Asia, whose share is growing spectacularly. Exports to China jumped by nearly 50% (+48%) in 2019. China thus moves from 7th to 4th place as a destination for French cosmetics. There is also a strong increase in exports to South Korea (+26%) and Singapore (+16%). Today, one French cosmetic product out of five is sold in Asia.
The TOP 3 of the best export sales
Skin care products are the best export sellers: they represent more than €7.3 billion, an increase of more than 46% over the last five years.
Perfumes and eaux de toilette are also extremely popular: their export sales (over €4.8 billion) have increased by 23% in five years.
Lip make-up products, whose sales have increased by nearly 80% in five years, reach more than €730 million in total.
A dynamic and innovative sector
Each year, more than a third of cosmetic products are renewed.
The industry innovates in two major directions.
• On the product side, there is a strong breakthrough of natural and organic products. Numerous brands, both large groups and SMEs, have undertaken to reformulate their products to enrich them with natural ingredients, thus meeting a major consumer expectation.
Another strong trend is personalization. Skincare, fragrances and make-up are increasingly adapted to individual needs, and many formulas are now developed with the help of AI: a "scan" of the consumer's skin enables us to offer the product that corresponds exactly to his or her skin type and colour, but also to the climatic conditions and the context in which the product will be used.
• As far as packaging is concerned, the key word is ecodesign. The brands are working on reducing the weight and size of packaging, and are developing major innovations: cardboard tubes, refillable bottles, glass containers or containers made from 100% recycled or plant-based plastics.
An enduring success
If French cosmetics export figures are growing by 10% per year on average, since 2013, it is also thanks to a high-performance ecosystem at all levels.
France is a leader at all levels of the value chain.
• Research (on ingredients, raw materials, formulations, packaging) ranks first in the world, thanks to the excellent training of French engineers and researchers, and to the strength of the network of research and training centres. The sector's R&D is the most efficient in France with 3.6 patents filed per million euros spent.
• French cosmetics distribution has a unique complementarity that is unique in the world: the fact of having four distinct distribution networks (supermarkets / pharmacies / perfumeries / salons) has enabled the brands to develop specific ranges that are effective in each distribution format.
"This success is also based on the entrepreneurial dynamism of the sector," adds Patrick O'Quin, President of the FEBEA. "Every year, 170 new cosmetic companies are created in the sector, fuelled by the sector's abundant innovation. Alongside major groups recognized worldwide, our industry includes nearly 85% of SMEs, spread throughout France. In particular, in areas that have been able to develop their historical know-how in terms of perfumes (Provence for example) or their natural wealth: Brittany in particular, thanks to the success of cosmetic ingredients from the sea."
This export performance allows the French cosmetics industry to hold today 23% of the French market. global market share. Made in France" remains an essential asset for the sector and for the economy as a whole.
FP
© 2020- 2022 CosmeticOBS