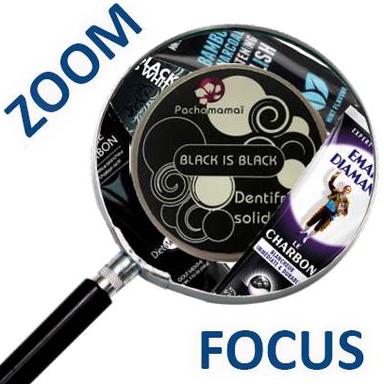 Charcoal: our new smile detox ally? After the black wave on face care, here it comes again – more surprisingly! –, spreading to our smile radiance! What if we had to use black to get whiter teeth?
We tend to forget about it, but toothpaste is a cosmetic product, so it just could not escape the huge black tide that recently flooded beauty departments! In fact, charcoal powders are quite old a method to brighten the teeth and soften the superficial spots associated with drinks, food, or spices (coffee, tea, wine, beetroot, turmeric…).
Beware: when it is pure, charcoal powder is abrasive (especially for fragile or irritated gums), and it should not be applied more than once a month. But if it is diluted in toothpaste, it can be used on a daily basis to make the teeth look less yellow and provide radiance, without any danger for our enamel.
After Mr Blanc (Teeth Pro Whitening Toothpaste, 100 ml, €12, in Sephora stores) and Émail Diamant ('Le Charbon' Blancheur Immédiate et Durable for immediate, long-lasting whiteness, 75 ml, €4.20), it is now Merci Handy's turn to reinvent the ancestral technique of oil pulling.
The Love & Smile Detox kit (14-day cure, 14 x 10 ml, €19.99) is composed of 14 'straws' containing coconut oil and active charcoal.
Amazon also distributes Swiss brand Curaprox, which launches Black Is White (90 ml, €16.95), a toothpaste with active charcoal featuring a blue filter which creates an optical illusion to make the teeth look whiter.
There is also Coco Smile, Activated Charcoal Advanced Whitening Tooth Paste (75 ml, €20), with coconut active charcoal.
As for Dietworld, they imagined B Smile Charbon Actif Toothpaste (100 g, €8.90). This one is made of organic bamboo charcoal powder.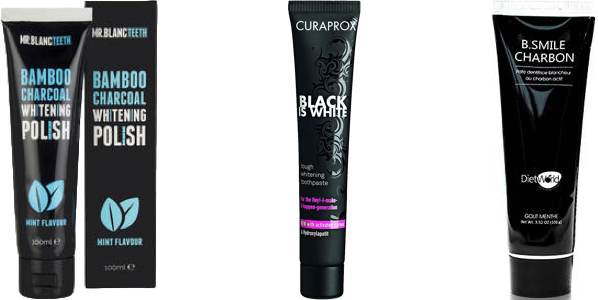 Lastly, no doubt Pachamamaï developed the most original version, with the Black is Black solid toothpaste (20 g, €10.83), which is just as green as it is economical – the brand announces it 'lasts as long as two standard tubes'!
Most of these toothpaste products are vegan, mainly composed of natural ingredients (92% to 99%), and triclosan-free, and they contain few surfactants (they make less foam than others). But it is not just the paste that has become black (or mauve with Émail Diamant), packaging is also concerned: a first in the oral hygiene world!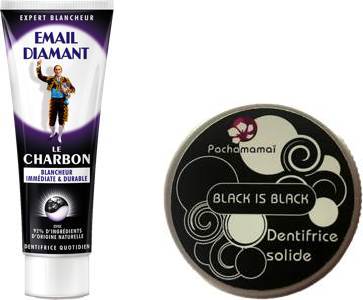 Ariane Le Febvre
© 2018- 2022 CosmeticOBS