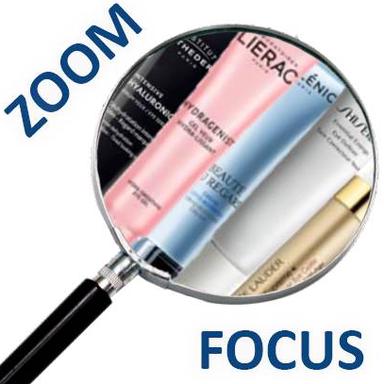 Metal tips (based on Zamac or steel) seem to be getting more widely used as we are approaching the post-summer season. These massaging applicators can keep the skin cold for a long time and are a real added value for anti-aging eye contour treatments. Your look is instantaneously, visibly fresher!
Since we all come back from holidays with more marked, small wrinkles on the eye contour area, it is only logical that eye contour treatments are put forward in September. It is the right moment to offer your look specific care. And when it goes with a cryo-metallic applicator for decongestant pressures from the inner to the outer eye corner, it makes a real difference! Other than the ice effect, it offers draining, anti-fatigue, anti-swelling actions – enough to reconcile women with eye creams often deemed disappointing.
Zamak applicators
Most of these applicators are made of Zamak, whose name is a contraction of the metals it contains: zinc, aluminium, magnesium, and copper. It is an efficient cold conductor.
This dense, heavy metal is used by Galénic (Beauté du Regard Cryo-Booster Cream, 15 ml, €55, as from September). Other than the formula (microspheres of hyaluronic acid, dextran sulphate, vitamin B3) and the Ice Pillow texture (aqueous gel phase designed to be activated by the cold and the massage), this cream is sold with an ice cube-base, so you understand it should be left in the fridge!
Laboratoires Pierre Fabre are really fond of this applicator: in November, it will be Avène's turn to enrich their new anti-aging range, DermAbsolu (for 50+ women), with the Soin Regard Jeunesse (15 ml, €32.90) intended for sensitive eye contour areas and based on vanilla polyphenols (Pierre Fabre Botanical Expertise) to boost the natural hyaluronic acid synthesis, Systenol™, a powerful cell-restructuring natural retinol, and glycoleol, to stimulate the lipid synthesis by the skin cells.
Esthederm also used the immediate fresh effect of metal in Intensive Hyaluronic Eye Serum (15 ml, €39), a specific 'valley of tears' serum that targets intense dehydration, wrinkles, and marked eye contours.
As for Clarins, they imagined Multi-Active Yeux (15 ml, €45) to smooth the first wrinkles and preserve eye radiance and youth.
Lierac just launched their own Zamak applicator (Hydragenist Hydra-Smoothing Eye Gel, 15 ml, €29).
And you will need to wait until September to discover Shiseido's (Essential Energy Soin Correcteur Yeux, 15 ml, €56).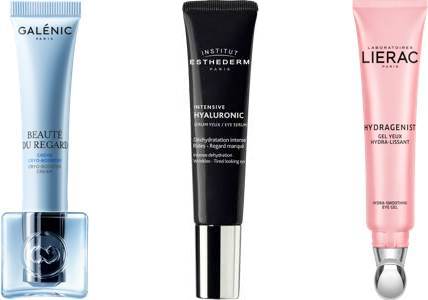 Steel applicators
Estée Lauder are pioneers in this field, as they offer two of these applicators: Resilience Lift Eye Roll-On for a decongestant and cryogenic effect (97.4 g, €46), a new massaging tool inspired from cryotherapy which efficiently boosts the freshness effect of the usual eye contour treatment. A patent has been registered for this innovation fitted with a round, stainless steel tip which offers prolonged freshness (10 minutes after the application of the eye contour cream). Use it on a daily basis to stimulate microcirculation and reveal a refreshed look and less puffy eyes.
As for Revitalizing Supreme+ Global Anti-Aging Cell Power Eye Gelée (8 ml, €51), its formula rich in actives (caffeine, algae, mimosa tenuiflora, cucumber, narcissus bulb, moringa, sodium hyaluronate, whey proteins…) is also endowed with one of these anti-fatigue tips.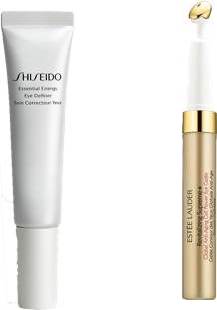 Ariane Le Febvre
© 2018- 2021 CosmeticOBS