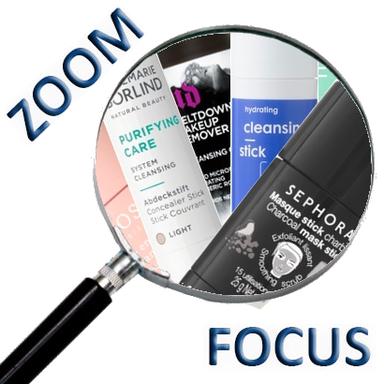 Make-up remover, masks, serums, moisturizers or eye contours and even lotions… sticks are the kings of autumn! Their solid, nomadic texture par excellence (it passes through security gates in airports and does not spill) does not lack sensoriality (by melting on contact with the heat of the skin, it creates a fresh effect). These "stick treatments" allow us to make our first day of work look great!
First, make-up remover sticks
It is in this segment that the stick made its debut.
Its perfectly hybrid texture transforms from a solid state to an oil and sometimes to a cleansing foam, as at Caolion (Pore & Makeup Cleansing Stick, Face Cleanser Stick with Pore Ritual Charcoal, 50 g, €19.99, at Sephora).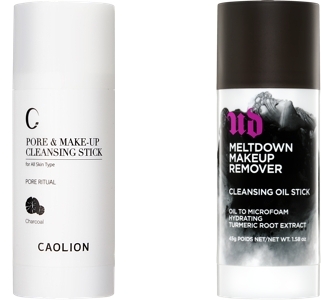 The same goes for Urban Decay, which imagines a gelled oil whose texture is transformed into a light foam (Meltdown Makeup Remover Cleansing Oil to Stick, 45 g, €24) and an oil to remove make-up specifically for waterproof lipsticks (Stick Lip Make-up Remover, €18).
The last ones out? Hema's with its vegan formula and very gentle price (Hydrating Cleansing Stick, Cleansing Stick with coconut oil and organic cucumber extract, 40 g, €4.50) and especially Milk Makeup (Matcha Cleanser Stick, 28 g, €23).
Contrary to what one might think, this new American brand that is coming to Sephora exclusively and with a bang, does not only offer make-up!
She also devotes herself to skin care with a maximum of sticks textures, going so far as to offer the first solid facial lotion with matcha green tea that eliminates sebum, detoxifies and helps reduce the appearance of pores (Matcha Toner Lotion in Stick, 28 g, €23).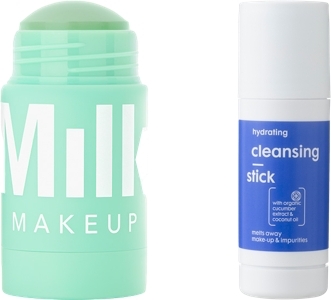 Then, masks
Practical, the stick masks spread evenly without getting your fingers full and are, in use, very economical.
After La Rosée (3 in 1 Regenerating Stick Mask with white clay, 75 ml, €16,90), here are the four Stick Masks from Sephora Collection which have just been released and each allow 15 uses (Smoothing Charcoal Stick Mask, Purifying Spirulina Stick Mask, Nourishing Watermelon Stick Mask or Matifying Bamboo Stick Mask, 25 g, €8.99 each).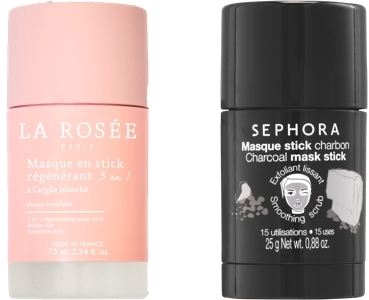 As for Milk Makeup, it offers a stick mask infused with moisturizing watermelon extract and lightening cress shoots (Watermelon Brightening Face Mask, Stick Lightening Mask, 30 g, €25).
Facial care and eye contour: magical sticks…
Moisturizers, purifiers, beautifiers, decongestants… the stick format is the most popular in new facial treatments.
Darphin offers Hydraskin Refreshing Face and Eye Moisturizing Stick (15 g, €29), a stick that contains water-rich plant extracts (ice-water algae, salicornia, pomegranate…), whose icicle effect is highly appreciated at the moment !
Annemarie Börlind imagines in her Purifying Care range a purifying stick tinted with bisabololol and salicylic acid (4.8 g, €8.90), Ioma creates a surprise with a "wrinkle eraser" (Sublime Stick 2 in 1, 2 X 2 ml, €45.10) and Givenchy launches a mattifying stick (Mat & Blur Touch Stick Mattifiant Base and Retouch, €38, Limited Edition).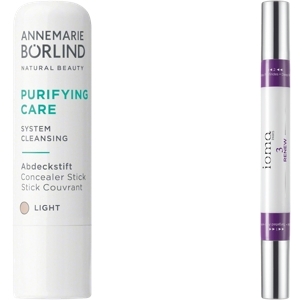 As for Milk Makeup, he makes the stick the highlight of his facial skincare range, turning it into both serum (Watermelon Brightening Serum, Watermelon Lightening Serum, 6.25 g, €12) and primer foundation (Blur Stick, Foundation complexion stick, 28 g, €29.90, available in mini format 5.4 g, €12), or as a moisturizer formulated with sea water (Cooling Water, Milk Makeup Moisturizing Facial Stick, 34 g, €22).
It goes without saying that, when stored in the refrigerator, these stick treatments are even more enjoyable to use!
Ariane Le Febvre
© 2019- 2021 CosmeticOBS