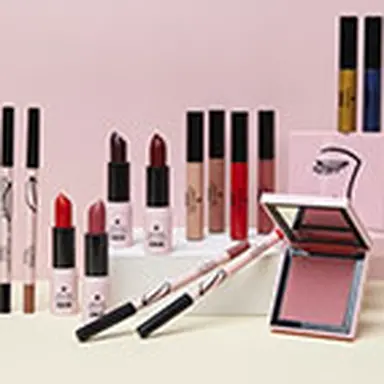 The global fashion retailer Asos announced the launch of its very first in-house makeup collection. It will include 46 products that will go on sale on its website starting in the week of September 18. Simply christened "Asos Make-Up", the online retailer's first ever makeup collection clearly targets the 20-30 age group with vivid dazzling colors, glitter, sober pale-pink packaging decorated with eyes or lips, and — of course — easily affordable prices, in line with those charged for its ready-to-wear collection.
Starting in the week of September 18, fans of the brand and beauty addicts will be able to order the 46 products in the new collection, which is devised to enable everyone to try out different looks and play with textures and colors.
"At Asos, we want to empower 20-somethings to confidently be themselves, however they choose to do so. We believe your face and body are a canvas, an adventure in individual self-expression, an opportunity to experiment and play," the company writes in a press release.
The Asos Makeup collection will initially include matte lipsticks, liquid lipsticks, eye shadows, eyeliners, a mascara, bronzers, highlighters, contouring sets and blushes.
The first products to be launched will be available from the week of September 18. With regard to pricing, count on spending $8 for an eyeliner pencil, $11.50 for a lipstick, $13 for a blusher and $14.50 for highlighter.
Along with its own collection, Asos will continue to sell several other makeup brands on its site. These include such well-known names as Nars, Bourjois, Maybelline and encore Paul & Joe Beauté.
Source AFP-Relaxnews
© 2017- 2022 CosmeticOBS