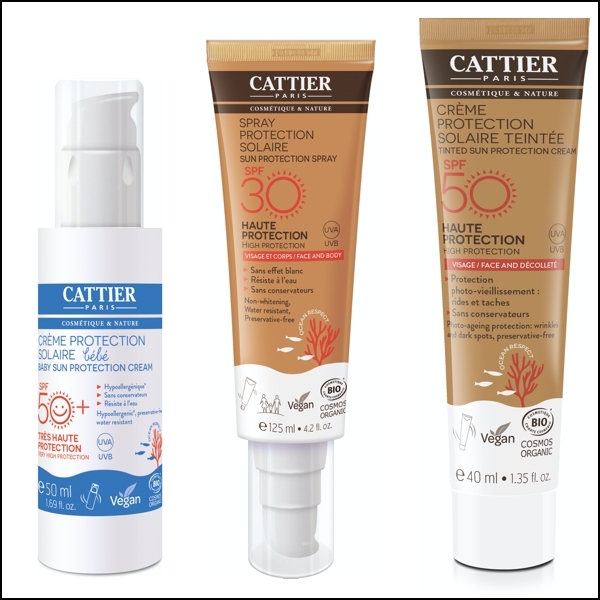 Criticized by the consumer press, some organic sun protection products have been singled out. Accused of not protecting the skin sufficiently and of contributing to ocean pollution, their popularity rating has seriously dropped. But Cattier has just released its first range of organic suncare products and intends to warm the confidence of the most reluctant consumers.
Reading time : ~ 4 minutes
This is a comparison of the UFC Que Choisir, in the summer of 2019, which set the ball rolling.
The safety for the environment and the efficiency of several organic solar products have been questioned. Some brands and Cosmébio have therefore stepped up to the forefront to make their voices heard and accuse the UFC of having tested mineral filters according to an unsuitable protocol.
Faced with the growing discontent, the media insisted on the validity of its tests and pointed the finger at a certain dishonesty on the other side. Bad time for organic sun products…
Sun protection rhymes with sea protection
It must be borne in mind that sunscreen is a growing threat to the oceans.
During a 20-minute swim, 25% of the sunscreen is released into the sea and deposited on the coral reefs.
It is imperative to keep them in good health, as they ensure the integrity of the seabed, but are also a bulwark against violent climatic phenomena.
Zinc dioxide and titanium dioxide are the two mineral filters authorised by the COSMOS reference system.
Cattier has chosen to focus solely on titanium dioxide. "Zinc oxide, although a mineral, is ecotoxic to marine organisms. Therefore, in order to guarantee ...