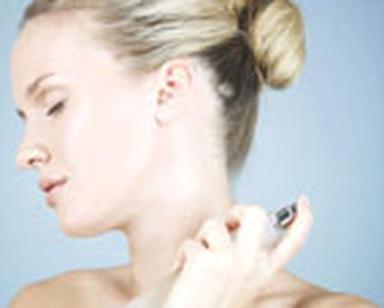 Mistrusting chemistry in cosmetics, an increasing number of women look at organic perfumes. Good news: they change, are more and more engineered, and they truly deserve the name of perfumes. By Ariane Le Fevbre.
"Safe" perfumes …
The sophisticated organic perfumes are on the rise. Phthalate-free, without nitrate-based or polycyclic musks, propylenglycol-free, without any other substances suspected to be harmful to health or to the environment (see box), they answer the suspicion of many consumers.
If using perfumes is pleasant (even essential for some!), the love for perfumes should come without any fear of using them. This is not that simple for neophytes, as the chemical substances concerned are not listed on the perfumes packaging. If one wants to avoid them, there is no alternative than to choose between organic perfumes.
What do classic perfumes contain?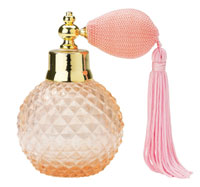 • Phthalates : they are used to denature alcohol, to make it unusable for drinking or food use, and to make it different from the drinking alcohol, for tax purposes. They are known to be endocrine disruptors.
• Synthetic notes, musks at the top of the list. There are four musks families: nitrate-, polycyclic-, macrocyclic- or linear musks. It can be said that no current perfume (except for organic perfumes) does without the specific, clear and comfortable scents of musks. Further, musks are very efficient in retaining the other notes. We may add that nitrate-based and polycyclic musks are banned in the LVMH Group (Guerlain, Dior, Givenchy, Fendi, Acqua di Parma, Emilio Pucci, Kenzo, Benefit Cosmetic …). Hardly biodegradable, they may settle into living tissues and are considered to be contaminants of human blood and mother's milk.
• Colourants : synthetic notes are transparent and perfumers add colourants to make the "juices" more palatable.
• Chemical filters: UV-absorbing substances (Ethylhexyl Methoxycinnamate, Butyl Methoxydibenzoylmethane, etc …) are present to protect the perfumes from degradations due to light.

… but not more tolerated
However, organic perfumes are not less irritants, as they contain essential oils. Some of their substances are listed in the 26 allergenic substances that it is mandatory to specify on the label. Nevertheless, things change, thanks to the biotechnologies accepted by the organic labels, which allow for new fragrances from natural perfumes, really "safe".
Whether you are pregnant or are the mother of a young child (the ecological concern is often enhanced by pregnancy), or an "organic -believer" since decades, whether you like natural fragrances, or you are only a supporter of the principle of precaution, the new organic perfumes are of good quality, and deserve to be known or given during this Holiday season.
Nevertheless, do not wait for the same olfactory depiction as from a "classic" perfume, especially when speaking of persistence and trail.
When learning again to smell …
" A lovely smell is the center for intimity," Gaston Bachelard, a French philosopher, wrote. Organic perfumes are a perfect image of this sentence. Made of natural raw materials (plants, organic essential oils from flowers, fruit, wood, seed, spices, leaves, balms, rosins, rhizomes …), extracted as per environment-friendly methods, they are not too harsh to one's nose and are not as present as classic perfumes are. One has to learn how to like them, to perceive all their subtleties.
Their more intimate presence matches the way preferred by people who do not like to be "aggressive" due to the smell of their perfume, due to too heavy fragrances; people who prefer a relaxing music for themselves and their inner circle, a more "private" perfume. Natural fragrances require a kind of "learning again" by the sense of smell, a more alert nose to signals. Fragrances are less pronounced and lasting. They are not so easily perceived and require a complementary effort from one's sense of smell. The synthetic fragrances have so well duplicated the natural fragrances that we consider 100% chemical odours to be natural! The chemistry made us accustomed to smell "a bit stronger tone". We are so accustomed to olfactive "decoys" that we no longer are able to tell the difference between truth and falsehood. Natural odours, as if somewhat muted, have a lower power of diffusion.

A limited persistence
" One cannot get a two-to-three day long-lasting effect with organic perfumes, as the very heavy molecules of the "normal" perfumes are also pollutants," Vincent Ricord explains. (Editor's note: The heavy molecules are more long-lasting, such as the synthetic musks, found in the 19th century by detergent manufacturers. These very large molecules "stick" to the textile fibers and skins. Hence, their incredible persistence.)
Vincent Ricord is a perfume-designer in Expressions Parfumées. He works both for classic perfumes (he designed the sublime Eau d'Ikar, by Sisley) as well as for natural perfumes (he has signed the three eaux de toilette 100% natural, though not labelled, by Isabel Derroisné: Jardin de Sicile, Jardin d'Anthalya, and the last one, Jardin de Madagascar, based on vanilla, due to be released in April 2012.)
"Organic perfumes manufacturers shall keep their transparency. It is likely that one should learn to use fragrances differently, more often. Indeed, organic perfumes and standard perfumes are two different ways, two stylistic exercises. The aim is not to duplicate the standard perfumes, hoping to find their power and their persistence. Natural perfumes, with their pure raw materials and their different ways to formulate them, make it mandatory to go to the drawing board, or kind of: tell a story with few ingredients. Find tricks, enhance plain spoken natural essences, design chords and harmony. Through limitation comes creativity. When there are too many words, the message becomes incomprehensible; with natural ingredients, the message is clear," Vincent adds.
Another kind of meeting with our skins
More enlivened (synthetic notes, often inert,achieve almost the same effect on everybody; natural raw materials tell a different story on each skin) organic perfumes are often more "real", figurative and rarely abstract. They provide fresh notes, "realist", easily detected. Obviously, they are less varied, the "olfactive palette" being much smaller (two hundreds raw materials instead of four thousands for classic perfumes.)
" Synthetic notes are even and unchanging. With an organic perfume, it is more complex. Coming often with a strong top note, it may lack consistency (this depending on the "intensity" of the selected notes); nevertheless, there is always some kind of emotion from the raw material, which develops differently according to every skin," Catherine Spindler, Marketing Manager in Isabel Derroisné natural perfumes, says.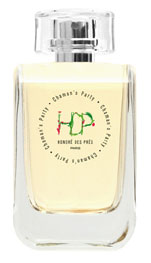 Organic fragrances are also more reassuring (the origin of every natural ingredient is well determined. They are known: traceability, "sourcing", are essential data to the consumer; they are no longer unreal "laboratory species".
They should attract those who look for "the meaning" of a perfume (for instance, a flower-scenting perfume should have flowers in its formula), less striking fragrances, even if some of them have a noteworthy presence
" I have founded the organic perfumes Honoré des Prés, as I thought it incredible that perfumes with a flower name do not contain a petal," Christian David says, as a confidence. Even when the result is extraordinary, the vast majority of current perfumes do not contain a drop of natural ingredient. They may contain up to 98% of synthetic ingredients! Certified by Ecocert and labelled Cosmebio, manufactured by glazing on an organic alcohol (made from wheat or other cereals, sugar cane …) organic perfumes are said to be pure and authentic.
True composition, far from aromatherapy
Nowadays, they are no longeronly a combination of essential oils, as Melvita, Florame, Kibio, Bio-Beauté by Nuxe, Shantara, Acorelle, … have accustomed us to. Indeed, for those who look after simple scents, Verveine Pétillante, by Florame (22.50 €, 100 mL/3.5 fl.oz.) or Cologne aux huit essences (Cologne with eight essences), by Melvita (16.30 €, 100 mL/3.5 fl.oz.) are really acceptable.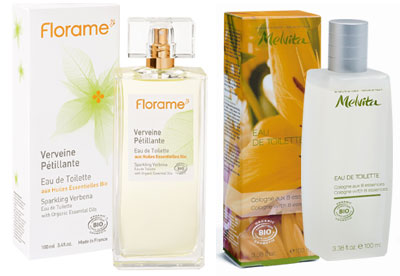 The true novel thing is that there are compositions as complex, with as many scents as in classic perfumes, designed by "famous noses" ("grands nez", in French). Look at the organic perfumes designed by Olivia Giacobetti for Honoré des Prés, by Fabrice Olivieri for Undergreen and by Vincent Ricord for Isabel Derroisné, or at the London designs of The Organic Pharmacy.
Extracts from nature …
Established in Paris in 2008, the organic perfumes Honoré des Prés use both the craftman expertise of Robertet in Grasse, renowned for his work on natural raw materials, and the talent of Olivia Giacobetti. " It is a challenge, for a "nose", to design an organic perfume; somewhat similar to making a cake without eggs and flour. However, achieving only a technical performance is of no interest is the result is not good," Olivia Giacobetti adds.
The blend is more fragile, "like a straw bale house that should stand without load-bearing walls (Editor's note: in a classic perfume, it is the role of the back notes, which are the basis of the fragrance and provide it with its trail.) This is not an addition of essential oils. Otherwise, it is as if combining the primary colours; this gives an ill-defined colour, a hotchpotch, which cannot be called a perfume. Our approach has been demanding, free of any aromatic or rustic easiness. I wanted to come closer to the nature, which I care so much; I no longer wanted to duplicate an illusion of the truth. I wanted to work with true things, to give a feeling of nature through new fragrances. Vetiver used in the formulation should have the scent as if just gathered. The structure, the rhythm of an organic perfume is different; notes are more open and whispering. There is no symphony orchestra in the background, as if singing a capella!" .
Undeniable technical advances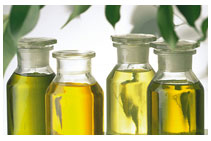 Steam distillation, cold expression (for citrus fruit), a ban of any solvent (therefore, no absolutes extracted by hexane, an hydrocarbon, which is a very powerful solvent; this is why, in the professionals' opinion, the absolute of rose has a rose scent stronger than its steam-distilled essential oil) … technical challenges are harsh.
Nevertheless, the new perfuming molecules, gotten by biofermentation, or by fractionation of essential oils (isolates - this process has a further advantage: the essential oils may be ridden of its allergens) widen the palette of natural scents. New olfactive areas are explored. Techniques change, especially thanks to biotechnologies, supercritical CO2 extractions (jasmine, ginger, cardamom …) or molecular distillation. The two latter, eco-friendly, high-tech extraction methods are also very expensive. "Biotechnologies have completely changed things, and they open up the boundaries of what is possible. For instance, from rice bran, it is possible to manufacture vanillin. Even more, from the somewhat two hundreds molecules in a rose essential oil, it is possible to extract the molecule of interest, using enzymatic reaction. This gives an olfactive accuracy similar to watchmaking's," Vincent Ricord adds.
Affordable prices for the average consumer
The cost of natural raw materials, especially if they are biological, is far higher than the cost of synthesized products (as an example, a kilogramme -- two pounds -- of musks is available from 6 €; a Damascus Rose essential oil is given per gram/0.04 fl.oz.: 30 to 40 €/milliliter-gram, i.e. 30,000 to 40,000 € per kilogramme!), but it is not passed on to the consumer. Even if a natural perfume is four times more expensive to manufacture than a classic perfume, even if twice as development time (circa fourteen months) is required. The truth is that, very often, a natural perfume is not displayed in ads/commercials, and not "supported" by a fashion icon!
Therefore, prices are very close to the classic perfumes' (from 37 to 159 €/100 mL/3.5 fl.oz. for complex compositions, far less for blends of essential oils, in the 16 to 30 €/100 mL/3.5 fl.oz. range).
Focus to some scents
Tasty scents (fresh or bitter almond, honey, vanilla, tonka bean, caramel …), fruity or balm fragrances (Styrax benzoin, tolu, Peru balsam, opopanax …) are nowadays very successful. The floral or spiced notes, not that much, yet. Flowers are the most difficult family, as absolutes are forbidden.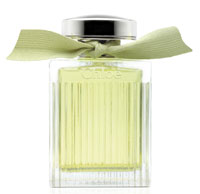 "One begins to handle wooden and spiced notes, but we still lack of back notes and of natural substances that link notes, allowing for passages between the chords," Catherine Spindler says. The synthetic musks ban is a handicap. Though vegetable musk is found in sage or in the mallow essential oil, rich in musk, the result cannot yet be compared with synthetic musks. However, as Olivia Giacobetti says it so clearly, "one cannot hope that cotton will give the heat of cashmere!"
A wake to develop …
It is difficult to understand why the idea of organic perfumes is not more explored by brands renowned for their vegetable products. Some luxury brands, such as Chloé, have had the remarkable idea to use 22% of organic rose flower hydrolat, instead of distilled water (L'Eau de Chloé, eau de toilette 78 €, 100 mL/3.5 fl.oz., available as per 1 February 2012.) The result, blended with synthetic notes, however, is a rose from the garden, extraordinary fresh, just gathered and still moistened with dew. Delightful, and a tip to think about …
Our selection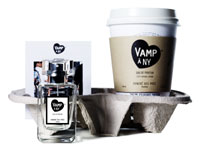 • Vamp à NY, a splendid tuberose full of Bourbon vanilla and balms (Collector Cristal, eau de parfum 76 €, 50 mL/1.75 fl.oz.); Sexy Angelic , fresh and with an almond scent, with a light calisson flavour and a dash of angelica seed (eau de toilette 56 €, 50 mM/1.75 fl.oz.) ; I Love Les Carottes , centered on the exquisite carrot flower, sweet orange and iris butter (eau de parfum 76 €, 50mL/1.75 fl.oz.) or Chaman's Party , with Haiti vetiver roots, smoked, for men (eau de toilette 128 €, 100 mL/3.5 fl.oz.); the four Honoré des Prés.
• Orange Blossom Collection Organic Glam , The Organic Pharmacy, an orange flower as fresh and radiant as persistent, thankfully without the often found honey effects that take its charm away (eau de parfum 159 €, 100 mL/3.5 fl.oz.). The brand is looking for a French distributor.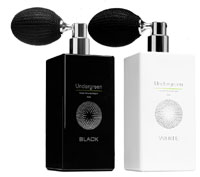 • Black Classic Edition , a wooden and spiced perfume for men, which has its own nature, or White Classic Edition , sunny and full of flowers (orange blossom, jasmine, ylang ylang, iris butter) freshened thanks to an intriguing mint note; the two Undergreen (eau de parfum, each 135 € 100 mL/3.5 fl.oz.
• Jardin d'Antalya , by Isabel Derroisné, 37 €, 50 mL/1.75 fl.oz., a powdered and modern rose, with some loukoum accents. The Turkish rose comes with the deep smell of spices (cardamon, coriander) and with the violet flowers fragrance, with a touch of vanilla.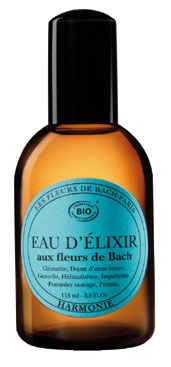 • Eau d'Elixir with flowers of Bach Harmonie , Fleurs Essences et Harmonie, eau de toilette 59.50 €, 115 mM/4.05 fl.oz., with notes of green figs and just-cut grass, which bring a feeling of well-being.

• Usiku by Jo Wood Organics , male/female, mixes its spiced top notes (cardamon, ginger, coriander, clove) with a wooden middle note (Moroccan cedar, patchouli oil and vetiver), smoothened with natural vanilla produced by biofermentation (eau de toilette 50 €, 50 mL/1.75 fl.oz.).
• A Perfume from Amazon , Guayapi, also male/female, with fresh notes (lime, bergamot, mandarin orange, fern), spiced notes (cardamon, nutmeg …), tropical notes (maracuja) and wooden notes (rosewood, moss, patchouli oil …) Eau de toilette 43.70 €, 50 mL/1.75 fl.oz.
© CosmeticOBS-L'Observatoire des Cosmétiques
© 2011- 2020 CosmeticOBS