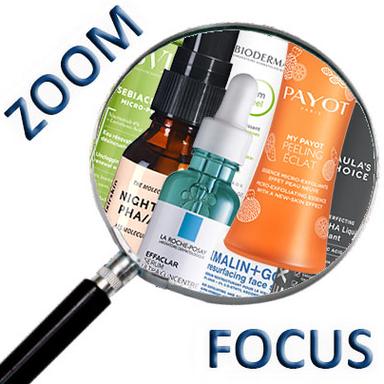 Welcome at this time of year (to refine skin that has thickened in the sun, to reduce blemishes and pigmentation spots), fruit acids flood into cleansers, exfoliants or serums. Particularly trendy, liquid textures are a must.
Daily exfoliating cleansers with AHAs or BHAs
They may contain AHAs (Alpha-Hydroxy-Acids such as glycolic acid or lactic acid) or BHAs (Beta-Hydroxy-Acid such as salicylic acid) and must be formulated with a pH between 3 and 4 to guarantee their effectiveness.
This is the case with SkinCeuticals Glycolic Renewal Cleanser (150 ml, €37.80), a gentle foaming cleansing gel that contains 8% glycolic acid and 1% phytic acid and is suitable for all skin types.
Same for Skin Perfecting 8% AHA Exfoliating Gel with Glycolic Acid from Paula's Choice (100 ml, €34) or for the new Dermalogica Clearing Skin Wash (250 ml, €43) which combines salicylic acid, phytic acid and prebiotics.
Among the gentlest, Yodi's Prebiotic Vitamin C and Hibiscus Flower Acids Powder Cleanser (30 g, €20) or Linaé's Sublimating Exfoliating Foaming Cream (50 ml, €30) with organic linseed oil and AHAs that improve the uniformity of the complexion.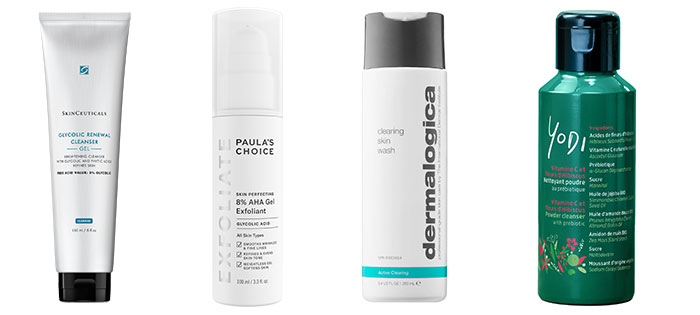 Skincare: liquid textures are in the wind
Lotions, waters, phials, essences or serums take the lion's share, such as Decléor's Officinal Rosemary Active Essence for skin with imperfections (200 ml, €30), based on salicylic acid of natural origin (a green chemistry coming from the essential oil of wintergreen), Paula's Choice Skin Perfecting 2% BHA Liquid Exfoliating Scrub (118 ml, €34) or Patyka's Radiant Glow Micro-Peeling Essence (100 ml, €34.90), a certified organic stain-free essence with natural fruit acids.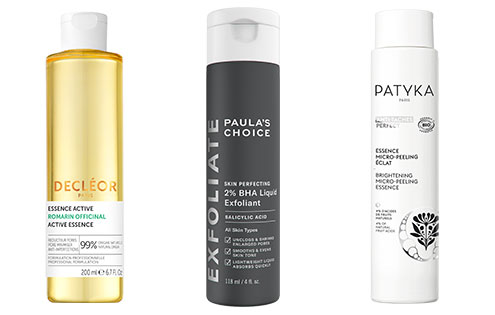 With sometimes beautiful galenic innovations such as the My Payot Peeling Radiance Gel-in-Water texture, Micro-Exfoliating New Skin Effect Essence by Payot (125 ml, 23,50 €), formulated with 2% glycolic acid and vitamin C, to make your skin look new every day.
This popular duo can also be found in the Resurfacing Face Serum by Malin+Goetz (Resurfacing Face Serum, 30 ml, €69) or in Kiehl's Regenerating Radiance Accelerating Ampoules to fight pigmentation spots (28 X 1 ml, €94).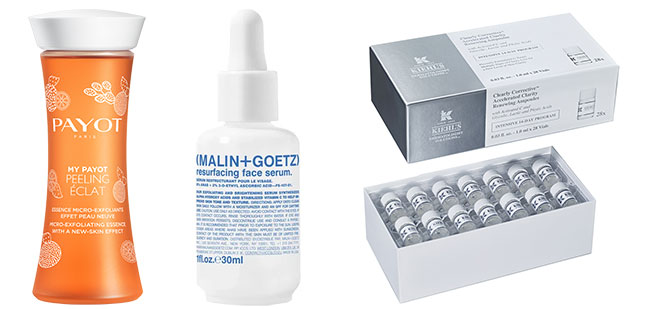 On the serum side, Bioderma launches Sébium Night Peel, Smoothing Concentrate for combination, oily, blemished skin (40 ml, €18) which contains 15% glycolic acid (softened by soothing D-Panthenol) and La Roche-Posay creates Effaclar Anti-Imperfection Serum, anti-branding, daily peeling (30 ml, €28) which combines glycolic acid, salicylic acid, LHA and niacinamide (an anti-inflammatory active ingredient).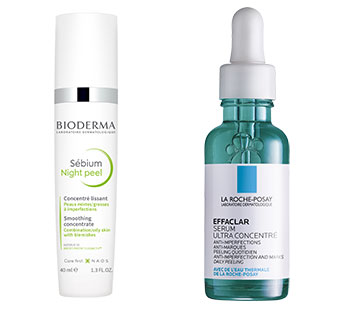 The latest acids discovered, PHA
These Poly-Hydroxy-Acids such as gluconolactone or lactobionic acid are much gentler and better tolerated due to their high molecular weight which prevents them from penetrating deeply.
They are found in Sebiaclear Micro Peel, Renovating Scrubbing, Smoothing Water by SVR (150 ml, €14.90). This water contains only eight ingredients (0.5% salicylic acid, 2% lactobionic acid, 4% niacinamide…). It rebalances the microbiome and is suitable for adult skin with imperfections (dilated pores, pimples, blackheads), even sensitive skin.
But PHAs can also be used for their anti-ageing qualities, as in Night Switch PHA/AHA 10% Smoothing Illuminating Night Serum by Lixirskin (15 ml, €24), a fragrance-free serum that contains 5% lactic acid, 3% lactobionic acid and 2% phytic acid. Really mild, it can even be applied around the eyes! Mix it (one or two squirts) with your usual skin care product to obtain a smoother and more even skin. Absolutely universal, it is suitable for all ages and all skin types, even sensitive.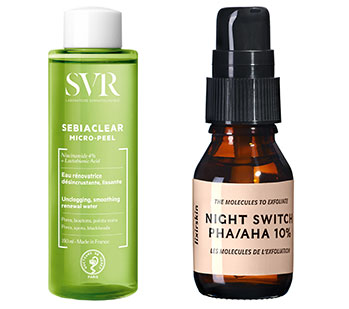 Finally, it should be remembered that AHAs, BHAs or PHAs are used in the evening because they make the skin more sensitive to the sun. In the case of sensitive skin, get used to it gradually (except for PHAs) first once a week, until daily use if all goes well. Do not use other exfoliating products and apply to clean, dry skin (wet skin promotes irritation from fruit acids).
Ariane Le Febvre
© 2020- 2021 CosmeticOBS