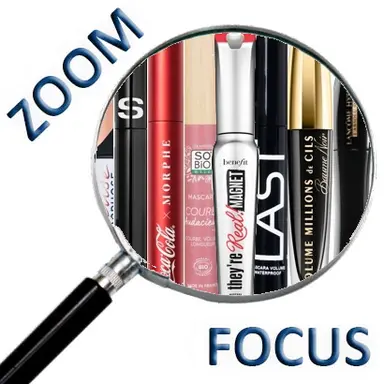 Mascaras with magnets or more and more natural, even if they are waterproof, organic at last performing, bronzed and long-lasting eyeshadows, plantable eyeliners (yes, you read that right) … Prowess and naturalness characterize the neo eye makeup of the summer!
Finally, waterproof green mascaras!
This is the first time that this much sought-after petrochemical-free combo has been achieved with hold and naturalness! We owe this innovation, which is going to thrill all the waterproof eye makeup lovers, to Last.
This new French brand, which will appear on the web in June, has succeeded for the first time in formulating waterproof mascaras and long-lasting, transfer-free eyeshadows with a minimum of 90% natural ingredients (between 90 and 99.8%) (Volume Waterproof Mascara, 9 ml, €25, three shades; Long-Lasting Liquid Eyeshadows, matte or shiny, 12 shades, 8 ml glass bottle, €24, from June).
At the beginning, an ingredient, isododecane, which waterproof or long-lasting makeup cannot do without (it can represent up to 50% by volume of the formula). The isododecane allows to fix the color durably and does not dilute in water.
Transparent and very liquid, it solubilizes the pigments to make them glide and adhere to the skin like a real mesh, evaporating almost instantly (so it dries very quickly).
Result: the colors apply easily and you get a dry feel on the skin after a few seconds. It is the only molecule that offers these two advantages. But until now it was derived from non-renewable resources.
Last has succeeded in obtaining isododecane without petrochemicals, thanks to biotechnology and renewable natural resources, all with a high level of purity. This achievement is due to the team of scientists at Global Bioenergies (previously specialized in biofuels!) who developed an innovative process to convert plant resources (cellulose obtained from beet sugar, corn, wheat, agricultural and forestry waste) into isobutene and then, in a second step, into isododecane.
This process relies on bacteria selected and modified by Global Bioenergies in order to teach them to produce isobutene by fermentation. As isobutene is a gas, it volatilizes quickly.
Three isobutene molecules combined together form 100% naturally occurring isododecane, absolutely pure and stable, suitable for use in cosmetics. The bacteria are grown in a medium that suits them best and the fermentation parameters (pressure, temperature, agitation) are adjusted so that the production is optimal.
The sugar syrup from the biomass is fed to the culture continuously. Placed in this unique and ideal environment, the bacteria produce isobutene molecules, which volatilize spontaneously outside the culture medium.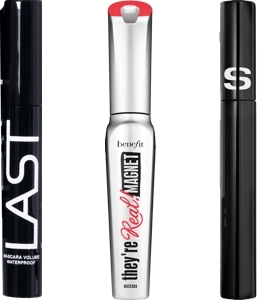 Inventive mascaras that make the lash light
It is always in this sector that there are the most creations, like the latest mascara from Benefit with a magnet, sorry the brand talks about a "brush with a magnetic force heart"!
The formula, rich in minerals (attracted by the magnet), resists water and does not crumble (Mascara Extreme Length They're Real Magnet, 9 g, €29.50, or travel size 4.5 g, €16.50).
In any case, the makeup result is really lengthening and defined, completely in the air of time! Because the heavy and loaded lash, not very neat, style "fly legs" is definitely out of fashion!
On the contrary, panoramic lashes (perfectly deployed and lengthened, without being weighed down) make big eyes and this is what we are looking for above all! This is the case with Sisley's So Stretch Fortifying Lengthening Mascara (7.5 ml, €50.50, three shades), which promises, thanks to its formula enriched with castor oil, Damask rose extract, panthenol, bamboo powder, vitamin peptide, arginine, ceramide like active ingredient… stronger, longer and denser lashes, day after day.
For a more sophisticated result (but still light and well-deployed lashes), we can still mention the new Hypnôse Mascara L'Absolu de Noir by Lancôme which offers an ultra-black kohl pencil effect (32 €).
The nourishing and protective formula is infused with jojoba oil, provitamin B5 and black orchid extract. The rose brand also offers long-lasting eyeliner pencils with a creamy texture and ultra-pigmented shades (Stylo Waterproof, €25, nine shades).
Two other mascaras caught our attention, like the one by Innoxa that promotes lash growth (Mascara Stimul'cils Noir, 8 ml, €18.20), or the volumizing and long-lasting mascara by Morphe dressed in bright red by Coca Cola that reminds us that packaging also counts (Make it Big Mascara Volume Morphe & Coca Cola, €14, limited edition)!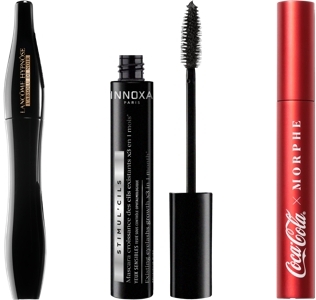 Organic or more and more natural formulas really perform
The latest mascara from L'Oréal Paris - Volume Million de Cils Baume Noir, 9,4 ml, €13,90 - is made of 99% natural ingredients, with an eco-designed brush made of recycled and recyclable plastic and a very honorable make-up result.
It concentrates all our expectations in terms of new mascaras: a short and clean natural composition with essential ingredients (a creamy care base, 9% of intense black mineral peppers, natural starch for long-lasting hold, rapeseed oil for comfort and vegetable glycerin for hydration), a supple and strengthened lash, easy make-up removal… A feat for one of the leaders of mascara in supermarkets!
Yves Rocher has formulated all its latest mascaras with 88% natural ingredients (castor oil, cornflower water, vegetable charcoal for an intensely black natural color…). All plastic packaging has been removed (Intense Métamorphose Mascara Volume, Length and Curve, waterproof or not, 7.8 ml, €25; Mascara Volume, 7.8 ml, €15.90 or Mascara Length, 7.8 ml, €21.50).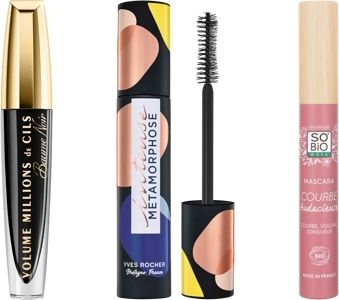 Finally, So Bio'étic's certified organic mascaras are a real success (Mascara Courbe Audacieuse, 8 ml, €13,90, Mascara Volume Absolu or Infinie Longueur, 8 ml, €12,20 each).
All enriched with organic castor oil to strengthen and protect the lashes, they contain different active ingredients depending on the formula (carnauba wax for its sheathing effect that helps maintain the curve of the lashes, linden bud extract for volume, organic oat extract combined with cellulose fibers to boost the lengthening effect…).
On the packaging side, plastic tubes of plant origin from sugar cane, elimination of all overpackaging and tamper-evident solutions without sleeve, always to limit the use of plastic (which is rare in supermarkets)…
The brand of the Léa Nature group also offers certified organic eyeshadows, 100% of natural origin in a dozen shades (Pure Color Eyeshadow, €10.90).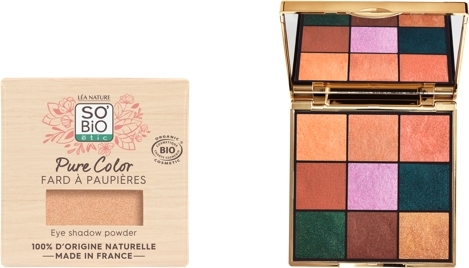 Lifeproof eyeshadows!
Long-wearing, long-lasting eyeshadows, like those from Yves Rocher packaged in large pencils (Ombre Lifeproof, €16.50), or the new Palette Haute Couture from L'Oréal Paris developed with fashion designer Elie Saab, which contains nine ultra-pigmented eyeshadows with different matte or shimmery finishes, It is presented in a beautiful hand-worked pinkish-beige leather case with integrated mirror (Exclusive L'Oréal Paris & Elie Saab Collection, €24.90).
A wind of luxury is blowing through the supermarkets and it feels good!
Finally, in terms of shades, we can mention the new tanned tones of the summer so flattering (they boost the beautiful mine), at Chanel (Bronze Universelle Palette Regard Belle Mine Naturelle, Collection Les Beiges Summer Light, €58), or Lancôme (Hypnôse Palette nouvelle harmonie N°17 Bronze Absolu, €54).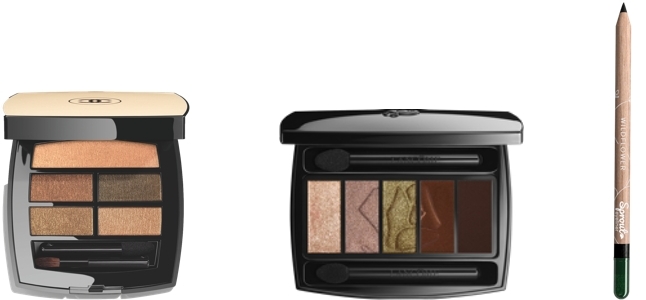 The first plantable eyeliner!
Yes, you read that right! Once finished, you plant what's left of this pencil and you get wild flowers!
The Sprout eyeliner, obviously patented, is offered in black at 12.95 € on the website of Sprout World, a Danish brand specializing in sustainable writing tools, which is now entering the cosmetics market.
It took several years for this Danish company, owner of the world patent "writing tools to plant" to develop this zero waste makeup pencil.
Devoid of course of any micro-plastic, its originality, in addition to its formula composed of natural and ethical oils, lies in the capsule nestled at the end that contains … non-GMO seeds! Concretely, once the eyeliner has become too short to be used, you just have to plant the seeds in a pot, cover them lightly with earth, add water, place the pot in daylight and wait between 7 and 12 days for the wild flowers to appear (a choice made by the Danish firm to allow the bees to forage them!).
Difficult to make more circular!
Ariane Le Febvre
© 2021- 2022 CosmeticOBS