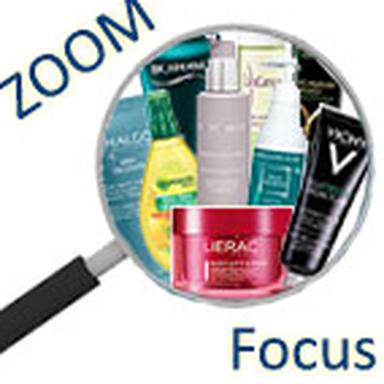 Hello spring ! The hunt is open… In the nets of the labs,"holistic" serums, oils (again and again) and many new active ingredients, algae, lotus and spices in the lead. The caffeine is still there but is less omnipresent… Zoom on the cosmetic novelties of the week by Ariane Le Febvre.
With each new spring, women expect the innovative slimming care that will help them reconcile with their bodies after winter, without believing in miracles. At a time when the skins are revealed, they especially want to find a pretty quality of skin, less infiltrated, more tonic, and wish, by buying a new slimming, a small boost, a starter effect which will help them, among others, to take control of themselves. Without forgetting the pleasure of use, because here as everywhere, they are intransigent on the sensoriality. Let's reassure them right now, 2014 is a good slimness year!
Firm with its curves
While the younger ones focus mainly on the padded aspect, the older ones want slimming products that also take care of loosening the tissues. After nutrition (see the Zoom Winter Sweetnesses for the Body ), the firmness associated with slimness is definitely the lion's share. Today's woman, says Biotherm, is certainly looking for a slim waist, but also sculpted curves and tighter skin. We're not giving up!
Close to body anti-aging, these sophisticated treatments (textures and perfumes) at high prices, distributed in the selective network, are often packaged in jars. Their rich cream textures nourish perfectly, like Body-Lift Expert, Lierac anti-aging remodeling cream (200 ml, 44.90 €, from May 15) that firms, lifts and sublimates the skin. Inspired by the techniques of aesthetic medicine of tissue remeshing of the body, this body lifting treatment remodels the curves of the silhouette (precious wood of Pao Rosa, silicon, hyaluronic acid) and sublimates the skin by blurring surface defects (AHA of smoothing hibiscus associated with micro-light powders), with a texture"stretch" effect to the velvet touch.
Perfection Corps, Soin Performance Minceur d'Ingrid Millet (200 ml, 60 €), is a melting cream gel concentrated in slimming and firming active ingredients (polysaccharide which stimulates collagen synthesis, highly purified wheat proteins with an immediate tensor effect, liporeducing red algae…) and enriched with hydro-soothing plant extracts (aloe vera, white lily, sacred white lotus and jasmine). Body Sculpter Anti-rounders slimming gel from Biotherm (200 ml, 36 €) acts as well on excess water as on firmness. It contains 5% pure caffeine and a red algae-based complex that"defragments adipocytes" in a fresh, light and iridescent gel emulsion. Cinq Mondes has just reformulated its Crème de Café Minceur, Reduction adipose cellulite, Firming, in the range Rituel de Bahia, Brazil (150 ml, 44 €). It now contains caffeine encapsulated for continuous diffusion, green coffee, cola nut and glaucine (molecule extracted from the plant Glaucium Flavum, anti-capiton and firming). Cellulinov Sisley's intensive anti-cellulite care (200 ml, 155 €) is a complete treatment (red seaweed, caffeine, cedrol, ginkgo biloba…), which smoothes the pads, shapes the silhouette and beautifies the skin. Thanks to the Indian lotus, it maintains the protein mesh surrounding the adipocytes and thus slows down the development in size and number of new fat cells. It reveals the properties of a"powerful plant active ingredient that puts adipocytes on a diet by reducing their intake of nutrients": Longane seed extract (fruit of a tropical tree native to China). Enriched with firming active ingredients (soya and Alkékenge calyx extracts), anti-water (lotus, cedrol) and moisturizers (shea butter, sunflower and rapeseed oils), it fights blockage and fat formation. Maria Galland Slimming Bath Powder 438A (5 bags of 30 g, € 42.50) recreates a spa experience at home, while improving skin structure and protecting it from drying out. As for the Finesse Firming & Slimming Oil from L'Occitane (100 ml, 34 €) with almond and pink berry oils, silicon and essential oils (immortelle, palmarossa, mint, carrot and cypress), this dry oil refines the silhouette and tones its contours.
Spicy slimness
Hot pepper, pepper, ginger… each with its hot spice and its full-bodied formula to accelerate the burning of our fats! Bernard Cassière's Spice Body Care (Sothys group) includes two new products, available in early April: the Super Serum rebel zones (150 ml, 42 €) and the Silhouette Ideal Targeted Action Gel (200 ml, 39 €). Caffeine is boosted by allspice. Cellu Slim Flat Belly (150 ml, €24.90) and Cellu Slim Night by Elancyl (250 ml, €31.90) both use xanthoxylin, a molecule extracted from Sichuan pepper, to limit the reappearance of dimpled skin. As for Lierac's Body Slim Cure Minceur Express (100 ml cannula tube, €37.50), this fresh serum, enriched with a cryothermal agent, uses an extract of ginger to optimise the effectiveness of its 10% caffeine.
Holistic Anti-Capiton Serums
It's THE star texture this spring! Practical, with them, the body is no longer"sliced sausage"! They can be applied almost from head to toe (ankles, knees, thighs, buttocks, hips, belly, arms,"buffalo hump"…) ! Very concentrated in active ingredients, often more expensive (in proportion to their capacity, smaller), these all over serums are formulated as face serums.
This is the case of the new CelluDestock Serum Flash from Vichy, Serum 14 days anti-capiton (125 ml, 33 €). It contains a high dose of pure caffeine (6%), whose penetration is optimized by salicylic acid (the latter increases the solubilization of caffeine and avoids the risk of white traces). Enriched with hyaluronic acid, glycerin and pearly beautifying agents that"photoshop" the skin, it offers a penetrating and moisturizing texture, with a"soft touch" effect (presence of corn starch), which increases the softness of application and the absence of stickiness. Special mention for the fact that it does not"lint", residue problems being frequent with textures that are massaged (with each rubbing, dead cells present on the surface of the skin are drawn which amalgamate with the cosmetic material and make"lint"…).
Other sera : - Slim Serum de Talika (100 ml, 35 €, available from April) which contains a plant complex"Ultrason-Like" (yellow poppy sands, micro-algae, caffeine)..; - Sublime Body Perfect Slim Laser Sculpt Serum concentrated rebel zones L'Oréal Paris (125 ml, 13.90 €) ; - Clé Végétale Minceur, Sérum Minceur Globale Yves Rocher (150 ml, 29 €). The latter highlights a new lipolytic active, discovered in the heart of the hulls of Mangosteen (exotic fruit), which acts as a natural key capable of unlocking cellular processes blocking slimming. For him, Yves Rocher has set up a network traced in South India.
Organic slimming
Without alcohol or caffeine, Chrono-Stimulator action day and night Slimming Bio-Active Phyt's (200 ml, 46.60 €), gives pride of place to the papaya to activate diurnal cellular metabolism, and coralline algae to limit fat storage at night. Abellie Famille Mary Organic Royal Flower Slimming Gel (150 ml, 20,50 €), uses the products of the hive (royal jelly, propolis…), associated with seaweed as well as a coffee extract, to reduce the"orange peel" aspect.
Tea or coffee?
Without dethroning caffeine, it may be the first year that green tea, detoxifying and draining, is also present, as in : - Slimming Essence 439A by Maria Galland (125 ml, 39.50 €); - Alg>in<thé, Daniel Jouvance intensive anti-cellulite draining gel (150 ml, 35 €), against aqueous cellulite ; - Slim Focus Total body slimming cosmetic cream Méthode Jeanne Piaubert (200 ml, 51 €).
Melt pleasure with oils ( encore repetita )
Citrus fruits against orange peel (!), it is the bet of the Anti-sagging and anti-cellulite Integral Oil of Intensive Slimming Mixa (150 ml, 9.99 €), the Slimming Oil legs, buttocks, stomach, Cellulite, I leave you ! of Sephora (150 ml, 20.95 €) and the Anti-Cellulite Oil with essential oils BodyTonic of Garnier (150 ml, 10.90 €). Sensual and enveloping, these invigorating oils with a citrus scent invite to massage, without forgetting skin comfort.
Le Petit Marseillais anti-cellulite sublimating oil (150 ml, 9.90 €), the first red slimming bottle in large surfaces, relies on antioxidant red berries, lemon essential oil and green tea. Aromatherapy is as always present in the new Slimming Dry Oil with 18 essential oils of Puressentiel, now presented in spray ensuring a powerful diffusion by microdispersion (100 ml, 20 €). The brand also proposes an Anti-Cellulite Slimming Box Rebellious Zones including 2 bottles of 100 ml of Slimming Dry Oil + 1 Celluli Vac® Anti-Cellulite Suction Cup, making it possible to palpate and roll (39 €). Essential oils, caffeine and marine lotus are found in the first two-phase slimming formula on the market: Oléo Sculpt Anti-Cellulite Incrustée de Linéance (150 ml, 12.95 €).
Drainage in the spotlight

Somatoline Cosmetic, N°1 in slimming care in pharmacies (source: Cetipharm Amincissants Topiques, sales volume and value YTD 09/2013), distinguishes two profiles of women: those who want to slim and lose centimetres (Slimming Care that reduces localized fatty clusters) and those who focus on cellulite and the appearance of their skin (Anti-Cellulite Care that improves the padded appearance of the skin).
For the first category, Somatoline offers two new products: Slimming Draining Legs Ice Cube Effect (200 ml, 31.90 €) and the new Advance 1 Belly and Hips formula (150 ml, 33.90 € or 300 ml, 57.50 €), which contains a phyto-complex based on Corolea™ fat burner and oleanic acid. For the second category, it will be Première Cellulite Action Drainante (150 ml, 34.90 €), and Cellulite Incrustée Action Intensive (150 ml, 34.90 €), which contains 5% caffeine and a quinoa extract with anti-recurrence action. Now, only one application per day is needed for each product. Minceur Capitale 24 by Sothys (limited edition maxi format 400 ml, 49 €) also promotes the drainage of excess liquids.
Slimmers with plenty of air!
Among the most original formulas, let us mention the two new Thalgo treatments: Défi Cellulite Soin Haute Correction cellulite installée and Défi Cellulite Crème Correction Intense cellulite profonde (200 ml, 39 € each), based on an innovative oxy-active technology. The latter restarts tissue oxygenation to reverse the cellulite generating process, with the help of Coleus Forskohlii (active lipolytic plant recognized in Ayurvedic medicine, which stimulates the natural supply of oxygen in tissues and promotes intercellular exchanges) and brown seaweed Fucus. " Cell hypoxia is the cause of cellulite. It is imperative to re-oxygenate the adipose tissue, as tissue compression causes fibrosis. "says Isabelle Bichon, Thalgo's Director of Scientific Communications.
Finally, it is difficult to close this overview without mentioning the cosmeto-textile slimming boom: Dim, Nivea and Mixa make it their spearhead of spring!
The Observatory of Cosmetics
© 2014- 2020 CosmeticOBS