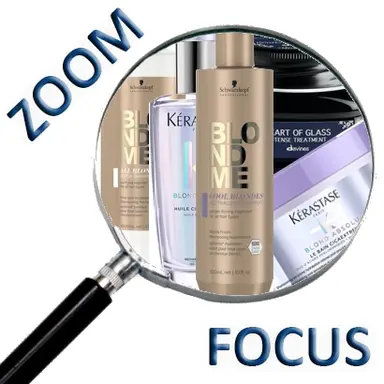 Even if brunettes are important, this spring it is blondes that flourish! The demand for this color, synonymous with eternal femininity, is booming. Professional lines (for the moment only in salons) that are dedicated to bleached or highlighted blonde hair are on the rise. Logically, because keeping blond hair shiny is difficult. Hair, deeply sensitized and porous due to bleaching, deserves more attention than others.
Hairdressers know that blonde color is the most demanding in terms of care. One of the first to understand this is Kérastase, who imagined the Blond Absolute range as early as 2019. These ultra-violet repairing treatments, formulated with hyaluronic acid (to repair lesions in the fiber and strengthen it durably), anti-oxidant edelweiss flower and ultra-violet pigments (to neutralize yellow and orange highlights), were designed to preserve a luminous blonde (Ultra-Violet Bath, 250 ml, €23 ; Cicaflash, 250 ml, €40; Ultra-Violet Mask, 200 ml, €45; Cicaplasm, 150 ml, €33).
In 2021, the brand goes even further by offering the Blond Absolute CicaExtreme line of repairing care products for extremely sensitive blond hair (such as polar or highlighted blond hair). It responds, the brand confides to us "to a strong increase in the demand for post-bleaching care in salons and online. The formulas combine and complement each other to deliver the perfect level of neutralization for each blonde, while illuminating and deeply moisturizing. Hair is restored and preserved, regardless of the type of blonde."
Thus, the new Cicanuit Serum (90 ml, €45) is a night serum designed as a facial treatment for bleached or highlighted hair, which takes advantage of the restorative power of sleep to intensely nourish a weakened fiber and repair damage caused by discoloration. In addition, friction with the pillow can further weaken the hair.
It contains ultra-penetrating ingredients that will be absorbed during the night, with the eight hours of sleep allowing nutrients to fully penetrate. Other ingredients include CicaExtreme Bath (250 ml, €23), a cream shampoo in a jar, CicaExtreme Mask (200 ml, €46.50), a reconstructive mask, and CicaExtreme Oil (100 ml, €39.60), a concentrated blonde repairing oil. All of them offer a "post-procedure" repair to sensitized, bleached or highlighted blond hair.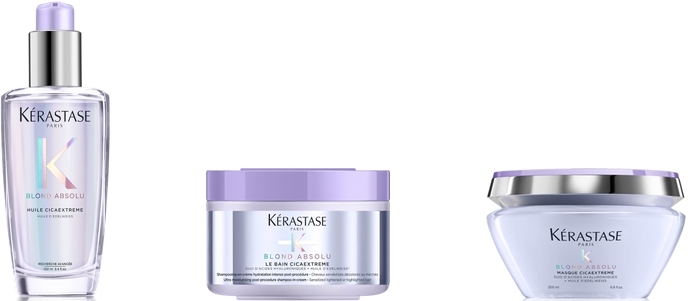 Good vibes for all blondes!
The Heart of Glass line from Davines is for all blonde hair, whether natural or not. The ecological queen of the pro brands has developed four treatments: Silkening Shampoo, Sublimating Shampoo, 250 ml, €22.00; Rich Conditioner, Fortifying Sublimating Balm, 250 ml, €27.80; Intense Treatment, Intense Sublimating Care, 200 ml, €22.80; Sheer Glaze, Illuminating and Thermo-protective Fluid, 150 ml, €27.40.
We will modulate their frequency depending on whether we have natural blond hair, slightly lightened or bleached.
The Italian company innovates with a natural chromatic action that maintains the shine of all blond hair, thanks to Jagua Blue extract with its characteristic indigo blue hue (a color that is found on recycled plastic packaging and is also more easily detectable during the recycling process).
A real vegetable alternative to synthetic dyes, this pigment from the fruit of Jagua, grown in Colombia in a sustainable manner, helps to reduce unwanted reflections and to illuminate all types of blond hair, enhancing shine. Cold blondes are already faded, warm blondes become more golden.
Another challenge: replacing silicones with a baobab extract from a sustainable source, which deeply nourishes, prevents breakage, disciplines and restores suppleness while strengthening the hair fiber and making styling easier.
Last but not least, the line is entirely eco-responsible (it's rare in salons!), made with energy from renewable sources and 100% carbon neutral (the CO2 emissions generated throughout the product's life cycle are 100% offset through the reforestation project supported by Davines in Ethiopia).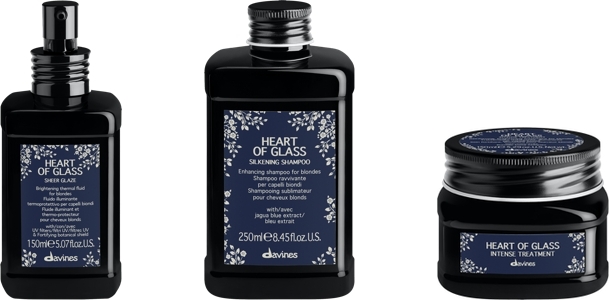 Practically custom-made ranges
Schwarzkopf Professional's latest BlondMe is probably the sharpest and most extensive range of products available in the salon for this much sought-after color.
The texture of the hair is taken into account, as is the specific shade of blonde (Cool Blondes for cold blonde, All Blondes…) with, each time, specific active ingredients.
For fine to normal hair, it will be mulberry silk and light textures, for normal to thick hair, cashmere and rich textures, for cold blond hair, a welvet flower shader system etc. The prices are always the same (Shampoo, 300 ml, €20.75; Balm Spray, 200 ml, €32.55; Mask, 200 ml, €31.10).
As for the BlondMe digital hashtag campaign, it currently features nine stories told by blond people, each with a heritage and a story to share about their journey and their relationship with blond people. New looks are presented, highlighting the diversity of blonds and the different possibilities of services.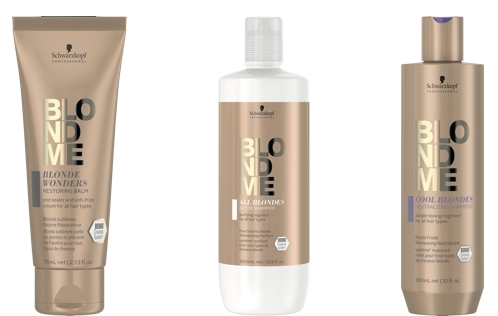 For her part, Maria Nila presents a new shade of non-permanent color mask (it resists a dozen washes) that brings a shade of cool blonde to light hair, while nourishing and illuminating it with argan oil (Colour Refresh Cool Cream, 100 ml, €15 or 300 ml, €27).
But blondes are not done talking about them yet, and this time in Selective. Bumble and bumble announces, indeed, a new range which is dedicated to them and which will be released this summer.
Ariane Le Febvre
© 2021 - 2022 CosmeticOBS