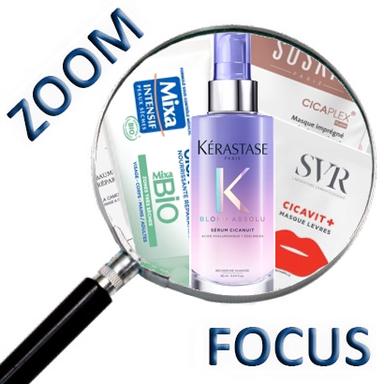 The word cica is generalized. Initially intended for the care of scars, this darling of dermatologists is reaching all spheres of skin care (anti-aging, lips, masks, etc.) and even appears in body and hair care. Now this daily essential, this hero of fragile skin for the whole family, becomes a cutting-edge product, associated with the latest skincare trends (probiotics, floral science, etc.). Even luxury brands decline it! Wearing a mask (and the irritation it causes) is no stranger to its success.
This flagship product of the dermatological brands (La Roche-Posay, Avène, Uriage, SVR…) is evolving to become more generalist and adopt the most modern galenics (sleeping mask, serum with pipette, biocellulose masks for the face or lips…).
Always so repairing, the antibacterial side has often been put aside and it is now available in clean formulas that do not alter the microbiome, or even enriched with probiotics, as at Biosme (La Peau Douce Cica-Crème Biotic Réparatrice Apaisante Visage et Corps de Biosme, 50 ml, €22, certified organic and formulated without synthetic preservatives).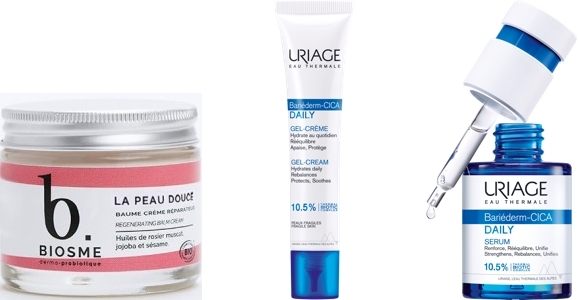 But it is Uriage's new Bariéderm-Cica Daily range alone that best sums up this trend in daily cica care (Serum, 30 ml, €30.90 and Gel-Cream, 40 ml, €19.90, starting in February). It contains 10.5% Thermal-Biotic complex (based on Uriage Thermal Spring Water and prebiotics to repair skin and microbial barriers), centella asiatica (active star of the cica connection) and hyaluronic acid (low and high molecular weight) for both products, plus a dipeptide for the serum and vitamin B5, as well as a purifying copper-zinc duo (traditionally used to limit bacterial proliferation and the appearance of imperfections) for the gel-cream. The sensory textures, unscented, are a first, far from the usual galenic "dressings". Fluid and fresh, they penetrate instantly, allowing daily use all over the face. The high-tolerance formulas are suitable for all skin types, even the most sensitive, one of the strengths of cica's skin care products.
With or without antibacterial actives?
It is the choice of SVR and its Cicavit+ line to dispense with the usual antibacterial active ingredients so as not to alter the skin microbiome, whose "good" bacteria contribute to the healing process. The innovative range now includes seven products, including the two latest additions dedicated to the care of very dry and fragile lips, composed respectively of 91% and 99.4% natural ingredients, including a prebiotic sugar for accelerated repair (Cicavit+ Lip Mask in natural biocellulose, 5 ml, €5 and Cicavit+ Lips, Accelerated Repair Protective Balm, 10 g, €5.90).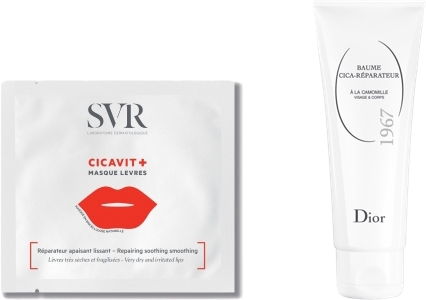 Luxury brands are going for it!
Dior made it its first essential care (Cica-Repairing Camomile Balm for Face and Body, 75 ml, €50). He developed it by accompanying the nursing staff and women in a changing world, with the vocation to take care of everyone day after day and to meet the expectations of reinsurance and new benchmarks.
Based on "wild" chamomile wax (calming, soothing and protective) and centella asiatica, this balm reflects the need to return to a daily essential. It comforts dry areas of the body as well as the most fragile areas of the face, which can be irritated by wind and cold, friction or the wearing of a mask. Endowed with a pH close to that of the skin, made up to 91% of ingredients of natural origin and formulated without perfume, it helps to alleviate the feelings of irritations and completely respects the skins weakened by the daily newspaper. The sensory texture metamorphoses on contact with the skin into a very thin, enveloping film that does not clog the skin but nourishes it deep down. The packaging is based on a founding date: 1967, the year Dior skincare was born.
Much more modern textures
In the cica planet, you can still find face masks made of biocellulose, which are very useful at the moment (Cicaplex® Flash Mask impregnated with Soskin moisturizing and soothing, sold in batches of three - 10 ml per sachet - €27.90), or soothing and moisturizing sleeping masks (Cica LANEIGE Night Mask, 60 ml, €32, exclusively at Sephora). A-Derma imagines for next spring in its Dermalibour range + S.O. treatments.S containing up to 100% ingredients of natural origin, to repair dry irritations for the whole family (Cica-Cream 50 ml, €8.70 or 100 ml, €13.60 ; Cica Stick, 8 g, 9.10 € ; Cica foaming gel 100 ml, €9,40 or 200 ml, €13,90, from mid-March), as well as sun formulas to protect damaged skin and improve healing (Epithelial AH Ultra SPF 50+ 100 ml, €9,40 or 200 ml, €13,90, from mid-April).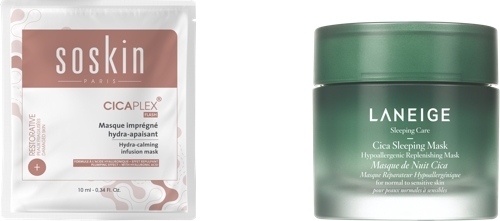 And even for the body or hair
If Mixa (Cica-Crème Nourrissante Réparatrice certifié bio, 50 ml, €6.50) and L'Oréal Paris (Revitalift Cica-Crème, 40 ml, €11.90), have popularized Cica skincare in supermarkets, it is a new territory that Sanoflore is exploring, that of stretch marks and pregnancy (Huile Multi-Correction Marques et Vergetures Cica-Natura, 110 ml, €28.50), an excellent initiative!
And hair is no exception to the rule, as witnessed by the latest launch of Kérastase, which targets nighttime repair of bleached or highlighted hair (Cicanuit Serum, Night Serum, 90 ml, €45). This is the third product in the Blond Absolute range, after Cicaflash Fondant Fortifiant Profond (250 ml, €40) and Cicaplasm Sérum universel Sérum fortifiant thermo-protecteur, without rinsing (150 ml, €33).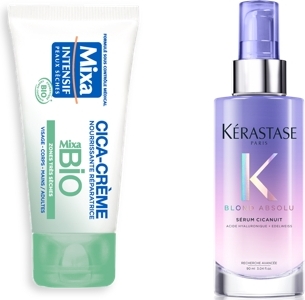 Wearing the mask puts the cica treatment back in the spotlight
We can see in the reasons for such a success the "Swiss Army Knife" universality of this treatment, which can relieve red noses from colds, chapped hands or dry feet, cracked lips or docks… but of course, the need for skin repair is more pressing since the daily use of the mask. The occlusion and friction it generates can induce irritating dermatitis or, on the contrary, amplify already existing conditions such as atopic dermatitis, couperose, rosacea or acne. The explosion of tattoos and aesthetic interventions (lasers, peelings, facelifts…), are not foreign to its success either.
Ariane Le Febvre
© 2021 CosmeticOBS