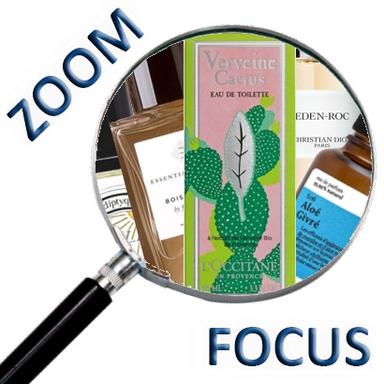 Prickly pear, cactus, pepper, pepper… renew the exercise of summer freshness. These spicy fragrances play an unusual little music that smells like nothing you've ever heard and that's why we love them!
Prickly pear in the spotlight
On June 4, Diptyque celebrates summer and Mediterranean nature with Ilio Eau de Toilette and Hair Perfume (Eau de Toilette 100 ml, €112; Hair Perfume, 30 ml, €44, limited editions), two delicious creations that feature an emblematic and atypical fruit of the Mediterranean basin, the prickly pear, combined with notes of bergamot, iris and jasmine.
Derived from ilios ("sun" in Greek), these summer concentrates are both sunny and refreshing.
In turn, L'Occitane en Provence is spicing up the fragrance routine of sunny days by creating a whole range of Verveine Cactus in a limited edition starting June 30, a sparkling fragrance that makes summer shiver! (Eau de toilette Verveine Cactus 100 ml, €54 ; Fresh Shower Gel Verveine Cactus, 250 ml, €15; After Sun Care Verveine Cactus, 150 ml, €24; Hand Gel & Cream Verveine Cactus, 30 ml, €9; Perfume gel Verveine Cactus 15 ml, 18 €, the latter in web exclusivity). Special mention for the hand care product inspired by a famous striped toothpaste, which combines refreshing colored gel and moisturizing white cream, for a playful experience. Another original feature is the granulated texture of the after-sun care, enriched with cactus extract, to be melted onto sun-exposed skin.
Last but not least, the entire range contains organic verbena extract, grown in the Sainte Victoire site, certified by the European network for the preservation of biodiversity, Natura 2000. As for the cactus scent, it comes from AquaCacteen™, an organic cactus extract derived from an enzymatic digestion of the prickly pear's "rackets".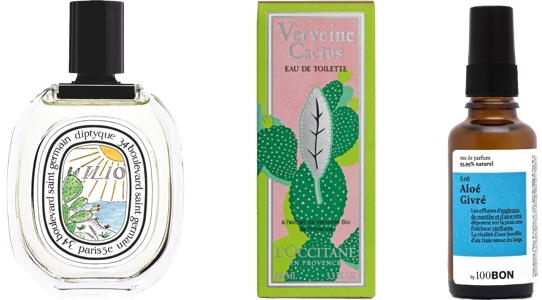 The thirst-quenching charm of Aloe Vera (another variety of cactus), combined with marine notes and mint, can be found again in 100Bon's Aloé Givré (95.99% natural eau de parfum, refillable bottle 30 ml, €12), with its sea spray scent and invigorating freshness.
Pepper, chili pepper or pine needles celebrate an unprecedented freshness
Rather masculine, Black Pepper by Korres (Eau de toilette, 50 ml, €44.90) offers a sensual, woody trail of character in a clean, vegan and non-photosensitizing formula that contains 88% natural ingredients.
Byredo's Open Sky (eau de parfum 100 ml, €190, limited edition) explores evasion through black pepper, hemp leaves and Palo Santo, a wood with a bewitching scent.
The leaves of a spicy Thai basil meet another pepper with grapefruit aromas (Nepalese Timut pepper absolute) in Essential Parfums' latest creation, Bois Impérial by Quentin Bisch (16% concentrated eau de parfum, 100 ml, €72), alongside Akigalawood, a brand new upcycled raw material (created from recycling unused patchouli scraps).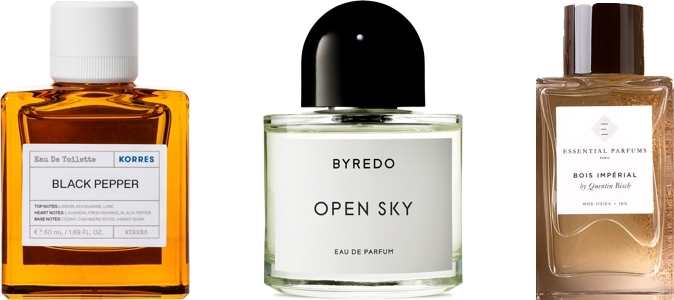 Another scent with a powerful spicy freshness (close to black pepper) is chili pepper, which can be found in many great perfumes, such as Citrus Batikanga by Maison Crivelli (30 ml, €80 or 100 ml, €180), created in collaboration with Bertrand Duchaufour, a fragrance that revisits citrus fruits (orange bigarade, bergamot, lemon) by spicing them up with chili pepper essential oil and myrrh absolute.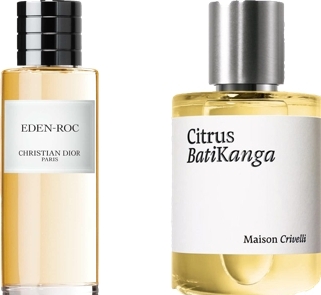 The chili pepper gives depth to the compositions but it also enhances the more volatile notes, citrus or floral, as in these two creations of Editions de Parfums Frédéric Malle: French Lover by Pierre Bourdon and Angéliques sous la pluie by Jean-Claude Ellena (100 ml, €215 each). Finally, pine needles run through Eden Roc, the new opus of Christian Dior's Private Collection (125 ml, €220), a vibrant statement to the most emblematic of the Riviera's palaces, the Hôtel du Cap-Eden-Roc. A fragrance of ungendered character whose distinguishing feature is the deployment of salty and aromatic notes. The fragrance is, in fact, dominated by the scent of the pine forest, the mineral notes of sun-warmed white rocks and a hint of saline crystal.
Ariane Le Febvre
© 2021- 2022 CosmeticOBS