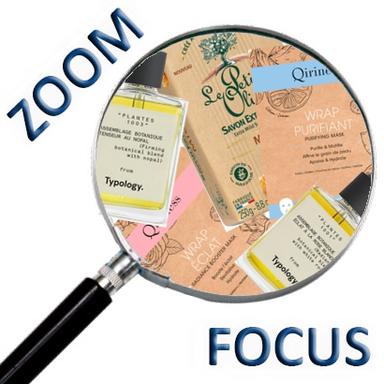 Skincare, soaps and even perfumes… Kraft packagings are very popular these days! Nothing better to give an eco-friendly and modern look to your creations!
Cardboard and kraft are becoming the new "visual codes" of cosmetics.
After the very first cosmetic tubes using FSC-certified cardboard from the L'Oréal group (Anthélios Lait Hydratant SPF 50+ from La Roche-Posay, 200 ml, €16; Gel-Crème Hydra Réparateur Chanvre from Garnier Bio, 50 ml, €8.90), now an avalanche of kraft-coloured paper or cardboard boxes is sweeping over beauty in all distribution channels, in supermarkets as well as in selective or pharmaceutical stores.
Soaps
Kraft paper allows the diffusion of the perfume of soaps, an important point especially in supermarkets where you can easily pick up the products to smell them.
Le Petit Olivier has understood this and offers a range of solid soaps in kraft packaging (Savon Extra-Sweet Honey, 250 g, €2.19; 2 Extra-Sweet Aloe Vera Soaps, 2 x 100 g, €2.09).
A really good idea, because in addition to being ecological and economical, kraft is "breathable" and lets the fragrance express itself!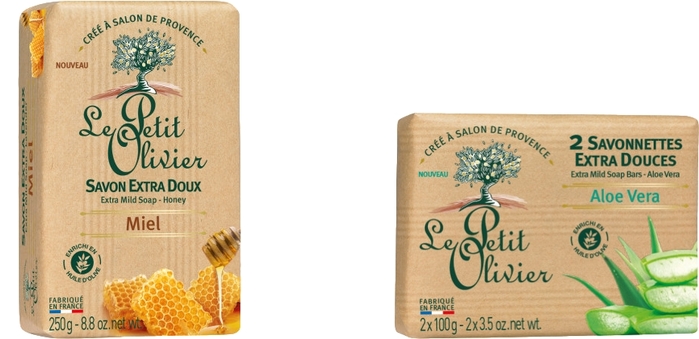 Le Comptoir des Huiles, for its part, has chosen cardboard to package its remarkable cold saponified soaps, 100% natural and certified organic (Le Savon Précieux aux 11 huiles végétales précieuses de Madagascar, 100 g, €8,90; Le Baobab Cold Soap or Le Savon Exfoliant aux tourteaux de moringa, 100 g, €5,90 each; Les Savons à Froid L'été dans la Garrigue or Coucher de soleil Basque 100 g, €4,90 each).
Same for Dessein (Soaps 120 g, €22 at Oh My Cream) or Typology which has just launched a range of four Solid Face Washes, also cold saponified (Purifying for oily skin, Moisturizing for dry skin, Exfoliating for dull skin or Soothing for sensitive skin, 100 g, €9,80 each).
Marius Fabre offers cardboard gift boxes containing soaps (Soap Trio, 3 X 150 g, €9.90 or Verbena Beauty, €20.80, containing a 230 ml Shampoo, a 150 g Soap Bar and a 30 ml Hand Cream).
Skincare
This area obviously holds all our attention, as the latest line of Nuxe Bio, vegan and made in France skincare products is particularly successful, with a product life cycle that is as responsible as possible, thought out in all its aspects, from the eco-designed formula to the packaging, using largely recycled and recyclable materials, as well as FSC-certified paper cases, containing an optimal mix of virgin and recycled fibres.
Eco-friendly designs that do not impact on recycling have been favoured, such as water-based, solvent-free translucent lacquering and organic screen printing.
And the aesthetic result is really up to scratch, with the kraft colour blending harmoniously with most tones (in this case white).
A dozen products have just been launched (Essential Antioxidant Chia Seed Serum, 30 ml, €39; Moisturizing Fluid Marine Algae Skin Corrector, 50 ml, €39; Rich Moisturizing Cream Brightening Citrus Cells, 50 ml, €39; Tinted Moisturizer Multi-Perfector White Tea, 50 ml, €39; Energizing Eye Care Anti-Pockets, Anti-Dark Circles Black Wheat, 15 ml, €29); Nourishing Regenerating Nourishing Night Oil Oleo-Rice Extract, 30 ml, €39 ; Moringa Seed Cleansing Micellar Water, 200 ml, €16 ; Detoxifying Radiance Mask Sesame Seed and Citrus Extract, 50 ml, €24,50 ; Micro-Exfoliating Cleansing Mask Core Powder, 50 ml, €24,50 ; Nourishing Regenerating Hazelnut Body Oil, 100 ml, €33).
Other particularly successful kraft packagings, the Qiriness Single-Dose Wraps, individual masks made of biodegradable microfibre fabric with a second skin effect for a selfcare break (Hyal-Aqua Wrap, Radiance Wrap or Purifying Wrap, 25 g, €4.40 each).
A real gamble because single-dose masks, like all single-dose packaging, are particularly anti-ecological!

Another example is Typology's "Plantes-1001" range of face oils, this time packaged in pearl grey cardboard boxes (Assemblage botanique éclat à la rose blanche, 15 ml, €22.50; Assemblage botanique purifiant à la pivoine, 15 ml, €21.50; Assemblage botanique tenseur au nopal, 15 ml, €23.50); Moisturizing botanical assembly with papyrus, 15 ml, €19,80), the anti-aging line Safran d'or de Korres (Elixir de Safran Anti-âge, 30 ml, €89), or the range of solid cosmetics made in Provence Comette Cosmetics, certified Nature et Progrès (Full Moon, Night face balm, 50 ml, €59 ; Oh My Lavender, Day face balm, 50 ml, €55 ; Coco Loco, Face scrub, 60 ml, €32).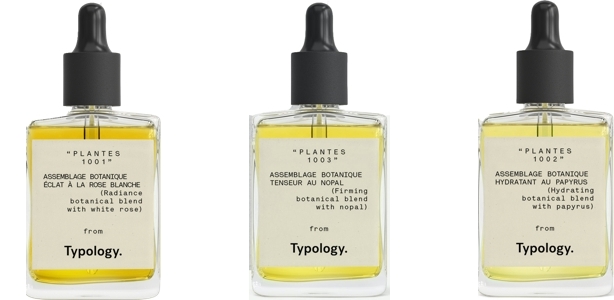 And even the perfumes
There are few of them at the moment, which is why we can salute the creativity of Essentiel Parfums, which is currently creating six fragrances (Nice Bergamot, Divine Vanilla, My Vetiver, Orange and Sandalwood, The Musk, Rose Magnetic, 100 ml, €72 each) made from natural and sustainable raw materials, presented in recyclable corrugated cardboard boxes.
Géraldine Archambault, the creator, has eliminated all plastic overwrapping and has banned all polluting cellophanage. The bottles are obviously made of glass and produced in electric ovens, which are less harmful to the environment than gas-emitting ovens.
The juices are macerated with beet vegetable alcohol and no colouring has been added.
We like the consistency of this project, especially since the prices are affordable.
In the world of luxury, it's a bold gamble, but by using cardboard or kraft paper, the brands implicitly signify their commitment to the beauty of tomorrow.
Ariane Le Febvre
© 2020- 2021 CosmeticOBS