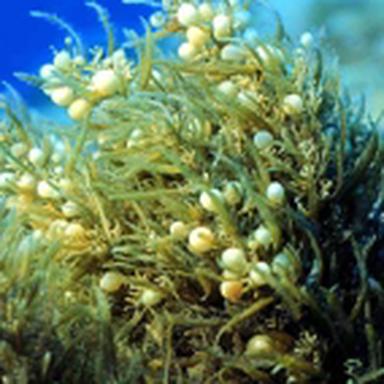 If algae have been used for ages in the food industry, they are now very popular in cosmetics as well. Little attractive at first sight, they are actually beneficial for the skin. As a result, raw material suppliers have all been developing their own algae-based actives. Biocosmethic, a company specialized in the production of cosmetic ingredients, has revealed to us the distinctive characteristics of the algae they market.
Marketing Manager Alexandra Fievez answered CosmeticOBS's questions.
ID sheet
French company Biocosmethic is based in Bonnelles, about 40km south-west of Paris. They supply different types of cosmetic ingredients like vegetable oils, floral waters, and patented cosmetic actives. Environmental preservation and plant heritage promotion are at the core of society's concerns. Biocosmethic is a member of the NRSC association (Natural Resources Stewardship Circle), and they also got involved in an Environmental Accountability Programme aimed to preserve the national park of Haute-Vallée de Chevreuse, near the production site.
What specific characteristics do Biocosmethic algae offer?
Sargassum filipendula is a brown alga which belongs to the Fucales species commonly found in the Atlantic Ocean. Alexandra Fievez explains it 'is characterized by "berry" structures filled with air called pneumatocysts, which make the alga float on the water. Sargassum filipendula is a benthic species, which means it lives affixed. It is several metres long and presents a very high growth rate. The Sargassum species plays an essential role in terms of ecology, since it forms a sort of floating habitat which provides different types of animals like fish, crabs, and prawns with food and shelter.'
Harvesting site and method
The algae are harvested in Brazil, and then dried in a forced air dryer at low temperature (lower than 40 °C).
Do they benefit from documented cosmetics claims?
Contrary to other ingredient suppliers, Biocosmethic does not distribute the product in its raw state. The company has developed an active for the eye contour derived from the Sargassum Filipendula brown alga. Alexandra Fievez specifies it 'was tested in vitro and in vivo, and it acts on signs of tiredness around the eyes. It reduces the appearance of dark circles by acting on angiogenesis. In addition, it blurs fine lines and smooths crow's feet wrinkles by stimulating collagen genes. The eye contour looks fresher, brighter, and visibly younger.'
What specifications apply to harvesting methods?
Alexandra Fievez explains that 'the algae are harvested by hand by trained farmers, which supports a responsible and sustainable management of natural resources. In addition, only part of them is cut, so they can grow again – they are not torn apart – and the ecosystem can be preserved.' Sensitive to environmental issues, Biocosmethic makes sure 'there is a rotation of the different harvesting sites from one year to another to preserve this biodiversity,' indicates the Marketing Manager.
What are the storage/manufacturing conditions?
Dry algae are stored at room temperature, away from light.
Are algae an issue as regards formulation?
Alexandra Fievez adds that the laboratory has not 'noticed any issue with formulating this active.'
Often popular in cosmetics for their slimming and redensifying properties, algae also have decongestant virtues. One thing is for sure, we are going to see them on beauty product ingredient lists for quite a while.
© CosmeticOBS-L'Observatoire des Cosmétiques
© 2017- 2021 CosmeticOBS