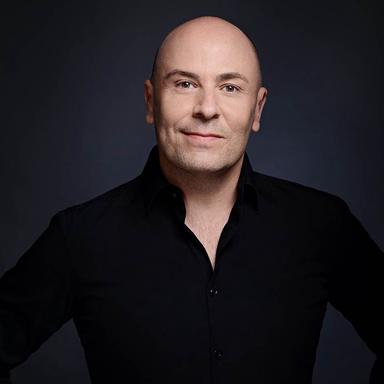 Olivier Couraud, founder of the brand Olivier Claire, is one of these human beings you gladly call 'quite a character'. Why is that so? Simply because he is filled with the burning desire to beautify and comfort women, with a big W. He chose cosmetics to express his original vocation. Here is a portrait.
Taking care of women is a noble ambition.
It is almost a passion for Olivier Couraud.
To better understand it, you need to go back to his story's genesis and evoke the first woman of his life, his mother Marie Claire.
As the press attaché of the Toulouse Orchestre National du Capitole in the south of France, she had a socialite personality and showed exacerbated femininity. As long as he can remember, Olivier Couraud has always known her as a rampant luxurious cosmetics consumer.
Meanwhile, Olivier Couraud very early developed a real passion for botany. He soon understood that plants have a power and started creating his first creams when he was eight.
As he lived in Morocco at that time, he describes this place as an 'incredible playing ground. Any raw materials and even actives were available on the markets. That's how I started to grope around.' Olivier Couraud had a sort of epiphany: he embraced his fate and realized he would take care of his mother and all women with cosmetics.
After a career at Pierre Fabre where he visited dermatologists, he was then debauched by another laboratory as a sales force executive and joined an even larger entity as national director. Nevertheless, Olivier Couraud does not forget his initial aspirations. He decides then that it is time for him to create his own brand. In 2008, he founded the Olivier Claire brand and created the first organic luxury cream to be sold at Bon Marché.
Love for women
After this first concluding experience, he decided to take some time to develop the brand. He contacted professionals, in particular a Scientific Director, two formulators, and an expert beautician – all women.
Is it a coincidence if his team is mainly composed of women? Not really. 'I like the company of women. I recruited people who had breaks in their lives and felt like starting all over,' he reveals.
Some of them were also integrated at an age when most companies are reluctant to hire people.
Is Olivier Couraud an avant-garde feminist? He smiles as he hears this, but he will not be labelled. To him, age is a strength rather than a ground of discrimination – this cannot but be applauded.
Since then, a few men have also joined the Olivier Claire adventure.
Products
What about cosmetics? Today, the brand is composed of a limited anti-aging range (seven products).
Olivier Couraud explains he 'preferred to bank on formulas rich in noble actives sourced in France with the highest concentrations possible for the best results.'
His flagship ingredients include sea fennel and fresh sunflower pollen, which are expensive, but essential materials for cosmetics design, according to Olivier Couraud.
Olivier Couraud describes his brand as "a combination of naturalness, beauty and voluptuousness.The nature has the power to offer each woman an effective and sophisticated beauty, hence the creation of Major Beauty Care". In addition to offering beauty products that he wants luxurious and refined, the founder of the brand makes a point of honor that the formulations are respectful, both for the environment and for the consumer. It states that 'each product meets a rigorous charter that excludes dyes, parabens, propylene glycol, phenoxyethanol and thiazolinones.The complementary components mainly of natural origin are from organic farming (Ecocert label) .The production 100% French guaranteed full traceability of the ingredients'.
Niche brand, Olivier Claire is distributed in independent perfumeries or in spas. The founder of the brand explains this choice by the 'need to understand the holistic dimension, the owners who own the points of sale where the products are sold are conquered by the results, are sensitive to the naturalness of products and our philosophy, it is also a story of soul and values, they are experts of the care and true partners'.
What are the projects for the brand? On this point, the founder is clear, he wants to meet the specific needs of consumers. An innovative moisturizing range for the youngest and a body range are currently being formulated. 'We are going to open new points of sale in France and we are starting to establish abroad, he explains.
As a boy, Olivier Couraud dreamt of taking care of women. Today, his cosmetics are displayed in the prettiest perfume stores.
And that is no surprise: projects of the heart always end up coming true.
JS
© 2018- 2021 CosmeticOBS