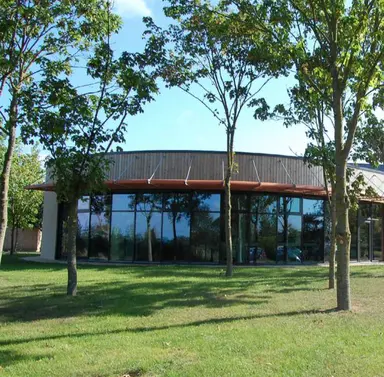 Centifolia is one of those brands for which cosmetics formulation rhymes with respect and preservation of nature. The organic-labelled brand based in Western France boasts one of the greenest production sites in the world. Is it? Let's have a closer look…
The brand's story started in 1972 with Gilles Guilbaud. This man had long wished he could create healthy, biodegradable cleaning products affordable to all. So, he decided to ask his wife Marie-Thérèse Guilbaud-Body to help him with his project.
As she held a diploma in Pharmacy and worked at CNRS (French National Centre for Scientific Research), she accepted to contribute to developing organic and ecological formulas.
Gilles Guilbaud founded the Body Nature brand as a tribute to his wife's maiden name.
Then, Marie-Thérèse's parents gave a helping hand by lending them some family land for biodynamic cultures, eco-designed buildings, renewable energy production equipment, animals, and eco-managed woods.
A few years later, in 1983, Gilles Guilbaud took up cosmetics formulation for individuals.
Centifolia was born, this time in reference to the rose with the same name.
Respect for nature and consumers remained the new plan's leitmotiv.
In 2006, Gilles Guilbaud's sons Olivier, who graduated from the Nantes Business School, and Antoine, an Engineer in Chemistry with a degree from the Nantes Institut d'Administration des Entreprises, joined the company. Little by little, their parents withdrew from the project and left them the company.
Green plants
Antoine and Olivier Guilbaud decided to develop the company.
In 2010, they built a 5,000 m2 building in accordance with the HQE (High Quality Environmental) standard.
The area called 'Cyprès' now comprises the R&D, Production, and Quality services.
Since Centifolia was already successful, the Guilbaud brothers had to build new premises to adapt to this fast-growing business.
In 2015, they opened the Acacia area based on ecological materials and built in accordance with environmentally friendly processes.
The Guilbaud brothers used all the means at their disposal and endowed the new working area with reinforced insulation, wooden frames and structures, biomass-based boilers, LEDs, and light pipes in the offices (designed to distribute light without any heat transfer).
Antoine Guilbaud explains that 'a carbon calculation was carried out [for Acacia], and the results highlighted an economy of 240 tonnes of carbon equivalent, i.e. 29% savings compared to standard building choices.'
Energy to spare!
Today, Centifolia represents a turnover of over 28 million euros all around the world, almost 130 references, a team of 180 employees, and products distributed in 25 countries.
The group's business is flourishing, so there is a strong need in energy to meet demand.
As regards energy, the Guilbaud brothers stuck to their values and chose renewable energy sources to heat and supply power in the buildings.
As for heating, the site is fitted with two biomass-based 250 kW and 750 kW boilers.
'It is considered as a carbon-free green energy, because the CO2 emitted by wood combustion is consumed by the biomass as it grows (photosynthesis principle). The fuel used is derived from the wood available on the Body Nature® Laboratory's estate, but also from cultures specifically grown to this aim,'explain the brand's representatives. The Centifolia plant also uses solar energy through solar panels and is fitted with a wind turbine.
Lastly, rain water is retrieved to supply the bathrooms and a car wash.
This way, the site is perfectly self-sufficient as regards water and 25% sufficient for electricity.
Preservation of biodiversity: a top priority!
The site spreads across 15,000 m2 in a green estate of 92 hectares – an outstanding land for nature to bloom.
Centifolia cultivates some of their raw materials there in accordance with the organic farming principles, and the brand's garden shelters no less than 101 different plant species!
However, flowers and plants are not the only ones to be welcome on the estate. There are also about twenty hives, cows, sheep, and many others!
Antoine Guibaud adds that the area has been 'classified as an LPO refuge [LPO = league for the protection of birds] since 1999'.
Since it was created, Centifolia has always adopted a strong environment-focused approach, which is why they are nestled in a real haven of greenery.
The most curious of you can always go there to visit the place. The site is opened for guided visits for you to discover how cosmetics are produced, take a breath of fresh air, and, who knows, catch a glimpse of a bird!
JS
© 2018- 2022 CosmeticOBS