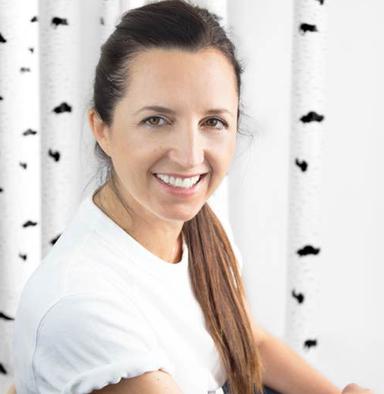 Recently introduced on the cosmetic scene, the Sæve brand, formulated with fresh birch sap, is already a great success. Launched in mid-September, it boasts nearly forty references, a strong identity and a proven storytelling. But in the end, Sæve is above all a reflection of the one who works behind the scenes, Pauline Bony. Portrait.
For many brand creators, love at first sight for cosmetics takes place during childhood: Pauline Bony is no exception to the rule.
As far back as she can remember, this passion comes from her grandmothers in Auvergne, where she spent her holidays.
"They were very pretty. I have always been fascinated to see them transforming, putting make-up on, dressing up. I was aware of my appetite for care so I directed my studies to a business school to start marketing beauty," she explains.
The memory of her dressed grandmothers is not the only reason why she is moving in this direction.
Pauline Bony describes herself as a great reader with an overflowing imagination. Paradoxically, she inherited a certain pragmatism from her father, a police commissioner. Cosmetics combines both rationality and dreaming, so it is the ideal terrain for it.
After completing a few internships at Sanofi Beauté and Boots Healthcare, she graduated. It's time to build your career.
Pauline Bony then crossed paths with Mathilde Thomas, Caudalie's founder. A real connection is made between them. She stayed there for 11 years and participated in the creation of the brand's identity.
At a time when the brand wanted to conquer the United States, she said to herself that she had gone "around the grape" and preferred to withdraw.
At the same time, L'Oréal debauched her in order to take over the international marketing management of Roger&Gallet.
"It was a little like the sleeping soap beauty," she says. The mission is simple: to relaunch the brand and give it a more luxurious and premium dimension.
Once again, Pauline Bony succeeds in what she does, but it's not enough, she's on the move.
This dreamer at heart has always wanted to create and the need is felt. With two significant experiences in the beauty industry, she feels she is mature enough to stand on her own two feet.
This is when the providential meeting takes place. At random from a post on Linkedin in January 2016, Pauline Bony met an Asian partner who gave her carte blanche to create the "brand of her knowledge", as she herself said. It's time to roll up your sleeves.
A magical forest
It is no coincidence that Sæve products are formulated with birch sap.
The Auvergne climate is favourable to the development of this tree. In addition, its sap is renowned for its medicinal properties. Pauline Bony still sees in her memories the women in her family drinking it as a cure.
She then looks at this sap and begins to document herself. It turns out that it has quite interesting properties and that it is still relatively unexploited in cosmetics….
However, Pauline Bony wonders if this ingredient alone is powerful enough.
It is then that the botanist with whom she works puts her on the trail of a fungus that only grows on birch, the chaga.
"Although this organism does not make everyone dream, it is a condensed form of antioxidants. In addition to being exceptional, it was perfectly in line with my story," says Pauline Bony.
She adds that using French ingredients is a challenge for her, no need to go far to find effective raw materials.
As for Sæve's design and identity, Pauline Bony had no trouble bringing her desires to life. "I've been carrying this project inside me for so long that I knew exactly where to go. I like the second degree, so I wanted to infuse lightness into my brand. I wanted to free myself from this frozen beauty that calls upon muses with whom no one identifies anymore," she comments.
She therefore strives to create elegant packs that make you want to use them. She has a taste for beautiful things.
The products are available on the brand's website and are also distributed in pharmacies.
In the space of two years, Pauline Bony has succeeded in making her dreams of being a little girl a reality. 42 references later, she is asked what will happen next.
"Establish the brand well and take a more classic launch pace. We will also continue studies on the chaga because it seems to have even more properties than we think. The Auvergne forests have not said their last word, they are magical," she concludes.
JS
© 2018- 2021 CosmeticOBS