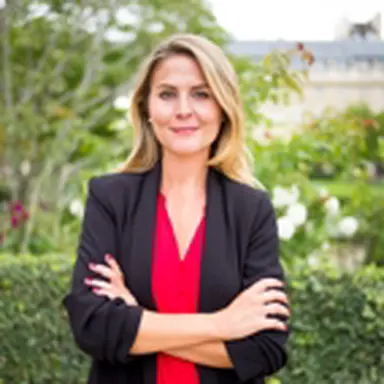 Between new products regularly placed on the market, the media hype, and the different opinions found in the press, consumers are often lost when it comes to purchasing cosmetics. Marine Chevalier, founder of My Beauty Community, decided to address the problem with a mobile platform for users to give each other some tips. No advertizing or financial issues: it is all based on trust and benevolence.
As a globe trotter through and through, she went to NYC for her studies, and then Barcelona. Once she got her diploma, she decided to live yet another experience abroad. She expatriated herself to London and worked for cosmetics brand Victoria Jackson. 'I sold products in the street, it was really a rep job. I felt like learning on the job to better understand what my training actually involved,' she explains.
Back to France, she tried to work as a consultant in a firm, but she did not really blossom, so she decided to work again for a cosmetics brand. This time it was Doux Me, an adventure which confirmed her taste and attraction for the beauty sector.
After Birchbox (formerly Jolie Box), where she was in charge of a client portfolio of 300 brands, Marine Chevalier ended up at Sephora's. She remained there for three years, but she left the vessel and launched her own beauty blog. Why? As she accumulated various professional experiences, she realized the opinions found on cosmetics were not always reliable. It is not easy to know what lies behind them. By working as a self-employed worker, she hoped to offer consumers more transparency and honesty. 'In addition, distributors give shop assistants commissions on different brands every week. When customers visit a store, they are encouraged to buy products that do not really suit them, simply because there are financial interests involved,' Marine Chevalier reveals.
She was quickly successful with her blog. Although she was very happy with it, she realized an increasing number of brands started to contact her. The conclusion was clear: the more influencing bloggers are, the less they can say what they think.
But Marine Chevalier was convinced that somehow, she could get rid of the pressure exerted by brands. She started developing a project, a community that would exchange beauty tips on an honest basis.
First, she created a private group on Facebook to see whether she could federate a community and if it would be receptive. The test was convincing, so she thought she should go one step further.
Marine Chevalier aimed to develop a mobile platform that could be used when consumers purchased a product, so they could compare the different opinions.
But she also wanted to go farther, by offering to match the profiles of users with the same skin problems using a matching algorithm. This way, the tips exchanged would be even more relevant.
Lastly, her leitmotiv was to help fellow men. She decided to add regular donations to the CEW association to her business plan to help them offer sick people free aesthetic treatments. To her, 'these actions help make beauty meaningful.'
My Beauty Community was born in its founder's mind in April 2016. It was created two months later and the company was founded in October the same year.
She used a service provider for the digital development part. Whether a happy coincidence or providential encounter, it was professional love at first sight between the two. They became associates.
Millennials
The application came out in September 2017. It was soon successful: over the first two months, 2,000 downloads were counted. It is completely free for users.
Millennials (aged 13-25) are those that love My Beauty Community the most, which comes as no surprise. With the advent of beauty bloggers, these young girls are informed of beauty trends increasingly earlier. But they need transparency and honest advice. 'The younger ones sound ingenuous in their posts, they search for the expertise of an older sister,' Marine Chevalier explains.
On the platform, girls can find detailed product sheets and can create a personal, privileged network for themselves.
The founder pampers her community. Aware of the fact that some users are quite young, she has very strict moderation practices. No one can insult others or use uncalled-for words on the app.
If a user gets bad tips, she can signal the incriminated account. After three warnings, the profile is deleted from the platform.
Marine Chevalier justifies these strict rules by 'a will to keep a pure spirit and guarantee the safety of Beauty's [members of the community]. They must commit to respect a charter, so that benevolence prevails.'
In addition to exchanging beauty tips, Beauty's can also be selected to take part in test campaigns. The more active they are on the platform, the more points they accumulate, and the more they are likely to be chosen.
Marine Chevalier insists on the 'importance of objectivity. We keep repeating that whatever the mark they give a product, they gain the same number of points.'
As a matter of fact, brands are fond of reliable customer feedback. They increasingly ask My Beauty Community to organize product test sessions on very qualified targets. It is an additional opportunity for them to optimize the development of their cosmetics.
Marine Chevalier adds that 'the list of ingredients of the products is checked before they are sent to our Beauty's. Our priority is to guarantee their safety'.
From the virtual world to reality?
Although the application is 100% digital, it is important for Marine Chevalier to meet her community. 'We organized a first meeting at the Birchbox corner. The theme was "Stop Aux Yeux de Panda" (No More Panda Eyes). The idea was to make the girls test products corresponding to the theme. I had even dressed up as a panda! I hope to be able to do it again, all over France. But let me warn you, if we organize an event with the theme "No More Croco Skin", I will not get dressed as a crocodile!' she jokes.
For the year 2018, Marine Chevalier hopes to increase the number of downloads and add a module for deciphering the INCI list to help consumers learn what is best for them.
© CosmeticOBS-L'Observatoire des Cosmétiques
© 2018- 2022 CosmeticOBS