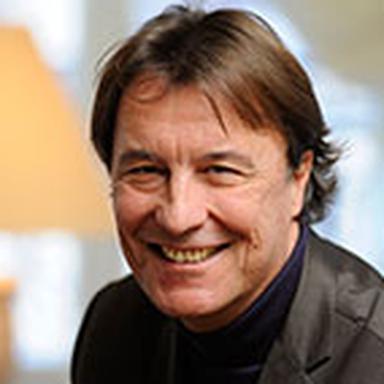 More than a great inventor in dermocosmetics, this PhD in Molecular Biophysicochemistry is, above all, one of our last cosmetology humanists! He is extremely warm, charismatic, and creative, so it is hard not to like him, and he has been relentlessly tracking down tomorrow's cosmetic concepts and molecules for over 35 years. After working in collaboration with the greatest brands, this free man who has managed to stay away from any brainwashing attempts is now independent. And he took part in developing some of the most exciting Spring 2016 cosmetic innovations…
His presence at a press conference always guarantees a thrilling moment (and an influx of journalists!), simply because everything gets clearer with him. If some consider the cosmetics sector as a deeply obscure world, it never gets like this with Gérard Redziniak: when it comes to the most complex technologies, he just knows how to put things plainly with images only he knows about. He is always lively, simple, and generous, and he has a gift for making science rhyme with the imagination. With him, our skin cells get transformed into poetic metaphors! They 'permanently send each other text messages, they have polluting particle detectors, and they make natural antibiotics (defensins) or melanin (even without UV rays), the first "antioxidant sponges", etc.' To him, the secret of the best beauty products can be found in the skin. And the more familiar we get with its most intimate mechanisms, the closer we will get to excellence in cosmetics.
His career
Some say they are 'epidermologists'; he actually calls himself a 'keratinologist', as he has so much passion for our 1,800 billion keratinocytes! 'Without them, we cannot live. We have 2,000 billion cells in our skin, and keratinocytes are the most important cells in the human body!'
Born in 1952, this enthusiast is curious about everything and could actually make Paul Valéry's sentence his own: 'What is most profound in humans is their skin'. His passion is not new. Always fascinated by the knowledge of cellular mechanisms, this eulogist of cell communication (to him, the future of cosmetics lies in this phenomenon) did his PhD in Molecular Biophysicochemistry at the University of Orléans, France, working on a starfish that never got sick, and whose branches always grew again.
He was to work in the fields of health, cytokines, and cancer research. But then, he met Alain Meybeck, Assistant Director at LVMH Research in Saint Jean de Braye, France. He joined Dior as a simple lab assistant in 1979 and, as he was performing tests in the microbiology laboratory, he discovered… liposomes! Bingo!
From the first Capture serum to the État Pur skincare range
The first Dior Capture serum was born on June 18, 1986, a date forever engraved on his memory! This new generation of cosmetics carriers conquered the press. Gérard Redziniak remained with Dior until 1995, when he joined Yves Rocher to set up an applied research laboratory. There, he met wife Véronique, who was Daniel Jouvence's General Manager within the Yves Rocher Group then… and this convinced feminist never forgets to praise her. As a leading light in his life, she taught him about nutrition, personal development, and 'happy coaching', among others. In the 2000s, he managed the Dipta group's Research department as a whole (Esthederm, Bioderma, État Pur…), together with Jean-Noël Thorel. He developed various exclusive products like Bioderma's Eau Dermale or Matricium, a medical device ('a cure of 28 single doses that really recreates the skin'), the Cyclo Repair range and various sun products for Esthederm, and all État Pur skincare products (as part of a joint-venture with Guerlain).
He also created Odoractive®, which has a myorelaxing action and was renamed 'skin yoga' because it instantaneously eases the features. This delicious perfume can also be found in the first État Pur skincare products and in treatment cabins at Esthederm beauty salons. As an oriental culture enthusiast, he believes in the power of smells, because 'some of them have the power to relax our muscles by directly interfering with our reptilian brain.'
But his collaborations mostly depended on the people he met. Maurice Roger, President of Parfums Dior and Jean-Noël Thorel, a 'cosmetics visionary', are two of his spiritual fathers or, as he nicely calls them, his 'scientific magi'.
In 2004, he was recruited in Chartres, France, by Pacific Europe, the French branch of Korean group Amore Pacific – which manufactures the Lolita Lempicka perfumes under licence, among others – to supervise a large study project on skin aging. That is when he developed 'phyco-hormones' from plankton lipid fraction, a patented 'marine placenta': this discovery was used by Korean cosmetics brand Ysoa.
Current news
Today, he is an independent scientific advisor for various cosmetics and raw material companies. He manages Research & Development work and optimizes global cosmetics projects. He is also much committed to the Cosmetic Valley, as he aims to make it a global cosmetics hub. He is curious about everything and is a strong advocate of multidisciplinary approaches, so he never hesitates to welcome young researchers around him (7,000 in the Cosmetic Valley!), and he loves playing the go-between. He still works in collaboration with the CNRS, the French National Centre for Scientific Research, or the Matriscience Research Centre of the Cochin hospital in Paris.
His passions? Biology and all life sciences, but also mitochondrion (our energy box, the one that makes the ATP for our cells), the large family of sugars and peptides, and delivery systems, which are more relevant than ever, to him: 'The last liposomes are galactosyled, they get fixed on the fibroblast and provide highly soothing effects on traumatized skin after surgery, radiotherapy… They can be found in the Vivacy Laboratories Stylage® Skin Pro dermatological skincare range.'
Above all, he is extremely interested in the skin-brain relationship, which is why 'pleasure (provided by a perfume or a texture) is the best route to efficacy. The cosmetics trade mainly requires sensorial expertise to make it easier to have a date with oneself.'
To Gérard, the placebo effect is an active principle in its own right, as 'stress releases neuromediators on the skin, which unbalances the cellular system. By contrast, meditation, massages, and pleasure release endorphins that have positive effects on skin cells.'
His latest creations
Among his most innovative collaborations, there is Romy Paris, a real 'beauty assistant' connected to a mobile application and designed as a 'mini-beauty lab' to make it possible for the first time to formulate highly personalized skincare products at home in nine seconds: Gérard developed over 1,000 combinations in the form of skincare capsules.
What's his new craze? Uvaxine®, an extract from diglucoside resveratrol obtained with a green process that forms an anti-aging shield to activate the skin's natural defences against UV rays, whether at the cellular level (by protecting keratinocytes and fibroblasts) or molecular level (by protecting the DNA and the skin's essential proteins). Its mode of action is similar to that of a vaccine: skin cells undergo micro-stimuli to enhance their resistance to future sources of stress and prolong their lives. Therefore, this new generation biological UV protector is ready to act any time, and with the maximum efficiency, as soon as the first stimulation. This active can be found in several anti-aging products of the Japanese Kyoto Ritual by Cinq Mondes, a brand he is been working with for two years.
His projects
The outcome of this last research work will be released next May (Dr. Renaud's whole anti-aging range with rose native cells) and June (Garancia's Hallucinogène, a transparent complexion skincare product in the form of liquid powder).
The latter is an anti-wrinkle and anti-pollution complexion-enhancer that goes farther than the 'me, only better' cosmetics codes, as a pioneer of the 'complexion skincare' trend. It is devoid of any tinted pigment and recreates the illusion of a fresh, even skin, without overlooking skincare and close protection. Savéria Coste's idea (founder of Garancia) was to create an anti-pollu-aging elixir that would prevent polluting agents from penetrating the epidermis. And Gérard Redziniak was able to find an anti-particle sugar (poly-fucose) which gets fixed to the surface of the skin in a completely invisible manner. This natural film with a high molecular weight behaves like an anti-aggression protective tissue, while allowing the skin to breathe easily. As for the Shiitaké extract, so dear to Gérard, it stimulates the skin's natural defences, in addition to offering anti-inflammatory, immunostimulating, and antioxidant benefits.
Still, the discovery our tireless researcher is so keen on is the fact that 'the skin is a primitive eye fitted with the same optical cones as the eyes' (this was discovered by Shiseido). Therefore, it is no surprise it is so sensitive to light, especially blue light! 'Keratinocytes are endowed with blue light receptors, like our eyes.' To Gérard, there is no doubt 'it is tomorrow's pollution. The boom of LEDs in our TV sets, computers, and smartphones provokes a molecular storm, which is a source of inflammation, oxidative and cellular stress. As usual, it is the quantity that is poisonous. If it is necessary to have a few free radicals to fight against bacteria and inflammations, when there are too much of them, the cells suffer. Cellular stress is closely related to light.'
And we are not done with Gérard Redziniak, because this man is teeming with projects, and is already passionate about an organic green coffee oil from Brazil. Its unsaponifiable part presents astounding 'retinoid-like' anti-aging properties, without triggering any of the irritations usually related to this molecule.
So, no, Gérard Redziniak will definitely not give up his cosmetics innovation leadership anytime soon!
© CosmeticOBS-L'Observatoire des Cosmétiques
© 2016- 2020 CosmeticOBS