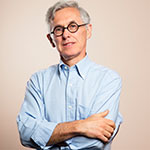 He replaced Alain Grangé-Cabane at the head of FEBEA last July 1st, 2014. Six months later, Patrick O'Quin confided his 'discovery report' to CosmeticOBS by providing a review of the Federation and the cosmetics sector. It was also an opportunity to unveil the missions he has decided to take on in the near and far future, and how he intends to accomplish them.
Reading time : ~ 10 minutes
The President of the French Federation of Beauty Companies gave CosmeticOBS an interview for the New Year. It was focused on the theme 'first review and prospects'.
'I have a permanent contract at FEBEA', he started. 'Of course, I do not aim to reach my predecessor's record of longevity [Alain Grangé-Cabane was the head of the Federation for 16 years], but I was entrusted with a long-term mandate'.
And Patrick O'Quin does intend to contribute his own prospective vision, both to the Federation and the cosmetics sector as a whole.
The review
More than a first review, Patrick O'Quin prefers to present his own discovery report, which results from six months of observations. And the least that can be said is that his enthusiasm is full of superlatives to 'list the sector's assets'.
FEBEA
Patrick O'Quin: I found a very competent, motivated, dynamic team that has a true know-how now, which it built up year after year to serve the members of the association. And the feedback is very positive: our members globally view the Federation with a favourable eye.
The cosmetics sector
Patrick O'Quin: I was positively surprised by certain aspects of this sector. ...