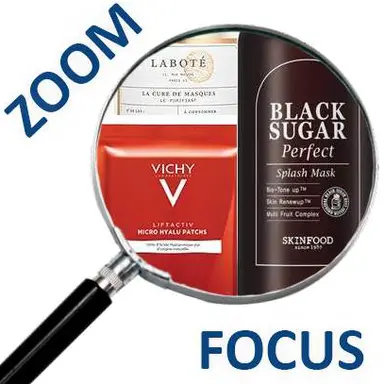 We know that it is in this field that the creativity of formulators is most evident. The last quarter of 2018 is no exception! Capsule and masks or eye contour patches close to a hyaluronic acid injection… these are the ones that caught our attention.
The capsule mask
It all starts with Les 4 Cures de Masques de Laboté (€30 for a 3-month cure which consists of 12 masks), this ingenious brand that personalizes its cosmetics after a skin diagnosis made with a Doctor in Pharmacy in its shop in Paris.
Each mask comes in the form of a powder capsule composed of a subtle dosage of clay (chosen according to each skin type) and active extracts of medicinal plants, which are mixed at the last minute with water, or even better with a hydrosol (the quantity is specified for each mask), in the glass container provided, with a wooden spatula also provided.
No more hesitation to have as for the quantity to apply! The result is a fresh and creamy texture, designed to prevent the clay from drying out. All minerals can thus penetrate the lower layers of the skin without attacking it.
Moreover, this conditioning makes preservatives unnecessary. Leave on for 15 minutes, avoiding the eye area, then rinse. The skin is demineralized and detoxified.
The brand offers 3 types of masks: the Purifying Mask, with green clay and zinc, for a healthy and clean skin; the Smoothing Mask (anti-aging), with red clay (rich in iron oxide, it illuminates dull complexions) and bromelain, for a regenerated and smoother skin and the Soothing Mask, with white clay and allantoin, for sensitive skin.
The liquid splash
We owe it to Skinfood (Black Sugar Perfect Splash Mask, 200 ml, €24.99, at Sephora). Presented in a bottle, it is as liquid as water and exfoliates (thanks to brown sugar), while moisturizing and brightening the complexion. It is one of the fastest and easiest masks to use!
Simply remove half a cap (3.5 ml) from a cotton pad and pat it on the moistened face before rinsing. It can also be used for daily maintenance, by diluting a cap (7 ml) of the product in a sink filled with fresh water and splashing with it before rinsing.

Eye injection….
These truly original patches for the eye contour area with 160 microtips are composed of 100% natural fragmented hyaluronic acid for trans-epidermal diffusion. They dissolve completely on the surface of the skin during the night, leaving a smoother skin and a rehydrated eye contour area upon awakening (4 to 8 hours are necessary).
The brand certifies that the effect lasts 12 hours. To be used once a week at night (Liftactiv Micro-Hyalu-Patchs Nuit de Vichy, €20 per pair).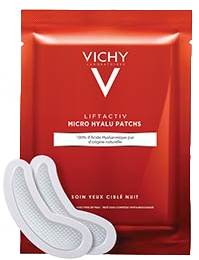 Ariane Le Febvre
© 2018- 2022 CosmeticOBS