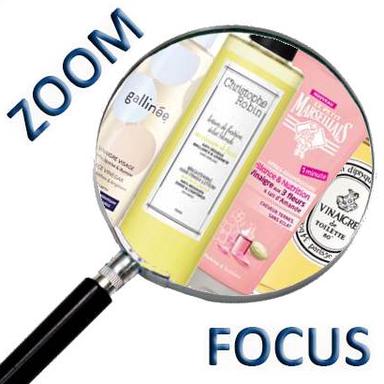 This ancestral beauty secret is undergoing a makeover! With the (big) trend of probiotics, vinegar is indeed a first-class ingredient. Some tighten the pores, others perfume, others finally make our hair shine… but all are deliciously fragrant, contrary to what you might think! Carried by the wave of natural "healthy foods", vinegar has it all!
If this legendary care for the toilet appeared at the end of the 18th century (we still find the very refined Diptyque Toilet Vinegar, 200 ml, €53, with its scents of spices, woods and plants and multiple uses, a true bestseller of the House!), it is reinventing itself.
It has many virtues to its credit with a dominant quality (and particularly in vogue!): respect for the microbiome. It owes its purifying properties to its high acetic acid content (it gently removes dirt and bad bacteria, it also contains tannins that regulate sebum) and its protective benefits to its antioxidants.
But it also contains AHAs (alpha hydroxy acids) that offer a gentle and physiological exfoliating action, stimulate cell renewal and minimize the appearance of pores, as in Roger&Gallet's Aura Mirabilis Beauty Vinegar (200 ml, €22.90) or Gallinée's Face Vinegar (200 ml, €26), two original "lotions" that are halfway between cleaning and skin care.
Gallinée Facial Vinegar, based on prebiotic and postbiotic hibiscus vinegar (the brand's "signature" complex of sugars, fibres and lactic acid), takes care of the skin microbiome, while making the complexion extremely luminous.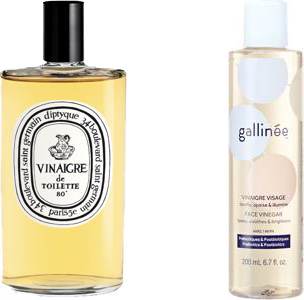 Hair shine elixir
Do you want hair that's super shiny, healthy and fresh at the same time? Switch to vinegar! Because it not only eradicates limescale from our interiors, it also does a lot of good to the hair, making it softer and brighter, less electric and easier to comb!
This is why it is also in the spotlight in hair brands such as Christophe Robin (Finishing Lotions with hibiscus, sage or fruit pulp vinegar, 200 ml, €30 each) or René Furterer (Lumicia Brilliance Vinegar, 150 ml, €17.35). The latter concentrates an astonishing acerola vinegar, very rich in vitamin C and fruit acids, which, thanks to its acid pH, smoothes the hair scales, neutralizes the limestone and provides a real "mirror shine"!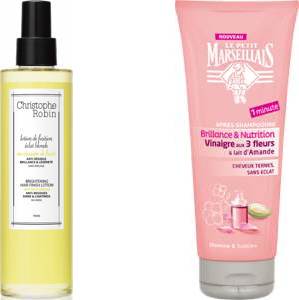 Finally, Le Petit Marseillais offers a shampoo and conditioner with flower vinegar in its Brilliance and Nutrition ranges (Shampoo Cream Vinegar with 3 Flowers & Almond Milk, 250 ml, between €2.50 and €2.80; Conditioner Shampoo Vinegar with 3 Flowers & Almond Milk, 200 ml, between €2.50 and €2.80) or Shine and Volume (Shampoo Vinegar with 3 Flowers & Pink Grapefruit, 250 ml, between €2.50 and €2.80).
Ariane Le Febvre
© 2019- 2021 CosmeticOBS