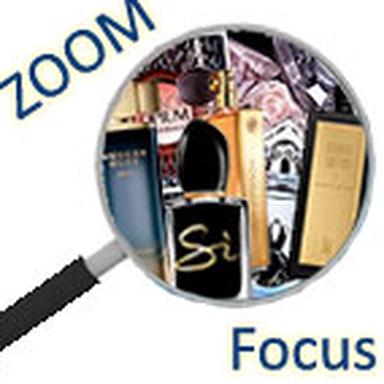 Here is a strange oxymoron… Black and celebration… It seems the adjective 'black' – in both French and English – will not stop spreading across perfumery any time soon. Raw materials, bottles, and/or ink-coloured juices are relentlessly turning towards darkness. But, what is a black perfume? Was the word invented for mere marketing reasons to create mystery, or is the concept a bit more solid? Let's try a few explanations…
This practice definitely suits winter and rich – often oriental – fragrances. 'Black' perfume editions cannot but be enigmatic, and a little deadly. There is something demonic about them that is intriguing, and they also implicitly evoke the (subjective) impression of a more intense perfume.
They were already pretty much everywhere in perfumery, starting with the greatest (Coco Noir by Chanel, La Petite Robe Noire by Guerlain, Tom Ford Noir Extreme, Dahlia Noir by Givenchy, Noir Épices by Michel Roudnitska for the Frédéric Malle Éditions de Parfum, Aromatics in Black by Clinique, Serge Noire by Serge Lutens…), let alone men's perfumes.
But once again, this deep-rooted trend seems to be gradually establishing itself for the end of the year. Formulas increasingly contain dark ingredients (black rose, coffee, black truffle, vanilla, black fruit, patchouli, Lapsang Souchong smoked black tea, Oud wood, liquorice, chocolate…), bottles and liquids are night-coloured. Black on the outside, and sometimes, though less often, on the inside too…

Latest creations
Inspired by the famous black trench-coat by the fashion brand, My Burberry Black (Eau de parfum, 30ml, €58, or 50ml, €84, or 90ml, €118) is a floral oriental perfume that combines jasmine flower and peach nectar with a rose heart note and an amber-based patchouli back note. The deep amber-coloured glass bottle and its horn-like cap decorated with a black gabardine knot mirror the details of the iconic trench-coat.
Black Opium Wild Edition by Yves Saint Laurent (Eau de parfum, 50ml, €89, limited edition), is a new 'wild' interpretation of the sweet oriental. The bitterness of the coffee note used in high quantities here is offset by feminine white flowers, mellow vanilla, and elegant woody notes (cedar and patchouli).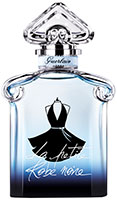 Guerlain has also capitalized on black, first by launching its new version of La Petite Robe Noire for the New Year celebrations, even sweeter and carnal: an Intense Eau de Parfum decorated with a 'Robe Sous Le Vent' ('dress in the wind') (30ml, €69.50, 50ml, €97, 100ml, €137). It also features an exclusive bilberry note that mingles with Bulgarian Rose essence and a sandalwood-patchouli woody scent. As for the mythical 'inverted heart' bottle, it has been tinted with dark blue.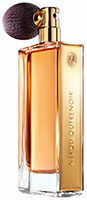 This month, it is in the L'Art et la Matière Collection that we will discover Néroli Outrenoir (Eau de parfum, 75ml, €210, Les Exclusifs de Guerlain), a 'web of paradoxes', since no flower other than pure, radiant orange blossom can contradict blackness that well! As an asserted tribute to painter Pierre Soulages and his 'black light', the fragrance mainly plays with gloomy ingredients (only the pear on the bottle is black): smoked tea, moss and myrrh, ambrette seed and dark wood notes, on top of multi-faceted orange blossom (neroli and petitgrain essences, orange blossom absolute). A real wonder!

My nights are more beautiful than your days…
In the same vein, Matière Noire by Louis Vuitton (Eau de parfum, 100ml, €200, €125 for the refill) also appears tempted by contrasts between dark woods (patchouli, Lao agarwood…) further darkened with blackcurrant, but brightened by the whiteness of narcissus and jasmine – a sort of olfactory kaleidoscope.
There is the same duality between white flowers (jasmine, tuberose, lily…) and voluptuous woods (patchouli, amber wood…) in Modern Muse Nuit by Estée Lauder (Eau de parfum, 50ml, €79.50).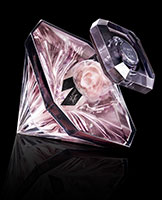 Now, as for La Colle Noire (a castle near Grasse, in the south of France, purchased by Christian Dior in 1951, and recently restored by Maison Dior) in Christian Dior's La Collection Privée (Eau de parfum, 125ml, €227), this solar composition pays tribute to the absolute queen of the Grasse countryside: the Rose de Mai. Combined with spices, wood, amber, and musk, the Queen of flowers becomes incisive.
Nuit Trésor Eau de Parfum Caresse by Lancôme (30ml, €56, 50ml, €75, 75ml, €88) also conveys a new expression of the rose flower (from black rose to tender rose), this time intertwined with a delightful tonka bean and almond blossom note, and then coated with gentle, silky white musk.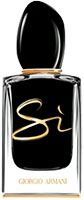 Giorgio Armani perfumes also mark the New Year celebrations, with Sì Intense Night Light Edition (Eau de parfum, 50ml, €94.50, in limited edition at Marionnaud's, as from October 24, 2016). Vanilla and benzoin notes meet black fruit. Their dark radiance is reflected in the intense blackness of the lacquered bottle.

We have kept the best for the end: Veilleur de Nuit by Serge Lutens (Perfume, 50ml, €600, as from October in department stores and perfume stores) is the seventh perfume of the luxurious Section d'Or Collection (no price limit for this collection). Earthy plant scent, black chocolate note, tuberose, vetiver, musk… it is no doubt one of Serge Lutens's most beautiful creations. So, let's let this inveterate poet have the last word: ' Night works on us all. My night watchman makes sure of that. Though he knows not why, bittersweet turmoil sets his heart a-racing'…
© CosmeticOBS-L'Observatoire des Cosmétiques
© 2016- 2021 CosmeticOBS