You may not know that your hair can have wrinkles. Do not laugh! It is labs' latest brainwave. 'If Isabelle's hair has not aged a bit, it means we have been useful,' Ducray announce in their press release to launch the Densiage redensifying hair line (Redensifying Shampoo, 200 ml, €11.50; Redensifying Serum No Rinse, three 30 ml tubes, €47, or 30 ml, €11.50; Hair Anti-Aging Food Supplement, 30 tablets, €18.50, as from August).
The range is designed to fight against loss of density and add volume and resistance to thin, thinning, brittle hair, thanks to a generous quantity of protective and stimulating plant extracts (ginseng and albizia, or silk tree). It is dedicated to 'mature' hair (a new category to invent?) as from 45.
Indeed, it is a fact that our hair gets thinner with age. This is not about hair loss (although the growth speed slows down), but about hair density reduction and scalp and hair aging. This notion is relatively new, but it seems justified in light of the major studies conducted by the Pierre Fabre brand. The proportion of hair in the anagen phase – hair growth phase – and in the telogen phase – elimination phase during which dead hair falls – does not change as we get older. But the hair mass reduces and the hair has less volume. It also becomes more fragile, less extensible, more porous… a sort of 'hair wear' that speaks to women…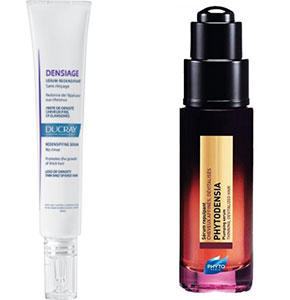 Hair serums to better reinforce the notion of anti-aging
Precious and concentrated, hair serums borrow face serum codes, as can be seen with the latest Phyto Phytodensia Plumping Serum (30 ml, €39) based on hyaluronic acid and acacia collagen.
This range designed for thinning, devitalized hair also comprises a shampoo and a mask (Phytodensia Plumping Shampoo, 200 ml, €15.90; Phytodensia Plumping Fluid Mask, 175 ml, €42.90).
As for Kevin Murphy, he offers thin and sparse hair the aptly-named Body.Mass Leave-in Plumping Conditioning Treatment (100 ml, €42.90), both an intensive treatment and a hairstyling product.
The Australian brand also dedicated a sulphate-free shampoo to thinning hair (Plumping.Wash Densifying Shampoo, 250 ml, €31.90 or 40 ml, €7.90) and a conditioner (Plumping.Rinse Densifying Conditioner, 250 ml, €33.20 or 40 ml, €7.90), both of which are very rich in densifying actives (biotin, rice proteins, ginger root, bamboo leaves, Aloe Vera, tripeptides, amino acids, nettle extract…) and enhance hair resistance.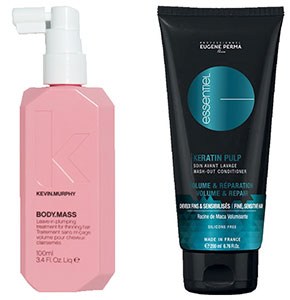 Pulp Fiction…
Eugène Perma imagined the professional Keratin Pulp Essentiel Volume & Repair mini-line for fine, sensitive hair. Free from sulphate and silicone, it is based on botanical keratin and volumizing maca root: Shampoo (250 ml, €16.90) and Wash-Out Conditioner (200 ml, €25.40). The latter is unique: it is to be used for three minutes before washing your hair without any risk of making it heavier. It also helps wrap the fibres in a protective treatment to protect it from rubbing during the shampoo. Fragile hair will be delighted: it is provided with intensive care, while guaranteeing perfect removal of any treatment residue to keep your hair light and less electric at all times. A great way not to have to choose between volume and repair!