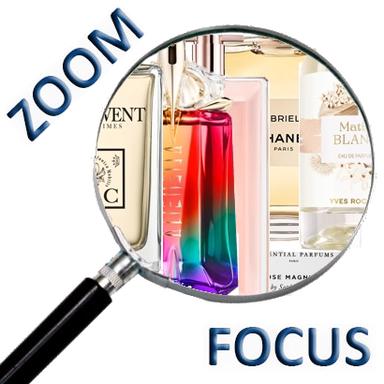 Natural essences made in France, bio-sourced and eco-responsible raw materials, vegan formulas, refillable bottles, recyclable candles… if in luxury CSR commitment is beginning to emerge, it remains timid (and subject to thunderous communication!) but massively gains the most confidential brands on the net…
Emergence of a more responsible luxury goods
We remember that Mugler brought back to life (in 1992!) this old 18th century tradition of the perfume fountain (already used by Caron perfumes).
Thus was born the "resourcable" bottle to be filled at the point of sale.
Easy to carry out, this eco-responsible and (more) economical gesture is still valid for the latest Christmas creations, such as the new Alien Extraordinary Color Collector rainbow bottles (refillable eau de parfum 60 ml, €104) or the Angel Collector Christmas 2019 edition eau de parfum (refillable star eau de parfum, 25 ml, €74).
The raw materials used are also more ethical. Together with its partners, Mugler creates a community of actors committed to responsible development programs to preserve nature and its resources.
For example, the Sambac jasmine used in Alien eau de parfum is hand-picked in India and selected by the perfume house IFF-LMR through a responsible supply chain.
It guarantees a fair income for producers, while preserving their environment.
The same goes for Angel Eau de Toilette patchouli (30 ml, €51 or 50 ml, €73) collected and distilled on the island of Sulawesi (Indonesia), which is part of the Givaudan Sourcing for Shared Value programme.
The latter consists in being at the source of the product to ensure optimal traceability, auditing crops and ensuring respect for the soil so as not to impoverish the soil, while accompanying local communities so that workers are in the best possible conditions.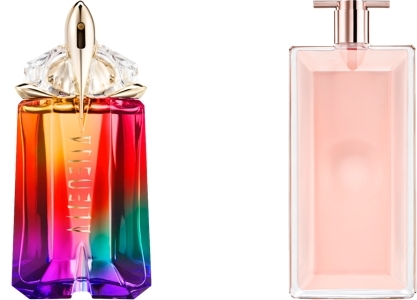 Idôle, Lancôme's latest fragrance, is also following in this footsteps, offering a refillable bottle (75 ml, €99; 50 ml, €82; 25 ml, €52 - price of the refill: 75 ml, €69; 50 ml, €58; 25 ml, €37).
Another advantage of this fragrance is the lightness of its bottle, one of the thinnest in the world (15 mm thick), whose ultra-thin design is inspired by our smartphones.
This perfume also benefits from exclusive raw materials such as the Petal Rose of Isparta Essence (Turkey), which is the subject of a sustainable and ethical development project (eventually obtaining a "fair trade" certification).
Highlighting local flowers
Libre, Yves Saint laurent's new women's fragrance (eau de parfum 30 ml, €61; 50 ml, €88; 90 ml, €103), also uses ingredients from sustainable sectors, such as Diva lavender, grown in Provence and fractionated with CO2 (also found in the latest Guerlain creation: Mon Guerlain L'Eau de Parfum Intense, 50 ml, €101), or Madagascar's exceptional vanilla with balsamic tonalities.
The brand perseveres with Atlas Garden in its Collection Le Vestiaire des Parfums (75 ml, €185 or 125 ml, €245), rich in ingredients cultivated in the Jardin de l'Ourika (on the foothills of the Atlas) by a collective of Moroccan women. This is the case with orange blossoms, Tonka beans and Neglet Nour dates with honeyed facets.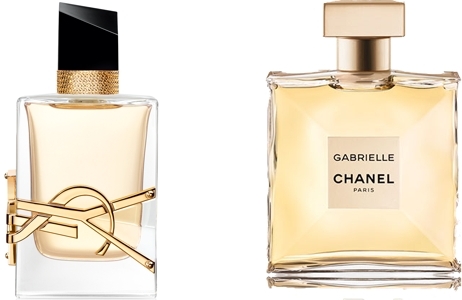 Chanel, for its part, highlights in Gabrielle Chanel Essence (100 ml, €139 or 50 ml, €99) the four white flowers that are dear to her: jasmine, ylang-ylang from the Comoros, orange blossom from Tunisia, and especially tuberose from Grasse, grown exclusively for Chanel and extracted using a process unique to the House. Thanks to it, the trail of this great solar floral becomes more voluptuous and intense.
The triumph of vegan perfumes
Be careful not to confuse them with organic perfumes (we still wrongly confuse organic and vegan).
Even if they are synonymous with greater naturalness, vegan perfumes are first and foremost perfumes that do not contain any raw materials from animals and their exploitation by humans.
This is the case with the six unique eaux de parfum of the Convent of the Minimes, all of which are vegan certified by the international Vegan Society (the logo is symbolized by a sunflower).
Created under the exclusive olfactory direction of Jean-Claude Ellena (former perfumer of Hermès), concentrated at 15% (therefore, a real outfit) and designed in Grasse, they contain 85 to 89% of rare natural essences and are defined as true "portraits of nature".
Our favorite? Nubica, a sensual woody amber fragrance dominated by patchouli and vanilla and tonka absolutes (Eau de Parfum Singulière, 100 ml, €69 or 50 ml, €39).
Equally vegan, Solano (ylang-ylang and davana) and Anori (magnolia and salted wood) are the two new creations in the range Parfums Remarquables du Couvent des Minimes (100 ml, €89; 50 ml, €49; 10 ml, €12).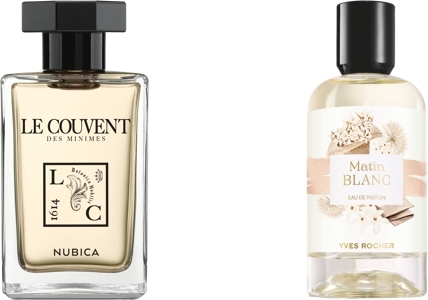 The same goes for Yves Rocher who creates nine vegan fragrances, including Matin Blanc, a truly addictive orange blossom (100 ml, eau de parfum, 57 €)!
The formulas contain at least 87% ingredients of natural origin, derived from traced chains.
All packs are eco-designed, recyclable, made in France with 100% botanical alcohol.
The latest Acorelle fragrances (Sous La Canopée, La Bohème, Envolée de Néroli, Tendre Patchouli, eau de parfum 50 ml, €32.90 each) go even further: vegan and certified organic, without phthalates, nitrated musks or chemical fixers, they are made on the basis of wheat alcohol and witch hazel flower water.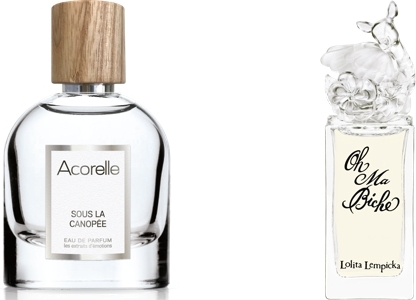 Finally, Oh Ma Biche by Lolita Lempicka (eau de parfum 50 ml, €73) is a sparkling and fruity bouquet with a clean formula "free of dyes, sun filters and endocrine disrupters", having obtained the "One Voice" label. Animals are also particularly honoured in packaging such as the charming animal engravings of the Convent of the Minims or the bottle of Lolita Lempicka featuring a winged deer full of poetry.
The eco-responsible creations of the canvas
Essential Parfums has just been created by Géraldine Archambault with a clear objective: to restore the essence of perfumery.
The commitment to include respect for the planet as people at the heart of creations is part of the brand's DNA.
This return to basics is done precisely to eliminate the superfluous.
A complete reflection has been carried out on the packaging to reduce its impact as much as possible.
The idea was to magnify the raw aspect of the cardboard, to show it as such.
Elimination of plastic overwrapping, fully recyclable cardboard packaging, choice of FSC-certified cardboard that favours the practice of environmentally friendly, socially responsible and economically viable forestry.
In their compositions, perfumers are encouraged to favour natural and sustainable raw materials.
They bring a unique olfactory dimension while respecting the environment and local producer communities. The juices are macerated with vegetable alcohol from beets and have their natural colour, no colouring has been added (the colour can therefore vary with each harvest).
The glassmaker is committed to a sustainable development policy.
It has chosen to replace its gas-emitting cooking method with electric ovens powered by green energy.
"Whatever Kate, Giselle or Kendall," says Geraldine Archambault, "it's the perfumers who are the real stars! That is why I have chosen to highlight them and why everyone signs their creation by name. I also wanted high quality perfumery to be accessible to everyone. I have worked to reduce packaging, packaging and communication costs as much as possible. The essential is in the juice, the choice of beautiful raw materials, cultivated and harvested sustainably, such as vanilla from Madagascar, patchouli from Indonesia, Tonka bean or benzoin from Laos in the latest Divine Vanilla creation." The collection includes six fragrances by the greatest perfumers (Nice Bergamote by Antoine Maisondieu, Divine Vanille by Olivier Pescheux, Mon Vétiver by Bruno Jovanovic, Orange and Santal by Nathalie Gracia-Cetto, The Musc by Calice Becker, Rose Magnetic by Sophie Labbé, eaux de parfum concentrated at 16 or 17%, 100 ml, €69 each or 10 ml, €18, available at Printemps Haussman, in Printemps en province, at the Paris Drugstore, at Nocibé and on www.essentialparfums.com). The brand also offers a Discovery Box of 5 eaux de parfum (10 x 2 ml, €18).
Natural olfactory layering
Typology's Primary Collection includes six 100% natural fragrances (concentrated in essential oils developed in the South of France), no gender and vegan, to be blended - or not - together (Sage / Rosemary, Jasmine / neroli, Grapefruit / Petitgrain, Cypress / Genevrier, Cedar / Vetiver, Yuzu / Mandarin, 30 ml, €30).
Each fragrance is classified according to whether it belongs to the top, heart or bottom notes. Thus Yuzu/Mandarin belongs to the top notes (the most volatile), Jasmin/Neroli to the heart notes (which diffuse for a few hours) and Cedar/Vétiver to the bottom notes (the most persistent).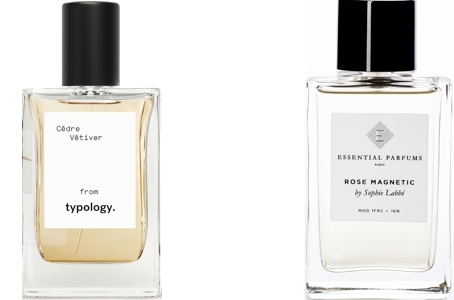 For each fragrance, the brand suggests different superimpositions to follow or not according to everyone's wishes.
The idea is good because you don't wear the same perfume depending on whether you go to the market, to work or… to a date!
We can start the day with Yuzu/Mandarine, continue it with Jasmin/Neroli and finish it with Cedar/Vétiver !
Everyone can thus create their own olfactory signature according to the layering principle and it is fun to "play perfumer", but each fragrance can also be applied individually.
Recyclable candles
Finally, Maison Goutal designs custom-made and recyclable candles for the holidays.
You can choose your wax bread from seven fragrances (Un Air d'Hadrien, Une Maison de Campagne, Une Forêt d'Or, Bois Cendrés, Un Jardin Aromatique, Ambre et Volupté or Universelle), as well as your candle glass from seven shades. You keep your glass and fill it up as you wish with the perfumed wax refill of your choice (Perfumed wax bread 185 g, €37; Glass only : €20; Complete candle 185 g wax bread + glass : €57).
Frankly, we would like all candle brands (and especially the most famous ones) to adopt this system…
Ariane Le Febvre
© 2019- 2021 CosmeticOBS