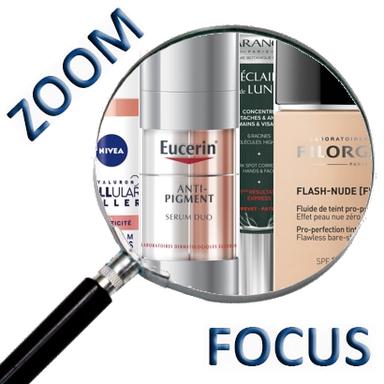 Thanks to new active ingredients such as tranexamic acid, autumn stain repellent treatments are more effective quickly (even on the pregnancy mask), and above all softer and better tolerated.
The pigment spots that give us the complexion so "messy" are not the prerogative of mature skin, even if we know that they will increase after 60 years (the intensity and size of the spots increase with age). "One in three women, aged 15 to 70, is affected by hyperpigmentation, which includes all pigment disorders (brown spots, 'pregnancy mask', post-inflammatory spots, old acne scars…)" tells us Eucerin (Source: Arcane 2017 study). Hyperpigmentation is at the top of the beauty list (women who are prone to it often feel as if they look older), hence the "harvest" of anti-stain treatments this fall.
A new way to treat pigment spots at source
Inflammation makes the bed of stains… We suspected it but it is now a scientific certainty. Exposure to UV rays, hormones, certain drugs and medical treatments can trigger the production of inflammatory mediators. The latter act upstream of the hyperpigmentation process by increasing the activity of melanocytes. Inflammatory mediators are the first step in the process of forming pigment spots.
SkinCeuticals medical scientific research has been able to highlight their key role. For the American brand, most of the classic anti-stain formulas strive to inhibit tyrosinase, which is already the next step. SkinCeuticals acts for the first time at the genesis of the problem, starting by deactivating inflammatory mediators, thanks in particular to 1.8% tranexamic acid (a lysine synthesis analogue, an amino acid) which acts from two weeks and reveals excellent tolerance. Discoloration Defense Serum (30 ml, €98), its latest generation anti-stain serum, prevents and corrects all pigment defects, even forms that are difficult to treat such as melasma (pregnancy mask) or brown spots caused by acne scars.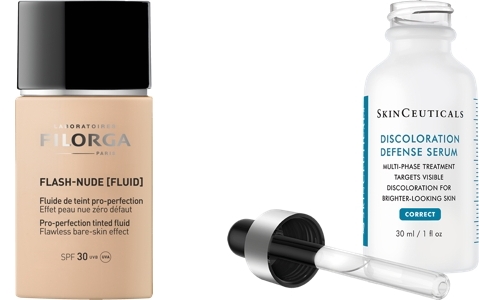 Gentle but not less effective care
Eucerin launches the Anti-Pigment range, which also reduces pigment spots after 2 weeks (SPF 30 Day Care and SPF 30 Night Care, 50 ml, €26.50; Duo Serum, 30 ml, €37 and Stain Remover, applicator brush 5 ml, €16.80). The brand has set up new tests to demonstrate the performance of these products. While lightening care is generally tested on fungal tyrosinase and not on skin enzymes, the laboratory has for the first time reconstituted human tyrosinase tissues in 3D to prove the effectiveness of its formulas on hyperpigmentation.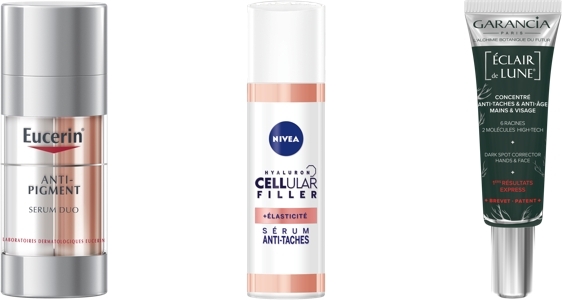 The last Nivea treatment can be used on the hands as well as on the face (Hyaluron Cellular Filler + Elasticity Anti-Spot Serum, 30 ml, €16,60). The same double action for Garancia with Moonlightning®, Anti-Stain and Anti-Aging Hand and Face Concentrate (30 ml, €35.90, in November), a formula composed of 95% natural ingredients. The brand states that "lightening results appear after seven days on reconstructed pigmented skins (lighter, fewer spots, more luminous and homogeneous skin)."
Finally, Filorga creates the first anti-stain foundation (Flash-Nude[Fluid] SPF 30, 30 ml, €36.90, in October).
In addition to the skin care action, this foundation combines sun protection, a way to prevent the appearance of pigment spots.
Ariane Le Febvre
© 2019- 2021 CosmeticOBS