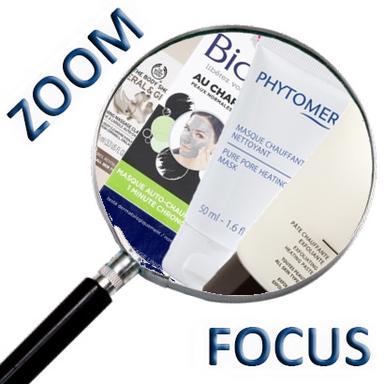 Do you know the hot detox? Welcome to the era of high-tech cleaning! When these great classics of institute treatments are invited into our bathrooms, it gives you heating masks or scrubs, rather purifying or detoxifying. Surprising sensations on the program!
The first to offer the star of its professional products to the general public was Phytomer.
Recently, in fact, its Professional Series Heating and Cleaning Mask (50 ml, €32) has appeared in our bathrooms.
Because it has won over many users during cabin treatments - Korean women in the lead! - the brand has decided to offer it to the general public.
This mask ensures a deep and complete cleansing of the skin, cleanses the pores and gives radiance to the complexion, while providing a very relaxing and gentle heat, all without any equipment or preparation.
In its formula we find mineral micro-sponges (zeolites), which in addition to absorbing the smallest toxins (pollutants), deeply cleanse pores thanks to their heating action, as well as an absorbent clay complex to trap the largest toxins, and an oxygenating brown seaweed extract.
Its water-free formula gives it its original texture which allows it to be massaged for a long time, which amplifies its heating effect. In five minutes, the skin looks clearer, its grain finer, the size of pores is reduced.
This spring, Académie also offers in institutes an Exfoliating Heating Paste (50 ml, €30) which contains an enzymatic exfoliating complex, shea butter and 45% zeolites to open pores, remove scale and effectively remove impurities.
Enough to transform the scrub into a fun experience!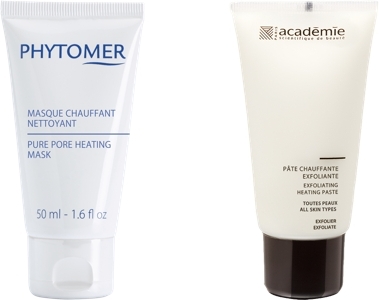 This jewel of the institute wins the pharmacy and the supermarket
Auréolé of its "professional efficiency", the heating mask arrives at Galénic's pharmacy (Detox Heating Mask, 50 ml, €35).
Based on microemulsified vegetable glycerin, with a metamorphic texture (a crystalline gel that turns into a creamy milk when in contact with water), it cleanses pores and frees the skin from accumulated impurities.
Its original structure (an oil-in-water microemulsion containing microscopic micelles and in which the vegetable glycerin is dispersed between the aqueous phase and the oil microdroplets) releases, in contact with the skin and under the mechanical action of the massage, a soft and pleasant heat for intense cleaning.
During rinsing, all impurities trapped in the micro-micelles are removed.
In supermarkets, two brands offer heating masks: Bioré (Self-heating Charcoal Mask 1 Minute Chrono, four sachets of seven g disposable, €9.46) and Garnier SkinActive (Volcanic Mask Reducing Visible Pore, single dose 8 ml, €1.90).
The first one produces its heating effect on contact with water thanks to zeolites. Vegetable charcoal cleanses and tightens pores.
The second combines astringent volcanic stone and purifying clay to make the pores appear less visible. The creamy texture heats up as soon as it is applied to the skin.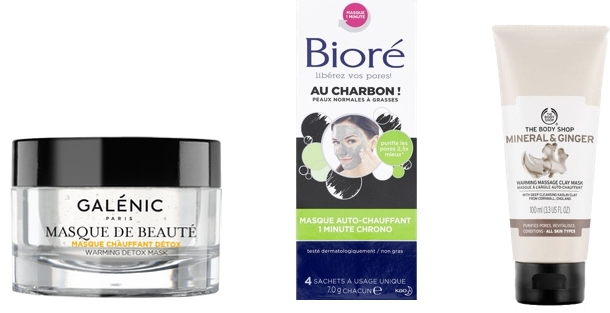 Finally, The Body Shop has also created a cleansing mask that becomes warm on contact with moistened skin and adapts to all skin types (Mineral & Ginger Mask with self-heating clay, 100 ml, €16.50).
Ariane Le Febvre
© 2019- 2021 CosmeticOBS