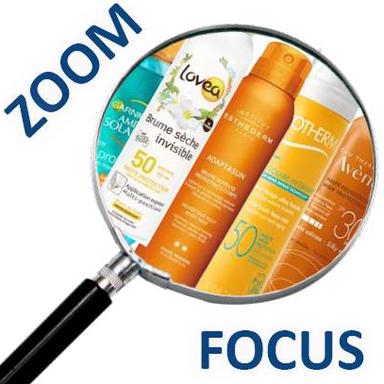 Sunscreens with a 'bare skin' sensation are the 2018 stars. More and more intangible, light, and transparent, and just as protective, they are instantaneously forgotten and will most probably make you want to reapply them regularly. And in that regard, water textures are really appealing! Other innovation: sunscreens no longer irritant for the eyes.
Sunscreen waters are among the greatest sunscreen innovations this summer. After oils, mists, creams, gels, and milks, it was the only texture missing on this segment.
Differentiating water texture
It is a real formulation feat! Result: the most imperceptible galenics gets associated with high sun protection (SPF30 this summer, most likely SPF50 in 2019). The sensation is that of almost bare, but perfectly protected skin in the sun (these waters provide the same sun protection level as standard sunscreens). Men will love them too! No more fats stuck on hairs!
Right now, only Garnier Ambre Solaire offers them, in the form of an anti-UV transparent sunscreen water (Eau Protectrice spray solaire transparent anti-UV SPF20 or 30, 150 ml, €12.50 each), together with Vichy ('Hydrating ' Solar Protective Water SPF30 with hyaluronic acid or 'Enhanced Tan' Solar Protective Water SPF30 with beta-carotene, 200 ml, €20.50 each).
According to Garnier Ambre Solaire, '61% of women think their sunscreens are oily and sticky. This sensation is intensified by the heat and makes the application unpleasant. Result: it is not renewed as often as it should.' These sun products are as light and refreshing as water, pleasant to apply and reapply. They should reconcile everyone. Their bi-phase formulas (50% aqueous phase, 50% oily phase) form a perfectly homogeneous film. They only need to be shaken before the application to mix the two phases.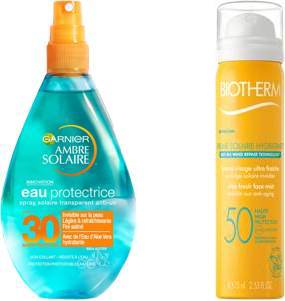 'The difficulty was to be able to evenly mix the oily and aqueous phases for optimum skin coverage. That is where the formulation challenge lies. The bi-phase texture was developed in partnership with the L'Oréal scientific experts in Japan, who are pioneers in light textures (the inhabitants there are exposed to the heat and humidity almost all year). Meanwhile, the applicator was developed to diffuse a million micro-droplets in a single spray, i.e. ten times more than a standard spray, which enhances the sensation of freshness. Every droplet creates a micro-explosion of freshness when it releases the water it contains. The sunscreen becomes real pleasant and the skin is hydrated, fresh, and silky,' says Khaled Boulemdarat, L'Oréal Research & Innovation Skincare Expert.
Other impalpable sunscreens are available in ranges developed by Avène (Silky Mist SPF30, 150 ml, €20.90), Biotherm (Brume solaire hydratante SPF50, Ultra-Fresh Face Mist, 75 ml, €28), Esthederm (Adaptasun Protective Silky Body Mist, Moderate Sun, 150 ml, €47), and Lovéa (Invisible Dry Mist SPF30, 200 ml, €9.99 or SPF50, 200 ml, €10.99).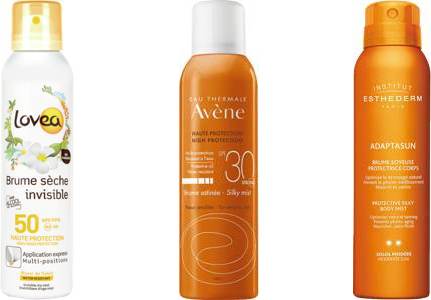 No more crying rivers…
The eye contour area, particularly exposed to UV rays, is often deliberately 'forgotten' by sunscreen users. Why is that so? Because they fear the products applied on the lids might migrate to the eyes, creating discomfort or triggering irritations. And yet, it is essential to protect this area (5% to 10% skin cancers are believed to be developed on the lids, according to La Roche-Posay). And we do not always wear sunglasses, especially when we go for a swim…
For all these reasons, La Roche-Posay developed a new sunscreen with a minimalist formula (12 fewer ingredients than in the previous face cream formula) offering very high tolerance, and which does not sting the eyes: Anthelios Ultra-Sensitive Eye Innovation Cream SPF50+ (50 ml, €14.90). It does not make the eyes cry thanks to a new formula architecture: the texture forms a 'second skin effect' network on the skin surface which does not migrate to the eyes, preventing any stinging sensation or irritation.
Ariane Le Febvre
© 2018- 2021 CosmeticOBS