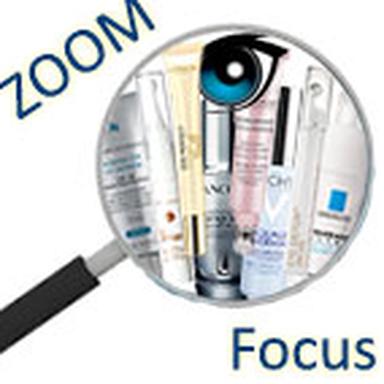 In 2015, cosmetic eye care products will increasingly focus on the fight against dark circles, meeting women's first demand. Systematic optical technologies, applicators and textures with an ice-cube effect, daily photoprotection, formulas that adapt to the colour of dark circles as well as to ultra-sensitive eyes or mature skin… the new concealer are both more realistic and very expert.
Let's stay lucid. If the eye contour is a major beauty concern for women, we know well that we will not be able to act on the pockets or the relaxation of this zone"of all the distresses and all the dangers" (only the aesthetic surgery can it). But we can reduce (and even brighten) dark circles, signs of fatigue and fine lines of dehydration. By moisturizing the eye contour area well on a daily basis, we are already slowing its aging process. More credible, brands rely more on radiance, decongestion and comfort than on pure (and chimerical!) anti-aging benefits. The key words this spring are: smooth, illuminate, decongest, soothe, protect.
Innovative applicators
The roll-on make way for the refreshing zamac tips, even in mass distribution (Age Perfect Eyes 360° Renaissance Cellulaire Regard L'Oréal Paris Radiant Eye Care, 15 ml, 18.50 €) or in certified organic cosmetics (Nectar Suprême Le Contour Yeux & Lèvres de Melvita, 15 ml, 39 €, dedicated to mature skin). Effective, their more ergonomic shape can be used from almost any angle, on the edge to decongest the inner hollow of the eye, on the"spatulated" part for application on the ring… More effective than steel balls that often roll badly and tend to"hook" the epidermis so thin around the eyes, the applicators in zamac give an immediate fresh blow (even if one forgot to place them in the refrigerator, because, let us not delude, far from the eyes, the care stored in the refrigerator… remain there!). They can also be found in Selective: Hydradiance Eye Contour Water Care Hydra-Clarté by Terry dark circles-puffiness (15 g, 54 €, in May), in the Cellularose range with toning and antioxidant rose cells. Rich in water and soothing or draining phyto-actives (sweet orange, holly, calendula, liquorice…), this"aqua-crème" with its gel texture concentrates on moisturizing and brightening the eye contour area. It quenches thirst, smoothes, smoothes, decongests. The extracts of white chestnut and tiger grass stimulate the microcirculation and good evacuation of blood pigments at the origin of dark circles. All wrapped in invisible corrective"blurs" that Terry has the secret to. The new Lancôme massage pearl (Advanced Genifique Light Pearl Activateur de Jeunesse Illuminateur Regard, 20 ml, 61 €), more flexible and sensorial, blends metal and elastomer, allowing a firm and delicate pressure for a gentle application. Combined with a new gel serum formula with a blur effect, it makes radiance its spearhead. Just like Forever Light Creator Eye Concealer Fluid by Yves Saint Laurent (15 ml, 52 €), with a bevelled tip and golden micro-nacres. Finally, let us mention Ikken Contour des Yeux Mirifique Perlanesse by Laboratoires Bimont (10 ml, 119 €), even if its applicator (a rod surmounted by a ball), not very comfortable, is not convincing. The certified organic formula with alfalfa, red algae and chlorella extracts significantly reduces dark circles.
Scholarly Highlighting
Soft-focus powders, resin microbeads, correcting polymers, blurred light diffusing agents… optical techniques are becoming widespread, in order to relax and illuminate the eye. Not a single concealer that doesn't have his! But textures also have their role to play in reviving the eye contour area. Glazed as in the latest Aqua Source Total Eye Revitalizer, Biotherm Cold Eye Care, which allows you to lose two degrees in two minutes (15 ml, 29 €), or quick-break Aqualia Thermal Baume Éveil Regard de Vichy (15 ml, 20 €, in May). With a large reinforcement of hyaluronic acid, sugars, carrageenans, caffeine, glycerin… the latter ensures a"Dynamic Hydration" which rebalances the water circulation around the eye, for a fresh and luminous look.
Dark circles adapted to the colour of the skin
This is what Talika offers with its two Eye Detox Specific concealer, one for light skin and the other for dark to dark skin (15 ml, 36 €). Traditional concealer care mainly treats the problem of microcirculation. The brand has discovered an active ingredient that acts on two other unknown causes of dark circles: oxidation of the blood escaped from the micro-capillaries (phenomenon that gives their colour to the rings) and inflammation of the eye contour area. It can thus propose formulas which act on the brown rings of the dark skins, more installed and hereditary (active regulator of the production of melanin) as on the blue rings of the clear skins (complex Chromadetox® containing brown seaweed anti-inflammatory, escine…).
High-performance active ingredients for ultra-sensitive eyes
With Toleriane Ultra Contour Yeux (15 ml, 18 €), La Roche-Posay addresses ultra-sensitive eye contours (irritation, tingling, itching, tightness, redness, watery eyes…). The sensations of discomfort felt by the subjects concerned cause a mechanical reflex of wiping or rubbing, which… increases the inflammatory reaction and discomfort! In the case of people with an allergic tendency, this vicious circle can even get worse. Indeed, if a person with sensitive skin rubs his eyes 15 times a day on average, these rubs are 10 times higher in the case of people with skin with allergic tendency, who rub their eyes nearly 150 times a day! Thanks to its high tolerance formula (La Roche-Posay thermal water, Neurosensine, Niacinamide…), this treatment inhibits micro-irritations, soothes itching and reduces redness and skin hypersensitivity, while moisturizing the epidermis around the eyes. Preservative-free, it is packaged in hermetically sealed packaging with patented technology: anti-contamination, anti-residue and anti-oxidation. Its ultra-fluid and light texture prevents any friction during application.
Daily mineral photoprotection
Original and sophisticated, the latest innovation from SkinCeuticals (Mineral Eye UV Defense SPF 30 Eye Contour Protective Radiance Revealer, 10 ml, 30 €, in May) inaugurates the protective day care eye contour. Designed to be applied every morning, in the city or at the beach, it provides 100% mineral daily photoprotection, while moisturizing (ceramides, jojoba wax) and illuminating the eye contour (presence of light coloured pigments that unify in transparency and blend with all complexions). Its anhydrous formula (without water, it does not migrate in the eye and does not cause eye irritation) can also be considered as a make-up base, or after an aesthetic operation. Pigments and silicone microspheres provide a light-scattering effect and blur signs of fatigue (dark circles, fine lines). An idea that seems interesting, the application of sunscreens around the eyes being complicated because of the potential irritation of synthetic filters. Ten times thinner than facial skin, the skin around the eyes is however much more sensitive to UV attacks.
The Observatory of Cosmetics
© 2015- 2022 CosmeticOBS