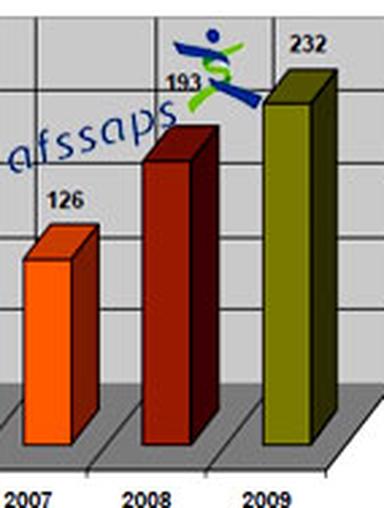 As it does every year, the French Agency for Sanitary Safety of Health Products (Afssaps - now ANSM) has published its report of Cosmetovigilance for the year 2009. The trend is upward.
March 17, 2010
Since 2004, Afssaps has put in service a system to survey and record undesirable effects due to cosmetic products, allowing for their listing, for coordinating information and for a better anticipation.
This Cosmetovigilance has been enacted first in France, but becomes the general rule in Europe, thanks to the new European Cosmetics Regulation, implemented on 11 July 2013.
The 2009 Cosmetovigilance report for France has been recently published.
More and more undesirable effects
The first note is that the number of undesirable effects is increasing in France: 232 in 2009, from 193 in 2008 and 126 in 2007.
The main points:
• 76% are allergy-like reactions
• 17% are irritations
• 7% are other kinds of reactions: respiratory discomfort, acne, corneal erosion …
Fifty-three percent of these effects have been classified as non-serious; nevertheless, the "non-serious" feeling is different depending on whether it is written in a law, or felt by a consumer.
In fact, 12% have been classified as "serious", after the definition in Article L. 5131-9 of the French Code of Public Health (leading to 16 hospitalizations, 5 doctor's notes, 3 persons with their life at stake and 4 long-term disabilities), but 35% were considered as serious, even though they did not match the Code requirements.
Women and children in first line
Does it come because they use cosmetics more often, or because their skin is more sensitive? The fact is, women are more prone to have undesirable effects due to cosmetics. Seventy-two percent of the cases reported concern adult women, 12%, men, the remaining 16% being youngsters (31 children above 2, and 6 newborn babies and infants).
The main culprits
There is a change in the type of products involved, as in 2009, at the top of the list one finds the make-up and make-up removers products (40 cases reported) and the rinsed-off hygiene products such as shower gels or shampoos (32 cases), well above the hair colorants, which have been the number one for several years (25 cases of allergy in 2009).
Nevertheless, Afssaps states that hair colorants are still a major concern for consumers safety, as two cases led to a long-term disability, 2 others, to a hospitalization and 1 case required using an emergency room.
The other noticeable cases reported by the Agency are due to sunscreen products. Nine cases of contact eczema and seven of delayed photoallergy are reported, the main cause being Octocrylene, a filter that makes Afssaps wonder about its safety.
The short-lived black tattoos or skin-whitening products are still in the list of products involved in adverse reactions .
Better assessed responsibilities
It is sometimes difficult to link au undesirable effect to a given product. Afssaps , in order to pinpoint which products are the ones for concern, has established a procedure to determine their accountability.
It is based on six criteria, and is supposed to be reproducible, rational, harmonized and standardized, to help establish the link between a product and reported clinical and/or paraclinical effects.
Approved last December by the Commission of Cosmetology, it is published on the Afssaps website (in French only) and may be downloaded.
Be aware of an incorrect use
Ingredients and cosmetic products are not always the culprits. For instance, in 2009 ten undesirable effects have been reported because a product has not been used for the purpose it is designed for, or because Instructions for use have not been followed …
Five cases of respiratory discomfort have been recorded due to using cosmetics instead of single-application doses of saline solution …
A deodorant accidentally sprayed in a user's eye led to a corneal ulceration …
© 2010- 2020 CosmeticOBS
---
Associated elements(4)