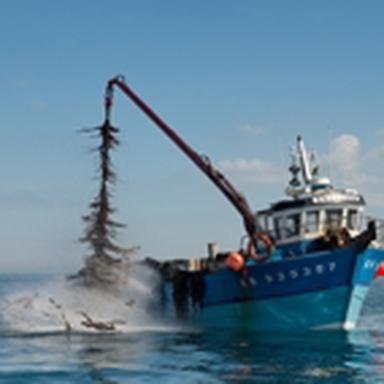 It is a love story that is unlikely to end between the world of beauty and algae. Well-known for their virtues on the skin, algae also help create innovative galenics by replacing synthetic gelling agents. Marine ingredient supplier Agrimer has revealed to us the specificities of the algae they market.
Sales Director Noël Guelennoc and Marketing Director Lætitia Tetedoux answered CosmeticOBS's questions.
ID sheet
Agrimer is based in Plouguerneau, on Brittany's North Coast. Founded about twenty years ago, this family company specialized in the transformation of marine resources into ingredients or actives for various sectors like cosmetics and the food industry.
Today, Agrimer exports their products all around the world, to almost 20 countries. Noël Guelennoc boasts that the company 'is much prized for this "magical" raw material which helps create unique, innovative galenics with a greener formulation charter in line with the market's natural trends.'
What specific characteristics do Agrimer algae offer?
The algae are harvested in the Iroise sea basin, on a site based a few kilometres away from the Agrimer plant and classified by UNESCO in the category of biosphere reserves.
Lætitia Tetedoux explains that 'climate conditions are ideal for our algae. It is the largest marine park in France: it is stirred up on a permanent basis by huge currents, and the tidal amplitude is high, with significant climate variations. The tidal range – i.e. the sea level difference between two tides – can range from eight to ten metres, depending on the coefficients. This means the algae are uncovered twice a day and have to develop self-defence molecules to withstand different stresses like the wind, the sun, or the air pollution. In short, they react to the climate just like our skin does. And it is these resistant molecules that we extract and use for cosmetics purposes.'
Harvesting methods
The Breton coast spreads across 1,800 km – a third of French coasts – and shelters a high submarine flora biodiversity. The different species exploited by Agrimer are extracted from their natural environment with techniques adapted to every harvest area.
'The Laminaria species grows out at sea and is harvested by boat (by goémoniers – wrack farmers), fitted with a Scoubidou, an articulated mechanical arm fitted with a hook which rotates to tear off these large brown algae fixed on rocks at the bottom of the ocean.
As for the algae that live on the shores, like the ascophyllum brown algae, in the Fucales category, which provide alginate, they are harvested by hand at low tide, cut with a sickle, 20 cm from the fixing clamp to enhance regrowth. The length varies depending on the species.
Now, Chondrus, red algae rich in carrageenans, are more delicate, so they are harvested by hand at low tide. Higher coefficients are needed to uncover them,' Noël Guellenoc explains.
All these harvesting methods involve authorization procedures to delimit the harvesting areas, the maximum quantities to be taken, and the harvesting periods. The workers employed on the different sites are professionals subject to a prior working authorization that is valid for a year for specific areas and species.
Do they benefit from documented cosmetics claims?
Noël Guelennoc adds that 'functional algae like Laminaria or Fucus are less explored in fundamental research, but they benefit from a large bibliography with many cosmetics claims, thanks to their molecules richness in mannitol and laminarin. At Agrimer, we have chosen to develop research programmes to identify algae that have not been used yet in cosmetics, and whose properties can be documented. For example, we have demonstrated the soothing power (interleukin test) and stimulation of collagen and keratinocytes in two fractions of Calliblepharis jujaba and Polisiphonia.'
These algae are also cultivated in laboratories and reintroduced on the open sea to preserve the resource.
What specifications apply to the harvesting methods?
The specifications are managed by the Maritime Affairs: they deliver licenses on a case-by-case basis, the quantity being determined at the beginning of the campaign for a given number of licenses.
All harvests are regulated by standards that define the harvesting areas and volumes authorized every year. Some areas lie fallow to let the ecosystem come back to life and preserve the resource renewal.
What are the storage/manufacturing conditions?
Lætitia Tetedoux explains that 'the algae are dehydrated within 24h after they have been harvested and turned into powder or flakes, to obtain a residual humidity lower than 15%. Conditioned in double-walled bags with an anti-light screen and anti-humidity plastic bags, the algae are kept for three years at room temperature, away from light, without suffering any alteration.'
Are algae an issue as regards formulation?
As regards this point, Noël Guellenoc agrees that 'it is actually a coloured raw material likely to have a marked smell. That is why our formulation laboratories work hard to treat them with modern, seducing methods for efficient percentages.'
In addition, algae make perfect nutrients for bacteria, 'so we need to master the formulation conditions to prevent any contamination,' he adds. Lastly, their ionic charge, which results from their high salinity, is quite a significant drawback when it comes to stabilizing gels and emulsions.
Today, only about forty algae are used in cosmetics, while thousands of different species have been identified all around the world. One thing is for sure, we will not forget about them any time soon.
© CosmeticOBS-L'Observatoire des Cosmétiques
© 2017- 2021 CosmeticOBS