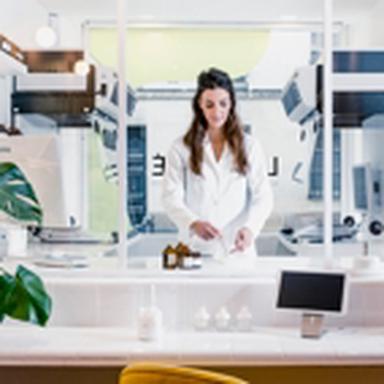 It has been quite a while since the conventional cosmetics industry has been shaken by young entrepreneurs. Full of ideas and innovative concepts, they are determined to impose their vision of beauty. One of them is Lucile Battail, expert in fresh cosmetics and founder of the Laboté brand. Here is a portrait.
The Laboté store, a real gentle showcase, is nestled in the middle of the very chic Rue Madame, in the heart of Paris's Left Bank quarters. Other than for its pop, acid design, the sales area cannot but attract the eye of passers-by. How come? Due to the laboratory that can be seen from the outside and in which the young woman works, clad in her white coat, in front of a work surface filled with scientific material.
With curiosity at its height, you cannot but push the door open. And that is when you get the meaning of it all. Laboté offers personalized, tailor-made beauty products at your request. Here, you will see no traditional beauty advisor: every customer is welcomed by a pharmacist to carry out a skin diagnosis and target your skin problems in order to decide of the best-suited skincare product. And there is also another, so chic detail: you can choose the perfume of your own skincare product, its intensity, texture, but also label colour (to perfectly match that of your bathroom). Then, the cream is made by professional chemists in the store laboratory, in only seven minutes.
The actives are guaranteed fresh. Laboté orders ingredients on a just-in-time basis, in small quantities. This way, the ingredients reach their maximum efficacy.
It is Lucile Battail that hides behind this process which contrasts with industrial production. She is only 28, and yet she has strong shoulders and a good mind. She has a PhD in Pharmacy, graduated from renowned French HEC Business School, is now an entrepreneur: she tells how she always knew what she wanted to do. 'As a child, I used to prepare small potions in a hut at the back of my garden with my brothers and sisters. It did not go real far, it was just a few flower petals in some water. I have always been partial to botany, laboratories, and making experiments,' she recalls.
She started pharmacy studies as soon as she got her baccalauréat diploma. The ultimate goal was to open her own pharmacy. Quickly though, she realized that due to the industry's strict regulations, her creativity would probably soon be curbed if she decided to have her own dispensary. So, instead, she chose to keep going with research studies, and she got a revelation. 'I made drugs first, and then cosmetics. For a chemist who likes being at the heart of the mixtures, making a cream is the hardest, it is the most fragile system. Making experiments in the laboratory to produce cosmetics triggered something off in my mind,' she explains.
Then, Lucile Battail completed her studies. Determined to take up cosmetics, she started searching for a new idea. She worked in a pharmacy, and one day, as she was advising a customer, she got the idea of her own project. 'She suffered from eczema and could no longer stand any skincare product. Nothing suited her skin, and it was already the second time she had come to see me. I had recommended two different ranges of dermocosmetics, in vain.
I decided to have a look at the INCI lists and realized the products always had an allergen or preservative in common. When I looked for cosmetics in which these ingredients were not used, I could not find any. That is when I wondered why, in all the cosmetics available, there was always a problematic ingredient.
Eventually, I understood the problem had to do with the industrial process. When you produce large quantities of cosmetics and you need to pay attention to the time needed to transport them to distributors', sell them, and for customers to enjoy them, you have no other choice but to use potentially allergenic preservatives and a lot of perfume. At that stage, I understood the solution would be to have a sort of laboratory in which I could prepare creams for my customers in real time,' Lucille Bataille explains.
But that is easier said than done! The young woman rushed to a long phase of research that lasted two years. She tells how she 'did not immediately realize how complex it was to formulate personalized emulsions only in a few minutes. In addition, it was all good to want to make tailor-made creams, but I still had to be able to know exactly what every customer needed. This work was done in collaboration with dermatologists and engineers-developers to develop a solid, reliable algorithm.'
As the concept was starting to run well in Lucile Battail's mind, she decided to drop by the HEC Business School to learn how to launch and manage a company. At the end of her journey, she joined the school's start-up incubator – an opportunity to help her officially launch the project.
As regards the financing issue, she got – among others – the support of Otium Capital, an investment fund for start-ups. Thanks to this significant amount of money, she opened her first store in April 2017 and set up a dynamic team, as she puts it. The adventure started: Laboté was born!
Success was quick to come: only two months after the opening, the company was already profitable.
What about safety?
It is all clear: to Lucile Battail, preservatives are the sinews of war. She explains that 'in Laboté products, you can find ingredients to stabilize the formula like Propanediol or Glycerine. They are not actual preservatives, but they do help reduce the activity of water in the emulsion, the main risk factor for bacterial development.
The activity of water was reduced to the minimum to guarantee product safety for three months, even if you plunge your finger in the jar every day.'
Traceability is also one of the high points of the work method implemented by Lucile Battail. She knows with which batch of ingredients every product is formulated, so that it is all reliable and she can take recall measures if needed.
Fresh cosmetics are a new segment, so Laboté's founder contacted FEBEA (French Federation of Beauty Companies) to take part in workshops and set up guidelines on good manufacturing practices, which are essential to guarantee cosmetics safety.
It is not a usual thing to set up a laboratory in a store.
At Laboté, they do not play with consumers' health.
Ask Lucile Battail how she sees the future of her brand, and she starts talking about developing new products – without trying to outdo her rivals – but, above all, opening new points of sale soon: 30 in five countries, to be accurate. New addresses in Paris should be inaugurated in 2018.
Last question: why this name? With a smile on her face, she explains that 'after an hours-long brainstorming, it is this name that came out. It is the contraction between laboratory and beauty, the very essence of the concept. It is this one that was selected, to my mother's great displeasure. To her, it was unthinkable for my brand to be misspelt.'
No doubt this neologism would make the whole Académie Française turn pale, but it does not matter, we are all spellbound!
© CosmeticOBS-L'Observatoire des Cosmétiques
© 2017- 2021 CosmeticOBS