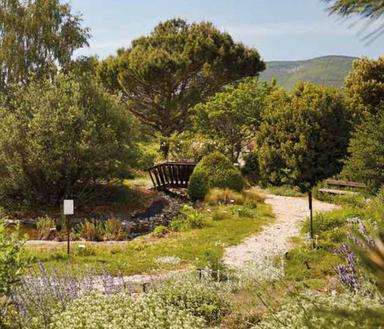 The canonical organic cosmetics brand opens the doors of their botanical garden nestled in the French Vercors region. Sanoflore invites nature lovers to come and stroll along its paths, discover unknown plant species, and also learn a little more about the brand.
Sanoflore was created in 1972, but the botanical garden dates back to 1995.
It is located in Gigors-et-Lozeron, a village perched in the Drôme region, on the plateau des Chaux, in the valley of La Gervanne, the entry to the Vercors regional park.
As a matter of fact, this park has been 'protected since 1985 across almost 17,000 hectares, so that it offers the largest natural reserve of metropolitan France. It plays an important role as a scientific laboratory. Today, the Drôme region has the largest organic area to be controlled in France and endeavours to favour local biodiversity,' explains Sanoflore.
Sanoflore raw materials
It is a well-known fact that the brand's expertise is based on the power of plants. As a result, they grow the aromatic plants and others needed to develop their formulas on a 2,500 m2 surface area.
They emphasize the fact that 'the botanical garden is cultivated according to the organic farming principles, without any pesticides, chemical fertilizers, or weed-killers.'
Sanoflore are not content with growing their own raw materials (in collaboration with about twenty farmers) in this Vercors region. The brand has built an experimental farm nearby, a distillery designed according to traditional processes, a research centre, and a production site.
Only the garden is freely accessible to walkers. Besides, you can be reassured, there is no risk of finding any point of sale there: the idea is to raise visitor awareness of nature, not sell cosmetics.
What can you find there?
The main aromatic, medicinal, and perfume plants used by the brand to formulate their products are presented in a landscaped setting and labelled.
A natural path helps identify and recognize over 350 species. Only a few are there only for ornamental purposes.
This area is divided into 12 thematic parts:
La Jardin Méditerranéen (The mediterranean garden)
L'Allée des Simples (The alley of simples)
La Haie de l'Herboriste (The herbalist's hedge)
Le Royaume des Lamiaciées (The kingdom of Lamiaceae)
La Zone Humide avec bassin de Nymphéas (a humid zone with a white water lily pond)
Les Plantes Médicinales (Medicinal plants)
La Montagne aux Lavandes (The mountain of lavender)
Les Sauges (sage)
Le Jardin Aromatique (The aromatic garden)
Le jardin des Hespérides (The garden of hesperidia)
La Petite Roseraie (The little rose garden)
Towards more transparency?
It is no secret that the cosmetics industry is now facing well-informed, tough consumers full of questions, as can be seen with the boom of the different labels certifying brands' good behaviour, both in terms of respectful sourcing and the selection of safe ingredients for human health. Many brands communicate on their good manufacturing practices and environmental commitments. They want to show their credentials.
£Urging people to go visit this garden is just another way to reassure consumers and educate them as regards how raw materials are cultivated and used in the cosmetics available on the market.
In addition, this strategy helps reassert the brand's values.
The park is open seven days a week and the entrance is free. So, if you are going on holidays in this region, the Sanoflore garden is the place to be this summer!
JS
© 2018- 2021 CosmeticOBS