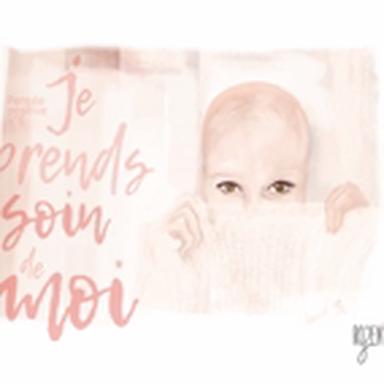 This year, the annual campaign to support research against breast cancer, Octobre Rose, is celebrating its 25th anniversary. The 2017 edition started last September 27, and several events will take place throughout October. What for? To put the spotlight on women suffering from this disease and researchers, inform people, and above all, raise the funds needed to help improve patients' quality of life. CosmeticOBS took this opportunity to meet Sandra Benoit, who plays an active role in the Octobre Rose movement and created a beauty box for ill women.
Rozen'n: project genesis
Sandra Benoit has not always worked in cosmetics. After years as a store manager, she decided to quit when the brand that employed her adopted a more 'high-end' positioning. She almost had a burnout, so she decided to turn her professional life towards something completely different. 'I managed to get back on my feet again by participating in a humanitarian rally, the Trophée Rose des Sables, which is aimed to defend children of the desert and women suffering from breast cancer. For every kilometre driven, one euro goes to the association. And there I was, with a few girlfriends of mine, getting in a four-wheel drive for a rally in the Moroccan desert. It was a real beautiful experience there. Something happened, like it triggered something off in my mind,' she explains.
When she got back, she learnt one of her close friends had a breast cancer recurrence. 'First, I told myself it was unfair. And it is when I heard my friend's doubts about her ability to withstand chemotherapy that I thought there was something to do. I did a brainstorming. What were my skills? How could I possibly make my friend's daily life and that of all women in this situation more comfortable? First, I thought about humanitarian activities, empathy, femininity, and surprise effects. That is how I got the idea of launching a box dedicated to ill women,' she adds.
To embody her brand, Sandra Benoit did not want an ordinary, standard logo. Quite the contrary: she wanted something strong and real. As a longtime drawing lover, she imagined a character, an ill woman with an unknown pathology, so that as many women as possible could identify with her. 'What I wanted to do with this drawing was create an emblem, a mascot. This young woman's name is Rozen'n. Despite her disease, she sees the positive side of things and always finds tricks to be beautiful and stay feminine. That is what I want to offer all the people that suffer: a small bubble of comforting softness. Make no mistake, I am not pretending I am changing anything, I am not a doctor. But I try to relieve their pain at my own level,' Sandra Benoit clarifies.
Rozen'n box: the concept
Just like other beauty boxes, Rozen'n is delivered with the mail (or at the hospital) every month. Every parcel is focused on a specific theme and costs €39. It contains a selection of four cosmetics chosen by Sandra Benoit herself. 'The creaming off phase is rather drastic. For these women with a weakened skin, cosmetics should be gentle, alcohol- and allergen-free. Organic, labelled, and cruelty-free cosmetics are often put forward in the box.' In addition, Sandra Benoit tries to play with volumes and product shapes to create a harmonious result. She adds that 'the use of skincare products is crucial. In a box, every product should be intended for a specific body part. Two lipsticks or several body products in the same box? No way. I like diversity.'
On top of cosmetics with 'clean' formulas, there are textile gifts in the boxes, like cotton wipes for the face, turbans to be knotted on the head, or scarves. Again, the choice is deliberate, as Rozen'n's founder explains 'skin feel and wellness are strongly linked. These fabrics can definitely help women reassure themselves. That is essential,' she emphasizes.
To the question 'how do you picture Rozen'n's future?', Sandra Benoit cannot help but smile, her eyes sparkling. If she keeps her secret to herself, she reveals she has thought about a virtual development for Rozen'n, after winning a competition dedicated to connected health. Thanks to this, she was able to integrate a start-up incubator to develop her idea. Meanwhile, the Bretonneau Hospital in Tours, France, decided to give her the possibility to test her project on the hospital's patients. She did not tell us more, but she promised it was not the last time we would be hearing about Rozen'n. Let's just wait a bit more, then …
© CosmeticOBS - L'Observatoire des Cosmétiques
© 2017- 2021 CosmeticOBS