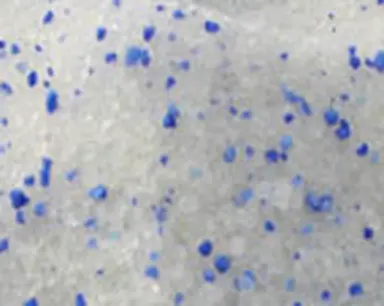 An abrasive agent removes materials from many body surfaces or helps for the mechanical teeth cleaning or enhances gloss.
Among abrasive agents:
With their INCI names between brackets, when different from usual names

• Powders from plants : Baobab (Adansonia digitata seed powder), Holy Ghost (Angelica Archangelica Seed Powder), Peanut (Arachis Hypogaea Flour), Oat (Avena Sativa Bran Extract, Avena Sativa Kernel Extract, Avena Sativa Kernel Flour, Avena Sativa Kernel Meal), Bamboo (Bambusa arundinacea stem powder), Brazil Nut (Bertholletia Excelsa Seed Powder), Dried algae (Chondrus Crispus Powder, Lithotamnium Calcareum Powder), Chickpea (Cicer Arietinum Seed Powder), Coconut (Cocos Nucifera Shell Powder), Coffee (Coffea Arabica Seed Powder), Hazelnut (Corylus Avellana Seed Powder), Walnut (Juglans Regia Leaf Extract, Juglans Regia Shell Powder), Juniper (Juniperus Oxycedrus Wood Powder), Macadamia nut (Macadamia Ternifolia Shell Powder), Rice (Oryza Sativa Bran, Oryza Sativa Extract, Oryza Sativa Germ Powder, Oryza Sativa Hull Powder), Almond (Prunus Amygdalus Dulcis Seed Meal, Prunus Amygdalus Dulcis Seedcoat Powder, Prunus Amygdalus Dulcis Shell Powder), Pomegranate (Punica Granatum Seed Powder), Cocoa (Theobroma Cacao Husk, Theobroma Cacao Seed Powder, Theobroma Cacao Shell Powder), Maize (Zea Mays Cob Meal, Zea Mays Cob Powder, Zea Mays Seed Flour, Zea Mays Starch).

• Mineral powders : Aluminum Oxide, Calcium Carbonate, Chalk, different forms of Clay (Illite, Kaolin), Pumice stone, Sand, Silica, Sodium Bicarbonate, Volcanic Rock.

• Gemstone powders : Amethyst Powder, Diamond Powder, Lapis Lazuli, Topaz.

• Powders from animals ( shells , bones) : Chitin, Coral powder, Oyster (Ostrea Shell Extract).

• Synthetic microballs : Polyethylene.
© 2011 - 2023 CosmeticOBS