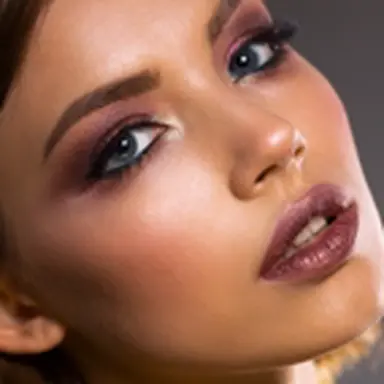 Displaying a flawless, radiant glow is no longer enough: complexion sculpting has become common practice in the makeup sphere. Makeup is the ideal ally to re-outline your face and its contours. Latest technique for it: chroming.
Chroming is a makeup technique developed by makeup artist Dominic Skinner at MAC.
Just like strobing, this new trend consists in giving the face some contours and relief by illuminating specific areas like the arch of the eyebrows, the cheekbones, or the line above the upper lip… so far, nothing new.
So, why is chroming so trendy? Simply because the product used is not a highlighter, but a lipstick.
But beware, you need a model and a particular shade: 'All I Want', from the collaboration between MAC and Mariah Carey, is ideal given its iridescent champagne tone.
Who is that for?
Chroming can be done by anyone and worn either day or night. It will delight all those that like adding a glowing touch to their complexion. This technique is also perfect if you are a tiny bit clumsy. Indeed, working with an oily texture like a lipstick requires less skill than with powdery or liquid materials.
The technique
Chroming is the very last step when you put on makeup. Once the complexion part is over and done with, just grab that lipstick and apply it on the areas you wish to illuminate and highlight.
After laying the material on the said areas, it only remains for you to blur it all to get a melted, relatively natural effect.
But careful: to blur the makeup, there is nothing better than a makeup sponge or brush.
Perfect to highlight the complexion without too sophisticated makeup, chroming is also easy to do.
If you want to try it, it should be added that the Mariah Carey edition is no longer available at MAC's. But no panic, any other iridescent nude lipstick will do. Another opportunity for you to recycle your makeup!
© CosmeticOBS-L'Observatoire des Cosmétiques
© 2018 - 2022 CosmeticOBS