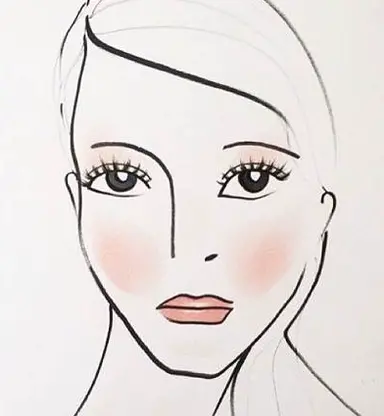 If you want to sculpt your own face, make it glow, and brighten your complexion without too sophisticated makeup, draping is the ideal technique. Similarly to strobing, this trend consists in highlighting your face contours by illuminating specific areas like the arch of the eyebrows and the cheekbones. The only difference lies in the product used: no highlighter, just some blush.
Draping is a makeup technique developed by makeup artist Way Brandy in the 1970s. It was brought up to date in the 1990s, and more recently by Gilbert Soliz, Marc Jacobs Beauty's professional makeup artist.
Who is that for?
Anyone can use draping, both day and night. Just choose the right blush colour depending on your complexion (pink for blondes, orangey for brunettes) and the desired effect (more or less intense). If you are not too clever, select creamy or liquid materials: they are easier to work than powder textures.
The technique
Draping is the very last step when you put on makeup. Once you are done with your complexion, apply the blush on your cheekbones and spread the material toward the outside. Do the same on your jaw and neck, as well as under the arch of the eyebrows. For a more sculpting effect, it is recommended to choose a darker blush shade and only apply it under the cheekbones to break down the face roundness and highlight its oval. Draping is actually positioned as a fresher, less heavy contouring technique – perfect for the spring season.
JS
© 2018 - 2022 CosmeticOBS