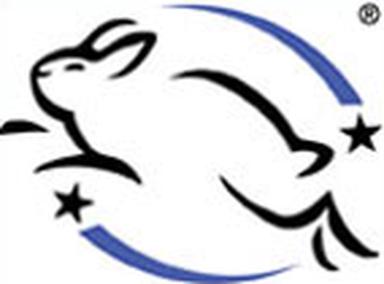 Old logo atributed and controlled by the association One Voice, French representative of' ECEAE (the European Coalition to put an end to animal experimentation). First French group working in favor of animal rights in laboratories or in the wild. One Voice, created in 1995, also fights on behalf of circus animals, show animals and pets.
Affixation of the Hopping Bunny Rabbit logo sugnifies that the manufacturer has not practised, financed or accepted any test on animals neither during the entirety of the manufacturing process of the cosmetic, nor on the ingredients which compose it. To be able to affix this seal on one of its products, it is necessary to request it from One Voice , to present a dossier including the certificates of non-testings on behalf of the suppliers of all its raw materials (no exception is accepted), then to be audited by Ecocert's certification body , which controls the exactitude and exhaustiveness of these declarations, the whole of which process may take one to two years.

Note that the guarantees brought by this label relate only to animal experimentation, and not to the presence of animal ingredients. It should be replaced by a new logo , banning animal extracts or substances, except for honey, pollen and bee wax.
© 2009- 2020 CosmeticOBS