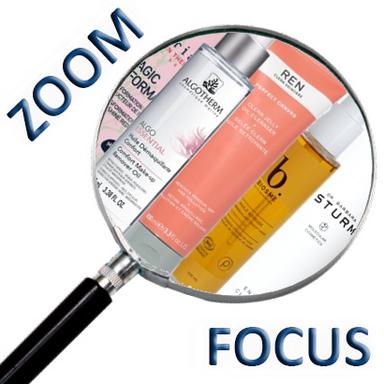 They don't know the crisis! Always on the lookout for new sensations, everyone plays his or her part in creating a surprise. The newest are make-up remover masks and powder cleansers. But balms in glass jars and oils with "a little extra" are also in the spotlight. The first essential skin care gesture has never been so creative!
The make-up remover masks are making an appearance
This new pleasure gesture ensures deep cleansing.
It is often accompanied by radiance or anti-pollution benefits, as in the Ultra-Fresh Cleansing Gel-Mask from the Very Rose de Nuxe range which has just been released (150 ml, €22).
Its texture - a dense gel with high viscosity - is strikingly fresh and its application time is very short (one minute).
It can be used directly in the shower, in the morning and in the evening.
It is left to act for one minute, then massaged in with circular movements to remove the most stubborn impurities (such as nicotine particles, polluting agents, etc.), before rinsing thoroughly with warm water.
Its vegan (and biodegradable) formula with a physiological pH contains rose floral water and moisturizing sugars of 100% plant origin.
Bonus, it preserves the cutaneous ecosystem.
Result: the skin is perfectly cleansed/removed, while remaining very comfortable.
The Erborian Magic Transformask (Cleansing and Shine Reducing Light Transforming Mask, 50 ml, €33) is applied twice a week on dry skin. Typically Korean, its hybrid texture transforms three times (a pearly gel on application that becomes a powder after ten minutes, then a milky veil when rinsed off). It captures impurities, soothes the skin (seven herbs complex), matifies and tightens the pores (silica powder), while leaving the skin radiant, thanks to pinkish mother-of-pearl, a true "bath of light".
It is left to dry for ten minutes until it becomes a powder before rinsing with water.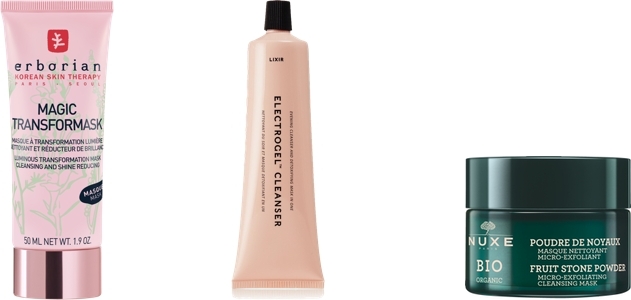 But the prize for originality goes to the Electrogel Cleanser Evening Cleanser and Detoxifying Mask by Lixirskin (100 ml, €29), a London-based brand founded by Colette Haydon, a doctor in dermopharmacy and a brilliant formulator who has worked for Ren Clean Skincare, among others. Negatively charged, this creamy cleanser attracts, captures and removes toxins that are positively charged (heavy metals, pollution-related nanoparticles, free radicals…). The electro-gel acts like a magnet to attract impurities so that they can be easily removed during rinsing.
It reaches the inside of the pores, allowing to get rid of everything we see and especially of everything we don't see!
As a make-up remover/cleaner it requires no application time, but it can also be used as an express detox mask.
In this case, it is left to act in a thick layer on dry skin for three minutes, before rinsing with warm water.
Universal, formulated with few ingredients, it is suitable for all skin types and all ages.
As for the Core Powder Micro-Exfoliating Cleansing Mask of the new Nuxe Bio range (50 ml, €24,50), it combines everything that is in the air of time: the apricot core powder, a natural exfoliant and "anti-gaspi" (it comes from food by-products), the cleansing coupled with an exfoliation (mechanical and chemical), the biodegradable formula and the eco-designed glass jar (containing 90% recycled glass)!
Powdered cleaners
They are still marginal but seduce by their ecological qualities and their two-in-one formulas (gentle cleanser and exfoliator) safe (no preservatives).
Here again, anti-pollution action seems to be the rule. In this category, we find the Enzyme Cleanser by Barbara Sturm (75 ml, €55), a German cosmetic doctor known for his "vampire lift" treatment. This fine powder, enriched with a mixture of vitamin C and enzymes, turns into a foam on contact with water to remove dead cells, impurities, traces of make-up and pollution.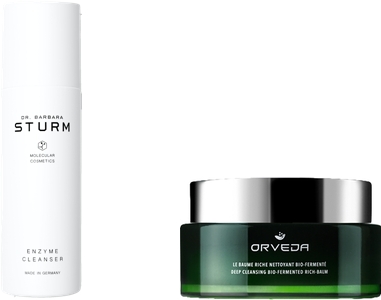 The same goes for Bijin's ultra-fine Matcha-Azuki Cleansing Powder & Face Mask (20 g, €18), a brand that revives ancestral Japanese beauty rituals with "foodies" treatments with Japanese "super foods", known for their virtues on the body and skin. Azuki (Japanese red bean) is naturally rich in saponins, a vegetable cleanser rich in enzymes.
As for matcha green tea, it is full of antioxidants as we know. Combined with Banche clay and rice starch, it cleanses all skin types, even sensitive skin, on a daily basis.
It can also be used as a mask by mixing a tablespoon with a little water (until a thick paste is obtained) and leaving it on for 15 minutes.
Balm is popular, especially in a glass jar !
Orveda's Rich Bio-Fermented Cleansing Balm (100 ml, 99 € with a kabuki brush) concentrates the trends of the moment: the presence of prebiotic and fermented food (Kombucha black tea), the balm texture and the glass jar.
This packaging can be found at Codage (Make-up Remover Balm with hemp oil, 100 ml, €55, from May). The word balm, synonymous with effective make-up removal (it even eliminates waterproof make-up) and comfort (by its richness, it "speaks" to dry skin), is a real eye-catcher this spring.
It can be found in several new make-up removers, at Sisley (Cleansing & Toning Balm with three oils for face and eyes, 125 g, €90, from June), SVR (Sensifine Nine-Ingredient Cleansing Balm, 100 g, €12,90) and Erborian (Milk & Peel Balm, Oil-in-Balm Cleanser with sesame milk, Daily Resurfacing Effect, 75 ml, €25). All of them offer transforming textures (the balm becomes a silky oil when in contact with the heat of the skin, then a milky emulsion when a little water is added).
Oils for ever…
Oils are always very present. The newest ones offer "a little something extra", such as respect for the microbiome (L'Huile Soyeuse Démaquillant Yeux et Visage de Biosme Paris, Cosmébio-certified, 100 ml, €22), a cotton wipe to further perfect its make-up removal performance (Huile Démaquillante aux 5 Omégas de Novexpert, 150 ml, €24.90), a hybrid three-phase texture based on vegetable oils that eliminates sun filters (Perfect Canvas Gelée Clean Huile Nettoyante from Ren Clean Skincare, 100 ml, €27), or a marine composition (Huile Démaquillante Confort Algo Essential from Algotherm, 100 ml, €15.40).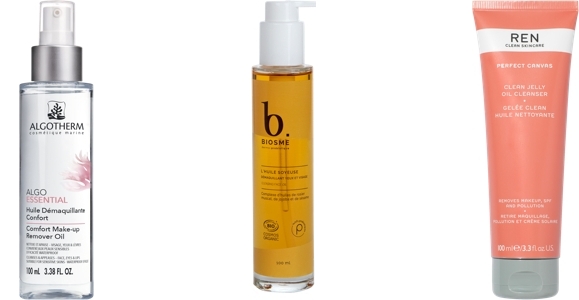 Ariane Le Febvre
© 2020 CosmeticOBS